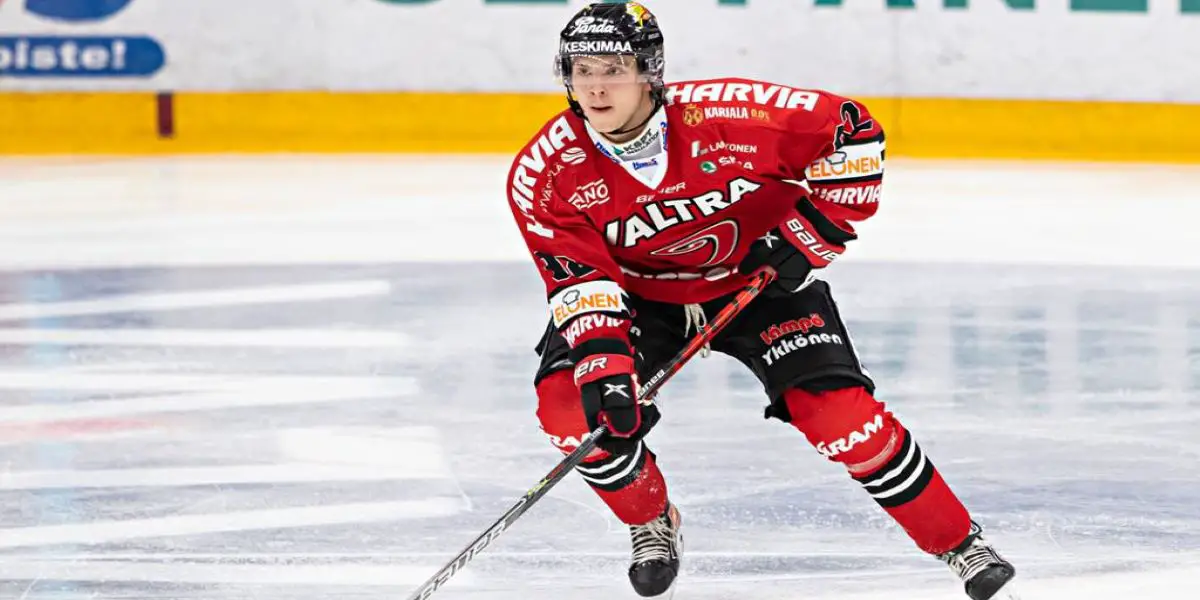 In July, the Detroit Red Wings will pick at #8 in the NHL Entry Draft. Detroit General Manager Steve Yzerman has been known to select the player he thinks is the best player available in the draft. For this reason, it wouldn't surprise me to see Brad Lambert drafted at #8 by the Detroit Red Wings.
Brad Lambert
Brad Lambert has dynamic offensive ability and has played professionally in Liiga for the last three years. Lambert has also represented Finland internationally over the previous four years. In 2019-2020, Lambert played his first Liiga games playing for HIFK. Last year he transferred to JYP. After a disappointing start to his draft year, Lambert moved to Pelicans, the organization he played in for most of his minor and junior hockey.
In 2019-2020, Lambert played most of his games in the U20 SM-liiga. In 42 games, Lambert scored 18 goals, 20 assists, 38 points, and had a +5 rating. Lambert was called up to play four games in Liiga, where he chipped in with two assists. Lambert scored six points in five games at the U17 World Hockey Championships. At the U18 level, Lambert scored three goals, two assists, and five points in nine games.
In 2020-2021, Lambert played his first full season in Liiga. In 46 regular-season games, he scored seven goals, eight assists, 15 points, and had a -24 rating. Lambert had five assists in five games at the World U18 Championships. At the U20 World Championships, he scored one goal, three assists, and four points in seven games.
This season, Lambert split the Liiga season between JYP and Pelicans. In 49 games, he scored four goals, six assists, 10 points, and had a -16 rating. Internationally, Lambert represented Finland in the canceled U20 World Junior Championships. He scored one goal, four assists, and five points and had a +6 rating in two games. In nine additional games at the U20 level, Lambert scored two goals, two assists, four points, and had a +1 rating. When the U20 World Junior Championships resume this August, Lambert is expected to play a major role on the Finnish team.
Brad Lambert's Final Rankings
NHL Central Scouting has Lambert as the 10th-ranked EU skater. Lambert is rated as the #9 prospect by eliteprospects.com and the #9 consolidated ranking by several hockey ranking authorities. Prior to the World Junior tournament being canceled after two games, Lambert was the top-scoring prospect for this year's draft. His five points in two games were even higher than the one-point #1 prospect Shane Wright tallied in his first two tournament games. Playing against his peers, there is no doubt that Lambert is one of the best forward prospects of the 2022 draft.
Why would Lambert be a good pick for Detroit?
Lambert is a terrific skater who can control the play when he is on the ice. He has the potential to be a top-six forward at the NHL level. Lambert can play right-wing or center and would be an excellent pick as a #2 center behind Dylan Larkin.
Lambert will turn 19 in December, and if Detroit drafts him, the Red Wings will likely bring him to North America immediately to play in Grand Rapids (AHL). He has already played parts of three seasons in Liiga and needs a change of scenery so that he can adapt to the smaller North American ice surface. Lambert's time in the AHL will be dependent on how fast he develops at the AHL level. If he shines in Grand Rapids, he could be in a Detroit uniform full-time within two years.
Final Thoughts
Detroit will likely draft the offensively creative forward Brad Lambert if he is still available at #8. In my opinion, Lambert is the player in the draft most likely to be picked by the Red Wings. He has ties to the Red Wings through his uncle, Lane Lambert, a former Detroit draft choice (25th overall in 1983) and teammate of Detroit General Manager Steve Yzerman. He is also a can't-miss prospect who struggled offensively this year and, before the start of the season, was a consensus top-5 pick. Lambert will likely fall to 8th because of his offensive deficiencies playing in Liiga this year.
Previous articles in the series you may have missed: