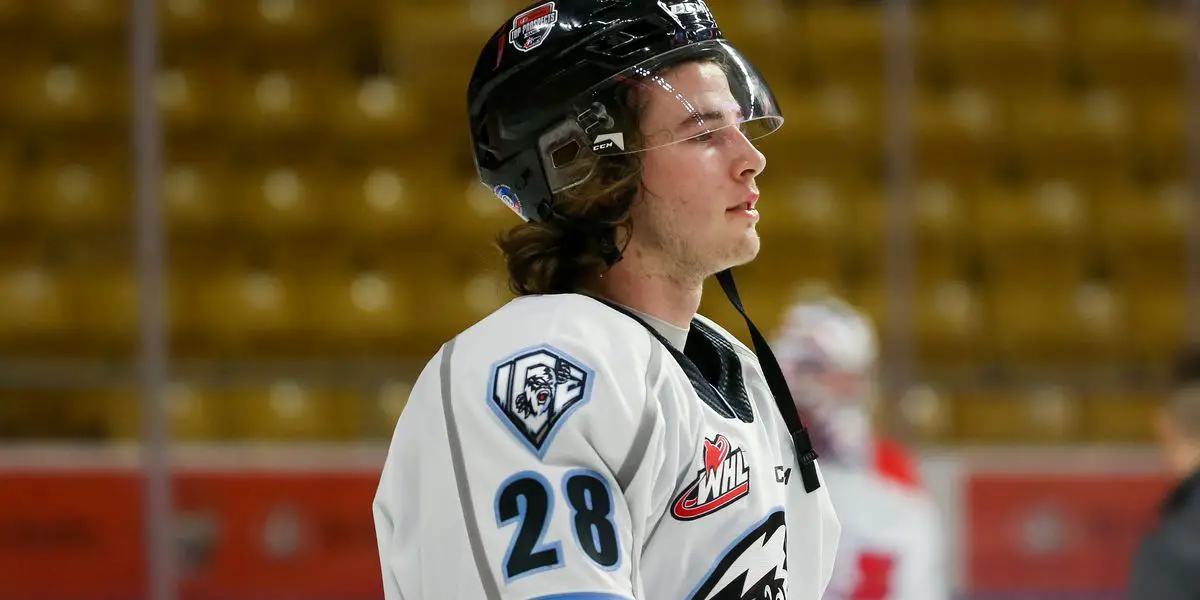 In July, the Detroit Red Wings will pick at #8 in the NHL Entry Draft. The Red Wings need a legitimate #2 center to play behind captain Dylan Larkin. For this reason, I believe that Detroit is likely to draft a center in an attempt to fill this void. Here is a look at one of the top centers available in the draft.
Conor Geekie
Conor Geekie is a big (6'4″) center currently playing for Winnipeg (WHL). Geekie was drafted 2nd overall by Winnipeg in the 2019 bantam draft. Geekie has played parts of the last three seasons in Winnipeg.
After being drafted, Geekie spent most of his 2019-2020 season playing for the Yellowhead Chiefs (U18 AAA). In 26 regular-season games, Geekie scored 18 goals, 17 assists, and 35 points. He scored one goal, two assists, and three points in four playoff games. Geekie also played seven games for Winnipeg in the WHL. He was held without a point and had a -4 rating.
In 2020-2021, Geekie started the COVID-shortened season playing for Virden in the MJHL. He scored one goal, three assists, and four points in nine games. When the WHL season started, Geekie played 24 games. He scored nine goals, 14 assists, 23 points, and had a +13 rating.
This season, Geekie really started to show his potential, playing 63 regular-season games for Winnipeg. He scored 24 goals, chipped in with 46 assists and 70 points, and had a +46 rating. Geekie's team is still playing in the WHL playoffs, where he has played 11 games and scored three goals, six assists, nine points, and has a +2 rating. If Winnipeg wins the WHL Championship, they will play in the Memorial Cup next month.
Conor Geekie's Final Rankings
NHL Central Scouting has Geekie as the 5th-ranked North American skater. Geekie is the 6th highest scoring player available in the draft. Geekie is also the 4th highest scoring center behind Shane Wright (94), Matthew Savoie (90), and Logan Cooley (75). He is also the 4th highest scoring player on his junior team in Winnipeg, behind top scorer Matthew Savoie.
Why would Geekie be a good pick for Detroit?
Conor Geekie is a big smooth-skating playmaking center who, at times, dominates games at the junior level. With experience, Geekie could become the type of center that could play in the top six of Detroit forwards. Geekie is a little behind some of the other players in his draft class because his season was delayed last year due to the ongoing Covid-19 pandemic. He will likely need at least one more year of junior where he can dominate and possibly play in the World Junior Championships for Canada.
Geekie recently turned 18, and if Detroit drafts him, he will most likely be returned to Winnipeg for at least one more season. If Detroit does not re-sign Pius Suter when he becomes a UFA next season, Geekie would be given every opportunity to make the Red Wings.
Final Thoughts
If Detroit wants to draft a big creative playmaking center, Conor Geekie is likely to be available to draft at #8. General Manager Steve Yzerman certainly has plenty of excellent options with this pick. Even though Geekie is relatively inexperienced at the junior level, he will most likely be sent back for at least one more year of junior, which could include an invite to the Canadian World Junior team selection camp. The sky is the limit for a player who, I believe, may be the biggest sleeper in the first round of this draft.
Previous articles in the series you may have missed:
Brad Lambert
David Jiricek
Joakim Kemell
Simon Nemec
Matthew Savoie
After beating two top-ten teams in the NHL, the Red Wings have dropped three straight and are facing a crossroads. In this episode we look at what the future may hold for key players, the current roster construction, and the performance form the youth! Please rate and review our show on your favorite listening platform. Check out our partner's website at www.insidetherink.com for all your latest hockey news.