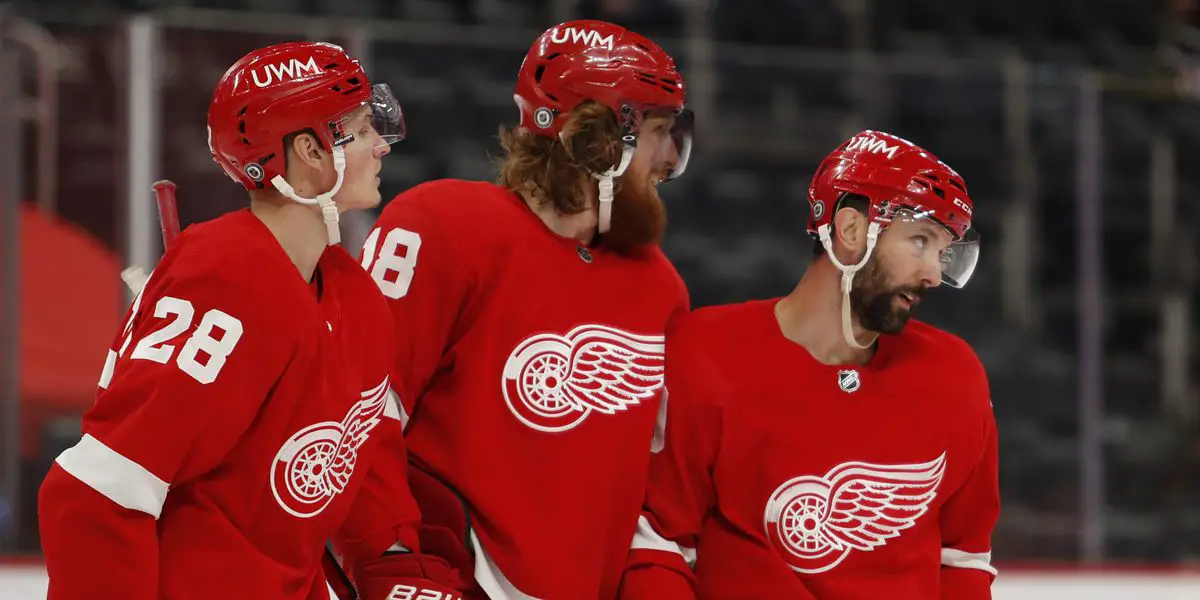 Marc Staal and Sam Gagner are set to become unrestricted free agents once again in July. The veteran duo were UFA's last year and signed one-year extensions so that they could extend their careers with the Red Wings. Once again, Detroit General Manager Steve Yzerman will have to make a decision that will affect both of their lives.
Here is a look at the pros and cons of signing each player.
Marc Staal
Marc Staal has been the consummate professional during his two years in Detroit. Now completing his 15th NHL season, Staal has been a leader on and off the ice for the Red Wings. Last month, Staal played in his 1,000th NHL game, and this year has played 65 of Detroit's 74 contests.
Why Detroit should sign Staal
All three starting LD on the Red Wings were set to become UFA's at the end of the season. Nick Leddy was traded to St. Louis, and Danny DeKeyser has had a less than stellar during his final season in Detroit and will likely not be re-signed. That leaves the Red Wings with the choice of re-signing Staal or seeking a veteran replacement or two during free agency.
Staal has been solid defensively for the Red Wings. Currently, he is the only Red Wings regular with a positive +/- rating with +4. When needed, Staal also has the ability to chip if offensively. This season, Staal has scored three goals, 13 assists for 16 points, good for the third-highest points among Red Wings defensemen.
Staal is also a leader on the ice, exhibited by him wearing an "A" on his sweater. In 15 seasons, this is the 11th season that Staal has been an alternate captain for his team.
Why Detroit shoul NOT re-sign Staal
Staal is a veteran of a lot of NHL hockey. With 1,013 regular season and 107 playoff games on his resume, today's NHL requires younger and faster defensemen to keep up with the young skilled forwards.
Detroit has numerous young defensemen pushing for full-time employment on the Detroit blueline next year. Simon Edvinsson and Albert Johansson are currently playing in the SHL semi-finals and appear ready to push for a spot in the Red Wings lineup. Keeping Staal will potentially block a move for at least one of these players.
Prediction: Marc Staal signs a one year extension with a cap hit of $1,000,000 to remain in Detroit
Sam Gagner
Sam Gagner has been a true professional during his time with Detroit. Gagner's career has been resurrected during his time with the Red Wings. Gagner is currently finishing his 15th NHL season and, before mid-season, next year, is set to play his 1,000th NHL game.
Why Detroit should sign Gagner
Sam Gagner is Mr. Everything for Detroit. He can play anywhere up, and down the lineup, he kills penalties and any forward position.
Gagner has also been productive offensively as he has scored 12 goals and 16 assists in 73 games this year. This places Gagner 6th amongst all Detroit forwards. Gagner also has a respectable -4 rating on a team that has been outscored by 68 goals this season.
Gagner has also been an alternate captain throughout the season, a signal that he is well respected by both the players and management of the Red Wings.
Why Detroit should NOT re-sign Gagner
Detroit needs to open up roster spots for some of the Red Wings' top prospects. Gagner is the only full-time forward who will become a UFA this summer. Detroit's other UFA forwards, Carter Rowney, Taro Hirose, and Riley Barber, have only played a small portion of games for Detroit this season, and each does not currently take up a roster position with the Red Wings. If Gagner is re-signed and the Red Wings do not trade a current forward on the Detroit roster, it will be difficult for the Red Wings to find a roster spot for a player like Jonatan Berggren. There is no doubt that Berggren is ready to make the leap up to the NHL.
Prediction: Sam Gagner signs a one year extension with a cap hit of $850,000 to remain in Detroit