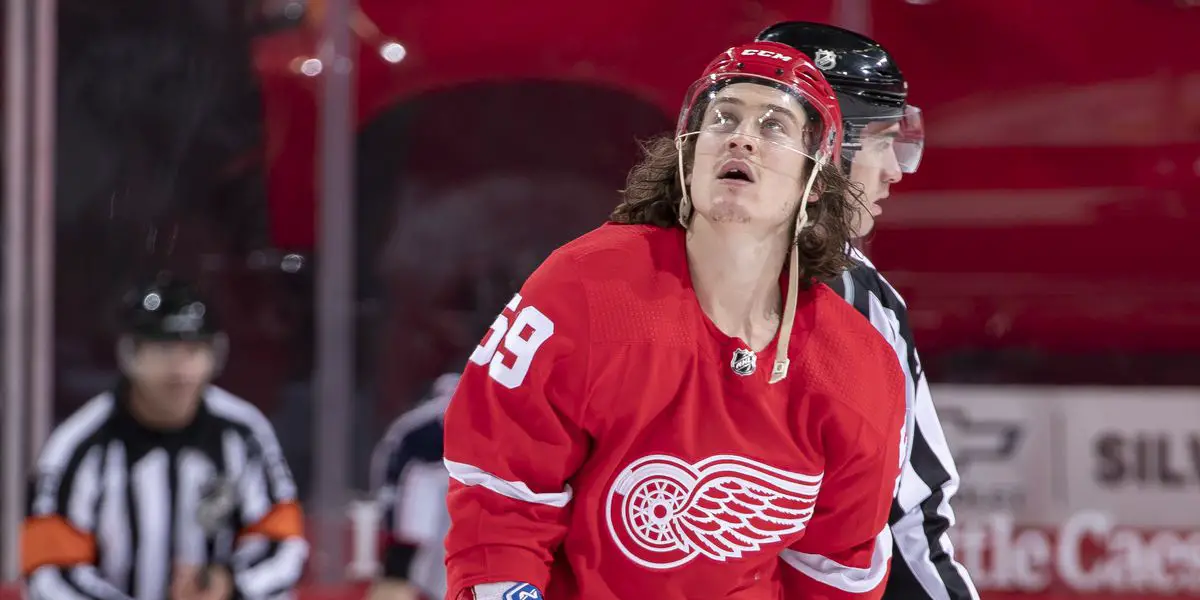 Tyler Bertuzzi's days in Detroit may be numbered as Red Wings General Manager Steve Yzerman looks to make several changes to the roster. Bertuzzi is one of only a handful of Detroit players who could bring the Red Wings a significant return in a trade.
This season, Bertuzzi has had a resurgence after he missed most of last year due to injury. In 63 games, Bertuzzi has set career highs in most offensive categories. Going into the final two weeks of the season, Bertuzzi has scored 27 goals, 29 assists, and 56 points. Bertuzzi's 27 goals and 56 points place him second behind Dylan Larkin.
Why Bertuzzi May Get Traded
At the end of the season, Tyler Bertuzzi will have one year left before he can choose to be a free agent. At that time, the Red Wings would not receive anything in return because he would be an unrestricted free agent (UFA). Steve Yzerman indicated that he desired to sign both Bertuzzi and Dylan Larkin to long-term contract extensions at the most recent trade deadline. Was he being truthful, or was it a Yzerbluff? One thing is certain if Yzerman can't sign Bertuzzi to an extension before the trade deadline next March, there is no doubt that he will trade Bertuzzi to the highest bidder.
Bertuzzi's days in Detroit might also be numbered because his age doesn't stack up with the rebuild. By the end of his current contract, Bertuzzi will be 28, and a long-term extension will take him past his prime years, and they will not coincide with the future playoff teams of the rebuild. The Red Wings are at least 2-3 years away from challenging for a playoff spot, and by that time, Bertuzzi will be in his early 30's.
Bertuzzi has also had a career year, where he has established career highs in goals, assists, and points. Bertuzzi's trade value has never been higher; therefore, prior to the NHL Entry Draft would be the best time to unload the Red Wings' top left-winger.
The final reason Bertuzzi may get traded is his insistence on not getting the Covid-19 vaccine. By the end of the season, Bertuzzi will have missed nine Red Wings games in Canada. He contracted Covid during the season and missed more games to the virus. This virus isn't going away, and the Canadian border will likely remain closed to unvaccinated travelers. Yzerman may not use the excuse, but there is no doubt that missing Bertuzzi for the number of games he missed this year disrupted the chemistry of the entire team.
Why the Red Wings May Keep Bertuzzi
Tyler Bertuzzi is a terrific hockey player and one of only a handful to score over 20 goals for the Red Wings this year. He is the top-scoring winger on the team and was the top +/- player on the Red Wings for the first half of the season.
The Red Wings need to build a playoff-caliber team around their core players. Bertuzzi is one of the core that should be untouchable. The line of Bertuzzi, Larkin, and Lucas Raymond has proven to be one of the top young lines in hockey. Adding depth to an already established core of forwards is the only way the Red Wings will be able to move up in the standings and challenge for a playoff spot in the near future.
What is Bertuzzi Worth?
Yzerman indicated that he would do his best to sign Bertuzzi long-term. Failure to sign him will undoubtedly result in a trade before he gets a chance to hit free agency. Bertuzzi will fetch another increase in salary from his current deal. Currently, Bertuzzi is just finishing the first year of his two-year extension, valued at $4.75M per season. In order to keep Bertuzzi in a Red Wings uniform, I believe that the Red Wings will have to be knocking on the door of the playoffs by the trade deadline, or I think he will be gone. Bertuzzi's next contract will most likely be in the $5.5M per season range, an increase that Detroit can afford.
If Detroit and Bertuzzi cannot come to an agreement, he will be gone either before the NHL Entry Draft or, at the very latest, just before the NHL Trade Deadline. The Red Wings will get more value for Bertuzzi if they trade him this summer. That will give their trading partner almost a year to sign him to an extension. The Red Wings would most likely get a 1st round pick in 2022 or 2023 and a 2nd round pick in either 2023 or 2024, plus a top prospect in return if he is traded before the start of next season.
If Detroit does not sign or trade Bertuzzi before the start of the season, his value will likely go down. He will be viewed as a rental player, and the return would probably be a 1st in 2023 and a 2nd in either 2023 or 2024.
Final Thoughts
Tyler Bertuzzi has the opportunity to write his own ticket. If he wants to remain in Detroit, he will possibly miss the playoffs for at least the next few years. He has not played any playoff games in the NHL, and there is no doubt that the playoffs are on the radar of every professional hockey player. For a player as competitive as Bertuzzi, that may not be what he wants.
If Bertuzzi wants to test free agency, there is no doubt that any team with cap space would want a player with Bertuzzi's pedigree. Only time will tell what will happen to #59, but one thing is certain, this summer will be another busy offseason for Steve Yzerman and the Detroit management team.
Please rate and review our show on your favorite listening platform. Check out our partner's website at www.insidetherink.com for all your latest hockey news.