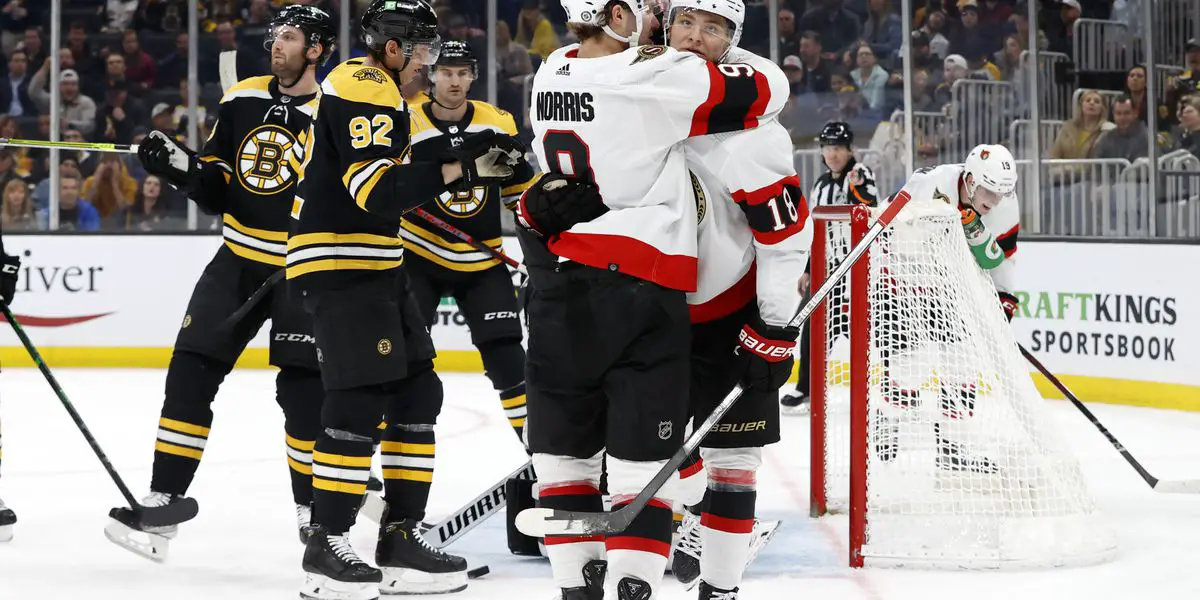 This season was supposed to be different for the Ottawa Senators and their fans.
They have a young and talented roster, they upgraded their goaltending with Cam Talbot, they added the likes of Claude Giroux and Alex DeBrincat, and it was a brand new start. Everyone was expecting them to be competitive, and with good reason.
Unfortunately for the Senators and their fans, things have not gone well up to this point. As of this writing (Monday, January 23), the Senators are seventh in the Atlantic Division and 25th in the league with a 20-23-3 record.
Things did not get much better for this team when on Monday, January 23, the Senators reported that forward Josh Norris was going to miss the remainder of the season to undergo shoulder surgery. Norris, who was one of the team's best players last season when he scored 35 goals and added 20 assists for 55 points, only played in eight games this season and had three points (two goals and one assist).
For a team that is trying to be better offensively, losing someone like Norris, 23, hurts in a big way. The Senators are 26th in the league in goals scored, as they have scored just 132 goals this season (2.87 goals per game).
The Senators have just six players who have cracked the double-digit goal mark this season. Tim Stutzle (20), Brady Tkachuk (17), Giroux (15), DeBrincat (14), and Shane Pinto (11) have all surpassed ten goals this season.
Simply put, that's not enough. Other players on this team need to start filling the net because, up until this point, that has not happened.
This has to be frustrating for the Senators and their fans because they are fifth in the league in shots on goal per game, as they average 33.6 shots a night. Unfortunately, this means that Senators simply are not finishing.
The Senators also do not play well defensively. They are 19th in the league in goals allowed, as they have given up 152 goals in 46 games (3.30 goals against per game).
Part of the problem is that the Senators give up a lot of shots on a nightly basis. The team is 19th in the league in shots allowed per game, as they give up an average of 31.7 shots per game.
Another part of the problem has been their goaltending. Talbot is 11-13-0-1 with a 2.95 goals-against average, a .903 save percentage, and one shutout, while backup goaltender Anton Forsberg is 8-10-0-2 with a 3.34 goals-against average, a .899 save percentage, and one shutout.
While Talbot's numbers do not look that bad, his goals-against average needs to be a lot better, while Forsberg needs to be a guy they can rely on when Talbot is struggling. Neither of those things has happened on a consistent basis this season.
The future could still end up being a bright one for this franchise. Right now, however, things are dark and bleak, and they may stay that way till the end of the season.
Episode 51: Interview w/Jack Ahcan Episode 51 is back in action talking about the New York Paingers ITR bet, Can Buffalo Sabres make the playoffs? Is Vancouver in the wrong on the Boudreau treatment? Is Tocchet the right guy? Is Daryl Sutter the last Dinosaur in the NHL?YouTube: https://www.youtube.com/@insidetherinkTwitter: https://twitter.com/CueTheDuckBoatzFacebook: https://www.facebook.com/Cuetheduckboats/Thanks for listening! Please rate and review our show on your favorite listening platform. Check out our partner's website at www.insidetherink.com for all your latest hockey news. Also, catch all of the games in this year's NHL season by signing up for ESPN+ at Insidetherink.com/ESPN