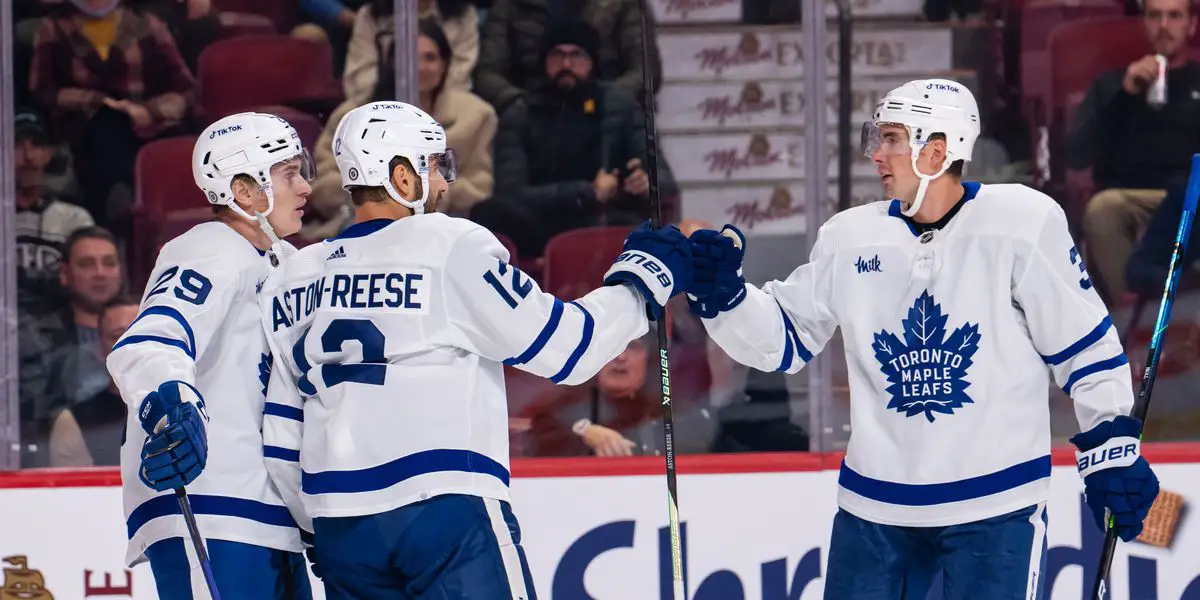 Toronto Maple Leafs and F Zach Aston-Reese agreed on a new 1-year deal worth $840,000. The newly signed contract will keep the 28-year-old forward around for the season after coming into camp on a professional tryout option. Zach took the opportunity to showcase his ability, Show what he can add to this Maple Leafs roster after failing to get an NHL contract in the offseason, and certainly impressed. The former highly touted NCAA free agent was a player management has had their eyes on for a long time. 
     Zach Aston-Reese is a defensive-based forward who plays his role as well as anyone. His style of play comes with minimal offensive production but elite play in the defensive zone. He lacks the top-end speed for the average NHL winger in modern-day hockey but strives when protecting leads and working on the penalty kill. Aston-Reese's production is similar to his projected linemate David Kampf. If David Kampf and Zach Aston-Reese play on a line together, get ready for some real low-event hockey. This is a different player for the Maple Leafs bottom-six, which is perfect for wanting that balance of offensive and defensive production. 
      Zach Aston-Reese has quietly had an impressive preseason that should excite Leafs fans. Through four preseason games, Aston-Reese excelled in multiple categories, defensively and physically. The most notable categories Zach's shown he can contribute in so far are hits and takeaways. Zach Aston-Reese certainly can change that for a Leafs team that is routinely criticized for playing with a lack of physicality. The best thing about Aston-Reese's physical game is that he doesn't take many penalties, and he's not one to drop the gloves a lot. He brings the physicality by pinning you against the boards and finishing his hits in all areas of the ice. This type of modern-day physicality can go a long way for a Maple Leafs team designed to play with possession. 
      Aston-Reese won't be a household name or find his name constantly in the media, but that's his best quality. Zach strives to do the little things only the Maple Leafs staff will appreciate when going back and breaking down the film. He's always in position and never commits to fifty-fifty plays. This is a Maple Leafs offense filled with mostly speed-driven players that thrive in the offensive zone. Adding this mixture Zach Aston-Reese can bring alongside David Kampf and Aube-Kubel could work wonders. 
       Leafs head coach Sheldon Keefe having the flexibility to play a defensive, low-event hockey fourth-line will be key down the road. For a team that's determined to have postseason success, these are the kind of players that you'll need. In those extremely close games in the playoffs, when you're protecting a lead, having the luxury to play Zach Aston-Reese and David Kampf screams value. 
Thanks for reading! For more Leafs content and news, follow me on Twitter at @JANS8LMO
So Nice, It Ended Twice feat. Marty Zylstra
–
Leafs Late Night
WELCOME BACK TO LEAFS LATE NIGHT! Presented by Inside The RinkGalaxy Biehn / Marty Zylstra of Sports! Is FunCheck out Marty's Music- Lucky To Be Good, Good To Be Lucky- Mitch Marner Is Underrated- Joseph Woll Remembers.- Gregor's ArkNEW MERCH IS AVAILABLE!JOIN OUR DISCORD!Remember to follow us on Twitter @LeafsLateNight & IG @LeafsLateNightCheck out Mike, Josh, and Nathan's articles on the Leafs + many more! insidetherink.com