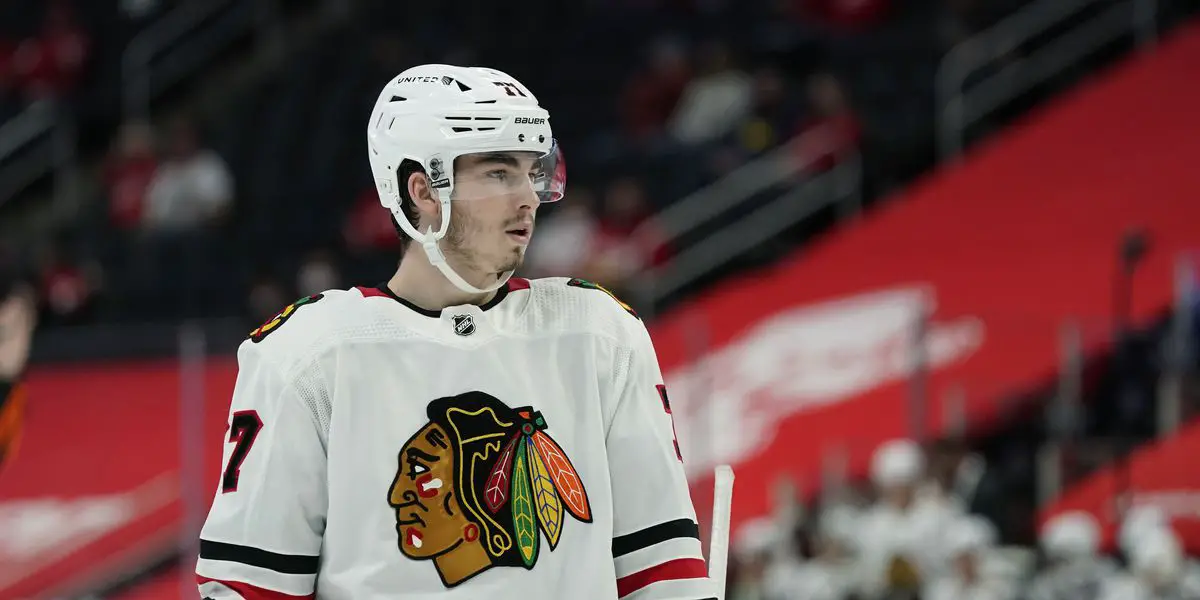 The offseason has officially arrived, and the crazy trade packages are swiftly following in its footsteps. Kevin Paul DuPont of the Boston Globe has thrown out a trade package of Jake DeBrusk and Brandon Carlo to the Chicago Blackhawks for Kirby Dach… Yeah, you didn't read that wrong. So let us go ahead and entertain this trade.
Breaking Down The Players
Jake DeBrusk:
25 years old, 6'0″, 200lbs, LW. 2 years left at 4.0 AAV
2021-2022 season stats: 66GP, 25G, 17A, 42P, +5
Brandon Carlo:
Twenty-five years old, 6'6″, 220lbs, D, five years left 4.1AAV Modified no move clause-final four years of the contract.
2021-2022 season stats: 79GP, 6G, 9A, 15P, +2
Kirby Dach:
21 years old, 6'4″, 197lbs, C, Unsigned RFA (Restricted Free Agent)
2021-2022 season stats: 70 GP, 9G, 17A, 26P,-18
This trade makes one hundred percent… if you're the Boston Bruins, if you are the Chicago Blackhawks and Kyle Davidson, you laugh, politely say thank you for the chuckle, and hang up the phone. After Boston lost David Krejci last season and the potential loss of captain Patrice Bergeron the Bruins would be wise to look to get young and start a rebuild or "retool." So adding a former third overall pick in the form of Kirby Dach would be a perfect fit. In addition, Boston moves on from a disgruntled Jake DeBrusk, who has made it clear he wants out while adding a young player at the center position.
There was a time when Chicago was led by a CLOWN named Stan Bowman, who would have jumped on this offer and may have even added a pick or two to make sure he lost the trade. Clearly, this is what Kevin Paul DuPont was thinking, But those days are gone. "The Blackhawks, for example, need proven roster parts, and they are desperate for a change in fan narrative after their disgraceful bungling of the Kyle Beach case. As of this writing, they have yet to come to terms on a contract extension for 21-year-old Kirby Dach, the 6-foot-4-inch, 200-pound pivot chosen No. 3 in the 2019 draft." Dupont would write. He's not wrong in saying the fans are desperate for change. Making a trade like this is what the old regime would have done.
Davison has made it clear he is rebuilding this team from the bottom up, and he will NOT wavier from that. Trading a young center for a defensive defenseman and a winger who is more up and down than Space Mountian at Magic Kingdom would be wavering from the plan. Also, Kirby Dach is unsigned because there is ZERO rush to sign the RFA when Davidson has to find a coach, figure out the futures of Toews and Kane, extend Alex DeBrincat, oh and there's the thing called the NHL draft. All in his first offseason as an NHL GM. Kyle Davidson was asked about "speeding" up the rebuild and had this to say "It's not that we don't want to win as soon as possible," Davidson would also go on to add, "It's just sometimes that, when you look at the bigger picture, you realize it might take a little longer than they may hope, perhaps." And if that didn't make it clear that he will not wavier from a proper rebuild, Davidson had this to say in regards to Patrick Kane and Jonathan Toews, "We're looking at it building sustained success rather than getting somewhere as quickly as possible and then topping out before we really reach that level we want to get to… if it takes a bit longer than the players wish, not everything can align perfectly with their perspectives and ours. But we're going to do this right."
If the Boston Bruins are looking to trade DeBrusk to Chicago, it will not involve Dach or any other young prospect. Maybe a DeBrusk for Toews and half retained is where that kind of trade would start. Something being forgotten here is that the whole NHL is aware that DeBrusk wants out of Boston, which hurts his value. Personally, The package of DeBrusk and Carlo isn't that enticing from a Blackhawks standpoint. Chicago has its eyes set on Connor Bedard.
Season 2 Episode 10: Is Patrick Kane The Greatest Blackhawks Player Of All Time
–
Cue The Dagger
In this episode, we discuss if Patrick Kane is the greatest Blackhawks player of all-time, Lukas Reichel's one NHL game, and his unbelievable shootout goal. We also break down Seattle's chances of making the playoffs, is hitting and fighting making a comeback? and much more NHL news and topics  #Blackhawks #ALLCAPS #NHL #SeaKraken #LetsGoBuffalo