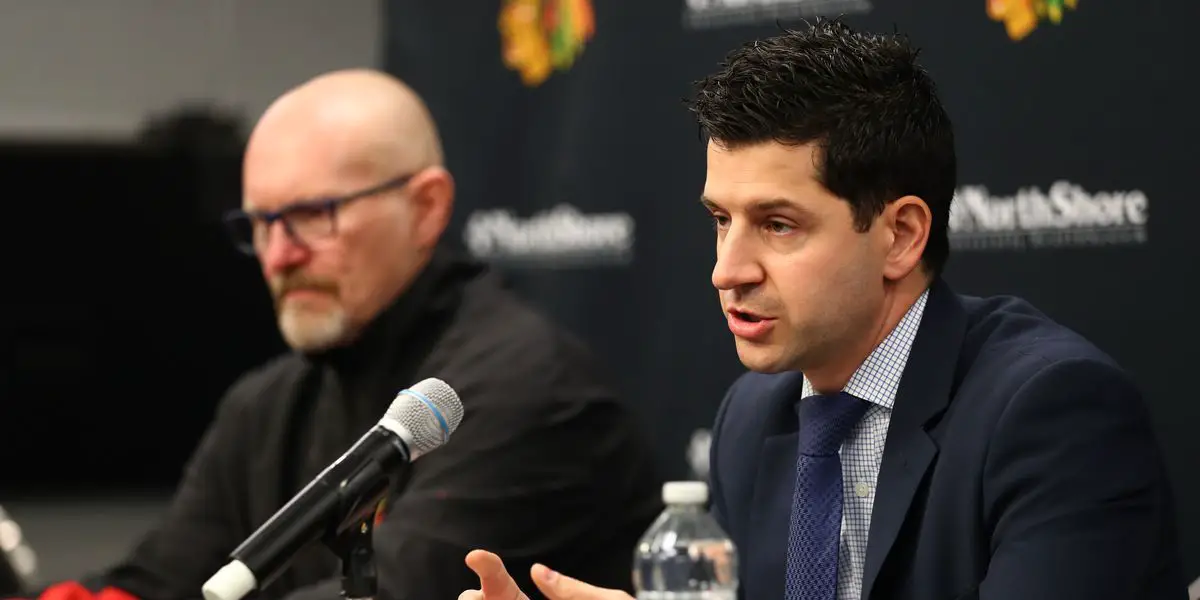 Kyle Davidson just pulled off a highway robbery in the night. Not sure if Patrik Allvin (Vancouver Canucks General Manager) was half asleep when he agreed to make this deal or if he had some wine with dinner, but he got robbed. As a result, Vancouver is sending over Jason Dickinson and a second-round pick in the 2024 NHL draft for Riley Stillman.
Jason Dickinson is a 6'2″ fourth-line forward that will bring a consistent game night in and night out. Dickinson can play both the center and wing positions. Dickinson isn't going to make the crowd go wild by any means, but he's an NHL-caliber player who will be in and out of the lineup throughout the season. Last season, Dickinson played 62 games and scored five goals and six assists.
Now I enjoyed Stillmans game, he brings bite and a hard-nosed style of play, but he is more of a seventh or sixth defenseman on a team that intends to compete for a playoff spot. Vancouver does not have the best defensive core, and adding Stillman will make them a "better" team this season, but a second-round pick is a high price to pay. The main reason Vancouver had to throw in a draft pick was Dickinson's Cap hit. Dickinson has two years remaining with a cap hit of $2.65 million. Stillman has two years remaining at a cap hit of $1.35 million. So Vancouver could clear a measly $1.3 million cap space. Again just proving how much of a robbery this trade was.
This also makes the call-up of Isaak Phillips make more sense, with the status of Connor Murphy, Jake McCabe, and Caleb Jones up in the air for opening night. With a few spots still up for grabs on the back end for opening night, it's a battle between Vlasic, Phillips, Regula, and Roos fighting for the final spots. Phillips is the least likely to find his way on the opening night roster, but the other three will battle right down to opening night in Colorado.
Davidson has done a masterful job of navigating the beginning of this rebuild. His plan is in effect. After collecting three first-round picks in last year's draft (Kevin Korchinski, Frank Nazar, and Sam Rinzel), two second-round picks (Paul Ludwinski and Ryan Greene), and three third-round picks (Gavin Hayes, Samuel Savoie, and Aidan Thompson). Kyle Davidson is making his best Ash Ketchum impression and has gathered the Chicago Blackhawks' two first-round picks, Two second-round picks, and two third-round picks in the next two NHL drafts! Anyone who thinks the Blackhawks are not in a great spot to rebuild this organization back to the top doesn't understand how to rebuild. It feels great to have a plan in Chicago for once.
Davidson once again shed off a "Bowman" player. Bowman traded Lucas Carlsson and Lucas Wallmark for Brett Connolly, Riley Stillman, Henrik Borgstrom, and a seventh-round pick. Just another awful trade by Bowman, who had ZERO patients with prospects. Lucas Carlsson played forty games for the Florida Panthers, scoring three goals and six assists. If you are a player that Stan Bowman brought in, you should keep your suitcases packed. It's a good chance Davidson will continue to wash away the stench of the previous GM.
Season 2 Episode 10: Is Patrick Kane The Greatest Blackhawks Player Of All Time
–
Cue The Dagger
In this episode, we discuss if Patrick Kane is the greatest Blackhawks player of all-time, Lukas Reichel's one NHL game, and his unbelievable shootout goal. We also break down Seattle's chances of making the playoffs, is hitting and fighting making a comeback? and much more NHL news and topics  #Blackhawks #ALLCAPS #NHL #SeaKraken #LetsGoBuffalo