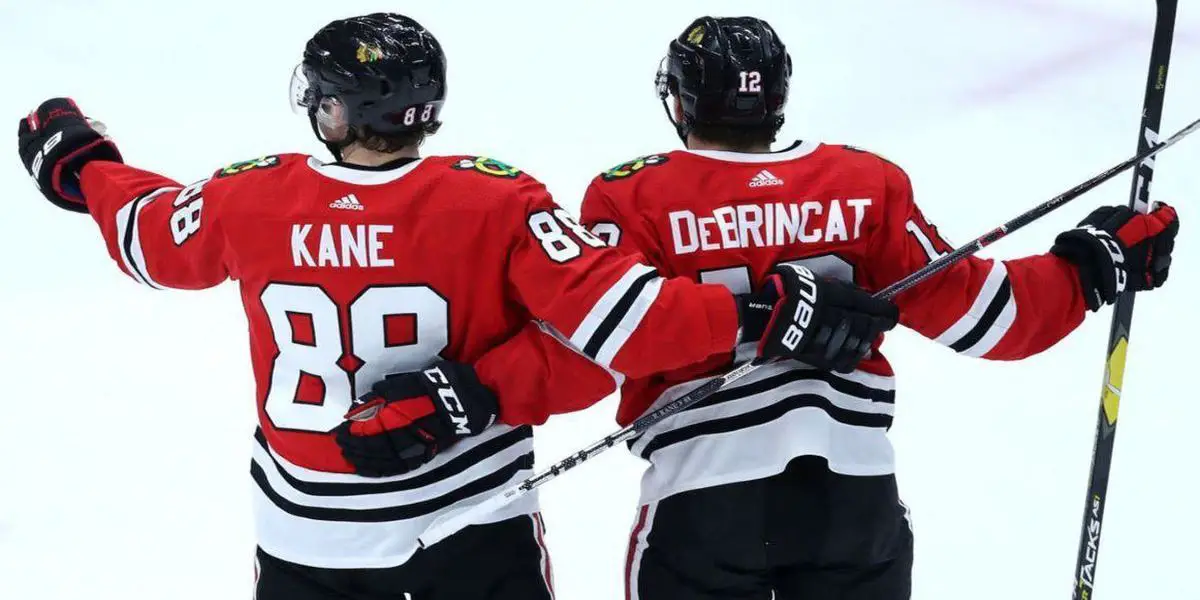 The chess game is in full swing. Davidson is holding his cards close to the vest when it comes to the future of the two most iconic players to ever play for the Blackhawks. Kane and Toews are both eligible for contract extensions this offseason. To add to the pile of work Kyle Davidson will have to maneuver, Alex DeBrincat is also eligible for an extension. Kyle Davidson has made it clear this will not be a quick process. When asked if he sees this as a retool or rebuild, he answered, "We're looking at more of a rebuild here." Davidson's actions backed this when he traded Brandon Hagel away at the trade deadline for Raddysh, Katchouck, and two future first-round picks. With Toews being thirty-four years old and Kane thirty-three years old, Does Davidson even have a place for them in his plan?
"There's definitely a place for Jonathan Toews and Patrick Kane moving forward," Davidson said earlier in the offseason, making it clear that Toews and Kane have the decision to make. However, Davidson also clarified that he would not waver from the rebuild as Stan Bowman did. Following the season-ending interviews where players such as Kane, Toews, Seth Jones, and Alex DeBrincat hinted at this being able to be a "faster" rebuild. Davidson shot this down immediately, saying, "It's not that we don't want to win as soon as possible. When you look at the bigger picture, you realize it might take a little longer than they may hope, perhaps". Davidson has a plan to build this team through the draft, and it's up to the players to get on the rebuild train or leave.
Chicago fans shouldn't worry about the future of DeBrincat. Being an RFA, Davidson will either sign him or trade him for a MASSIVE haul. Both would be great for the rebuild. With that said, the chances they find another forty-goal scorer from those picks would be slim. With DeBrincat being twenty-four, he fits the rebuild. Davidson should be eyeing to sign DeBrincat this offseason, is DeBrincat interested in signing an extension? According to Ben Pope, Alex DeBrincat said he's "open to talking whenever they are" about a contract extension when his extension window opens this summer.
DeBrincat also clarified that he is okay with going through a lengthy rebuild "I'm still young. I want to help bring this team to the playoffs and win. I'm here to do whatever I can." That is what a future captain sounds like. Davidson has made it clear that cap space will be a vital part of the rebuild and sounded reluctant to give out long-term deals. Davidson should be able to leverage length to help the AAV of the contract down if he decides to go down this path. DeBrincat also fits the fast, highly skilled game Davidson said he wants to play.
As for Kane, It sounds like if Davidson keeps DeBrincat, Kane is in, "Obviously, I've developed some chemistry with DeBrincat over the years. If he's here and he's a big piece, then that makes it easier for me too, right? Because I'm playing with him every day, and it makes it fun to be out there with him." said Kane. This was an unprompted response by Kane making it clear that eighty-eight and twelve are a package deal. Kane is close to being the franchise leader in multiple stats. Having three Stanley cups, Kane may have his eyes set on finishing his career as the greatest Blackhawks.
Toews is a different story. During the season, Toews made some interesting comments about leaving Chicago. "for the longest time, the thought never entered my mind to leave Chicago. And in this case, you can't help but picture yourself and what it'd be like to play for another team and what that experience would bring. The thought pops into your mind. But Chicago is my home." Toews would follow this up with comments that should make Blackhawks fans worry about his future in the Windy City, "I'm not going to comment on after next season because I have no idea. If anything, these last few years have taught me to stay in the moment and not look too far ahead. I'm going to enjoy this offseason and love every part of the process of getting ready for next year." This sounds like a player who is not wanting to stay long-term. Toews is at a crossroads in his career. He's no longer the dominating two-way forward but more of a second to third line role player. Toews has always been ultra-competitive, earning the name Captian Serious. Toews sounds like he is not willing to go through a long-term rebuild. The question for Toews is will he retire after next season or chase a final Stanley Cup outside of Chicago?
Season 2 Episode 10: Is Patrick Kane The Greatest Blackhawks Player Of All Time
–
Cue The Dagger
In this episode, we discuss if Patrick Kane is the greatest Blackhawks player of all-time, Lukas Reichel's one NHL game, and his unbelievable shootout goal. We also break down Seattle's chances of making the playoffs, is hitting and fighting making a comeback? and much more NHL news and topics  #Blackhawks #ALLCAPS #NHL #SeaKraken #LetsGoBuffalo