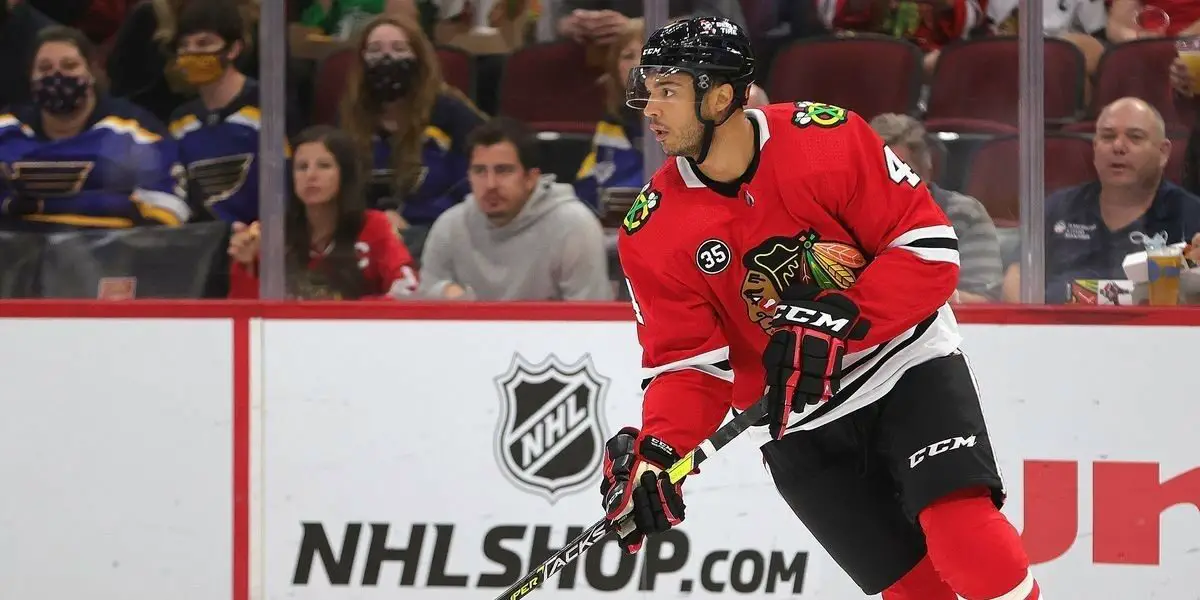 The ash is finally settling after a dumpster fire of a season from the Chicago Blackhawks; anything and everything that could have gone wrong went wrong. While it was a tough one for Chicago, the season was eye-opening for the organization, ultimately leading them down a rebuild. But before we take a look at the future, let us look back at each individual's season.  
Goaltenders
Kevin Lankinen
Grade: D-
Lankinen started the season as the backup, Lankinen like the rest of the Blackhawks. Unfortunately, he would struggle all season, posting a record of 8-16-6 with a 3.50 GAA and an SV% of .891, just atrocious numbers. Lankinen is a pending UFA, and it wouldn't be surprising if he pulled on the Blackhawks jersey the final time. 
Collin Delia
Grade: D 
Delia spent most of the season in Rockford. Delia went 11-9-2 with an SV% of .905 and a GAA of 3.04. Delia would get the call up following the trade deadline. In the NHL, Delia would go 1-4-1 with an SV% of .899 and GAA of 3.85. Delia is a UFA, and he is likely to leave after the way the Blackhawks made it clear he is behind Soderblom. Delia is twenty-seven and has struggled with rebound control for his entire career. It would be best for both parties to part ways. 
Arvid Soderblom
Grade: B+
Soderblom would get an A- if this were based solely on his AHL play. Soderblom was a huge reason the IceHogs made the playoffs. He put up a record of 21-15-2 with an SV% of .919 and a GA of 2.76. Soderblom did get a taste of the NHL and struggled mightily. He looked like a goalie that needed a year or two more on Rockford before he would be ready for an NHL role. It was only two games, and it could have been nervous that got to the young goalie. He went 0-2-0 with an SV% of .863 and a GAA of 5.01. Soderblom is young at twenty-two. Ideally, he returns to Rockford as the starting goalie next season. 
Marc-Andre Fleury
Grade: A-
Fleury was everything as advertised. Chicago had him for a short time, 28-23-5, with a 2.90 SV% and an SV% of .908. His grade has more to do with the off-ice effect from teaching the young players to the second round (hopefully first-round draft pick). It was an honor to call him a Blackhawk. Thank you, Marc-Andre Fleury.
Defenseman
Isaak Phillips
Grade: C
Phillips got his first taste of the NHL by playing four games this season. Unfortunately, he could not record his first NHL point, but he played solid for a young player. Phillips broke out in the AHL this season. In 64 games, he scored 10G and 15A. However, Phillips is not NHL ready and will need to fine-tune his game in the AHL next season.
Nicolas Beaudin
Grade: F+
Beaudin has fallen from grace, and He has been moved down the totem pole of Blackhawks defensive prospects. Beaudin has struggled to turn into the offensive defenseman that the CLOWN Bowman drafted him to be. He would play in two games in the NHL, going -1 with zero points. His AHL numbers don't fly off the page either. In 66 games, he scored 2G and 14A while going -4 on the season. It is looking more and more like Beaudin will not turn into an NHL defenseman. Just another whiffed draft pick by Stan Bowman.
Wyatt Kalynuk
Grade: C+
Kalynuk took an impressive jump in the AHL, with 7G and 20A in 52 games. He seemingly jumped the likes of Beaudin as far as the organization rankings go. Kalynuk played 5 NHL games. However, he was unsuccessful in getting his first NHL point. Kalynuk still needs work in the defensive zone. 
Jakub Galvas
Grade: C
Galvas Had a solid AHL season. With 59GP, he put up 2G and 18A. Galvas was a -1 on the season. Galvas played in 6 NHL games and collected zero points. At 22 years old, it's time for Galvas to take the next step in his progression. 
Alec Regula
Grade: C+
The 6'4″ defenseman has made a case for himself to make the NHL roster next season. Regula had an impressive 15-game run in the NHL this season and scored his first career goal. Regula would also play 41 AHL games posting 4G and 22A while going +6. Regula could use another season in the AHL to fine-tune his craft, but don't be surprised if he's battling for the final roster spot coming training camp. 
Ian Mitchell
Grade: A-
It's crazy how when you let a player develop in the AHL for a season before forcing them into the NHL too soon. Mitchell took the jump this season that everyone thought he would take last season. He only played 8 NHL games this season and had 1 Asissit on the season, but his progress was prominent in Rockford. Mitchell was the best defenseman for an IceHogs team that made the playoffs. In 57 Games, Mitchell scored 11G and 24 A, putting him fourth in points for the IceHogs. Mitchell is projected to make the jump back to the NHL next season.
Alex Vlasic
Grade: B
After jumping from college, Vlasic would find himself just watching. Derek King even commented about Vlasic not being ready for the NHL. Then Vlasic finally got his first taste and ran with it. Vlasic has been a pleasant surprise in a dark season. At 6'6″, he towers over players. Vlasic has a quick first step allowing him to keep his gap control. Vlasic was not sent down to the AHL so he could have an entire offseason to train and put on muscle. Vlasic has been so good playing alongside Seth Jones that he could find himself on the NHL roster next season. Chicago may have found the next shutdown defensive defenseman. It could be wise for Davidson to take his time with Vlasic and let him learn and grow in the minors. 
Calvin DeHaan
Grade: D+
DeHaan did a fantastic job blocking shots this season for the Blackhawks, but that's about it. He struggled in the defensive zone going -21. He did get insanely hot for his standards and scored four goals breaking his four-year streak of scoring one goal a season. However, DeHaan was only able to collect four assists. Injuries hampered his season. This was probably the last season for Calvin in Chicago, and it's probably best for both parties. 
Connor Murphy
Grade: C
Murphy was well, Connor Murphy. He played solid defense while bringing very little offense. However, he did miss a significant chunk of the season due to injuries, only playing in fifty-seven games (4G, 6A). With Chicago starting to rebuild, you wonder if Davidson hates the extension that Bowman gave Murphy. Hopefully, Muphy can come back healthy and play a full eighty-two games next season. 
Riley Stillman
Grade: D+
Stillman was the most disappointing of all the defensemen. He was expected to play a hardnosed physical game in the season. After he got injured, he lost the edge in his game. Stillman is an influential player when he plays the body and grinds out the game. Stillman's nasty bite will need to come back if Chicago plans on using him as an everyday defenseman. Stillman played fifty-two games ( 2G, 10A, -8)
Caleb Jones
Grade: C-
Caleb Jones had a roller coaster of a season. He showed some flashes but also made many "Rookie" mistakes. Jones is twenty-four, turning twenty-five, not exactly a rookie. (51GP, 5G, 10A, -3) Jones would be the perfect seventh defenseman on a playoff team. However, he is a pending RFA, and Davidson will have to figure out if he will be a part of the rebuild or move on from him.
Eric Gustafsson
Grade: F-
There was a reason Gustafsson was unsigned before Bowman got desperate after early injuries to Blackhawks defenseman. Gustafson played in fifty-nine games and scored 3G and 15A while looking like a trashcan on the ice. Gustaffson did nothing but take away ice time from young defensemen. Young defensemen do not need to watch Gustafsson play hockey. He's a liability in the defensive zone and throws the puck around like he works at Papa John's. He is a UFA, and Davidson should not even think about bringing Gustafsson back.  
Jake McCabe
Grade: D+
This was the most strenuous grade to give. McCabe sucked to start the season, and that is saying it nicely. He was coming off major knee surgery, so there is a small built-in excuse. His play did start to improve, but not until the last ten games of the season. If this were a grade solely of those ten games, he would get a B-. His physicality picked up. He was seeing the ice better, making nice break-out passes. If McCabe can come back next season and plays like he finished the year, Hawks fans will fall in love with him. But the last ten games do not make up for a season's disaster. He played in seventy-five games scoring 4G and 18 assists and was a -27.  
Seth Jones 
Grade: B
THIS IS NOT A GRADE ON HIS CONTRACT. Seth Jones Struggled to start the season, but after Chicago fired the Clown of a head coach and brought up King Jones would settle in. Seth played like the top defenseman he was advertised to be. He had a career-high in assists with 46, and his 51 points are the second-most in his NHL career. He was an absolute workhorse playing 26:13 TOI/GP, the most in the NHL! Jones struggled to score goals early in the season, and it was clear that King and the Blackhawks were pushing Seth to shoot the puck more. If Seth Jones can improve his ability to get his shots through traffic and on the net, the Blackhawks fans will change how they look at his contract. 
To Be Continued… 
Season 2 Episode 10: Is Patrick Kane The Greatest Blackhawks Player Of All Time
–
Cue The Dagger
In this episode, we discuss if Patrick Kane is the greatest Blackhawks player of all-time, Lukas Reichel's one NHL game, and his unbelievable shootout goal. We also break down Seattle's chances of making the playoffs, is hitting and fighting making a comeback? and much more NHL news and topics  #Blackhawks #ALLCAPS #NHL #SeaKraken #LetsGoBuffalo