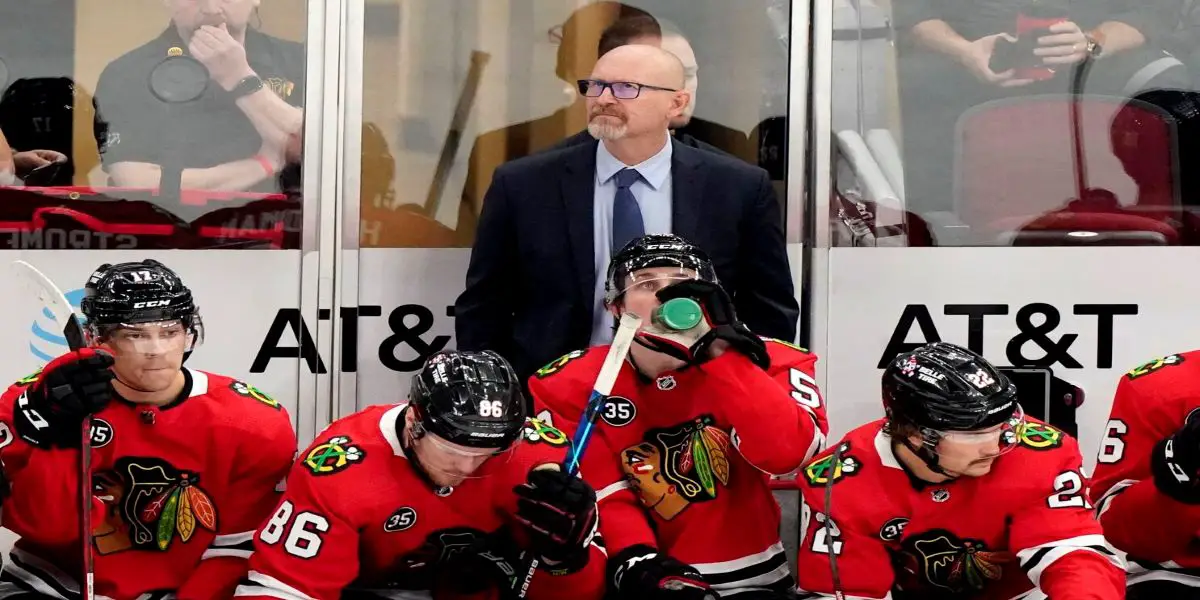 On Wednesday, April 20th, Erik Gustafsson was in the lineup versus the Arizona Coyotes over the likes of Calvin DeHaan and Caleb Jones. The choice to continue to play Erik Gustafsson is dumbfounding. Erik Gustafsson is a thirty-year-old defenseman that has a nice-looking skating stride. However, besides his fancy stride, he's nothing but a liability on the ice. Gustafsson plays defensive like a chicken with his head cut off, chasing opposing players. When he does have the puck, it's fifty-fifty if he passes it directly onto the tap of the other team's forechecking player. He is not a player that you want Alec Regula, Riley Stillman, and Alex Vlasic learning from, and the only thing that matters for the remainder of the season is the growth and development of young players. Yet King continues to rotate the "veterans" in and out of the lineup.
Is Derek King the right guy? 
Derek King is a nice guy; he's keeping it light and loose around the players, making him a likable guy during his postgame interviews, but that doesn't make him the right guy. His lineup choices are questionable on a nightly base. Wouldn't it make more sense to play a young pending restricted free agent Caleb Jones over the cone of a defenseman Eric Gustafsson? Or at least play DeHaan, a true professional on and off the ice, so that the young players can lean on him. "It's the human element of it. These guys are here, they've been a part of the team all year. You're not just gonna go, 'You're not playing these last ten games.' We got our young guys in, and they're gonna stay in. They understand. It's been laid out for them." Derek King said regarding the lineup choices. Yes, players deserve respect but not to the detriment of the team. What message does it send to the young defenseman when Calvin DeHaan goes out and battles every night and gets taken out of the lineup for a defenseman who plays with a lack of effort. Not a good one.
Derek King has zero clue what he's doing with the development of Phillip Kurashev. The lack of consistency kills a player's confidence; Kurashev is a skilled player who needs to play on a skilled line, yet King plays him with Reese Johnson and Sam Lafferty. There's nothing against those players, but they have a role; it's nose over puck chip in the corner and grinds the play out. King himself acknowledged that Kurashev needed to play a top-six role. King then played him in the top six for three games, and Kurashev produced three points, one goal, and two assists. King then healthy scratched Kurashev for two games and placed him on the "third-line" with Sam Lafferty and Taylor Raddysh when he gets back in the lineup. What kind of message does this send to Kurashev? A BAD ONE!
What is Derek King doing if he isn't handling the young players correctly? He's still running a similar man plus system that Colliton was running when he was still the head coach. The Blackhawks haven't improved on either side of the ice; huge name players like Toews are taking shifts and even completing games off. As a result, the team struggles to compete for a full sixty minutes. If a coach can not get his team to compete, he has lost the locker room. A broken locker room can kill developing young players like Dach, Kurashev, and Reichel.
The Rockford IceHogs even improved after King's promotion on November 6th. Kings lead the IceHogs to a record of 29-28-7 last season after taking over as head coach early in the season. King had an overall record of 72-82-12 during his tenure as Head Coach in Rockford. The IceHogs are currently well over .500 with a record of 35-27-5, including the slow start to the season, where they started 2-4-0 under King's leadership. As far as player development goes, most people want to credit King with The development of young players such as Hagel and Reese Johnson, but look no further than Lucas Reichel, Alec Regula, and Ian Mitchell. Mitchell struggled mightily under King last season. However, Ian Mitchell is now looking like he will compete for an NHL spot next season after having a fantastic season under Anders Sorensen. Reichel has been the driving force for Rockford with a team-leading 50 points in fifty-one games. He's developing just fine in Rockford without the likes of King.
If not King, then who?
Derek King is not the right guy to lead this team through a rebuild. He's a great person but not a great coach. The Blackhawks can go a thousand ways with the next coach. Davidson could pluck the top college coach or get the flashy young coach across the pond. They need to be a coach willing to let young players make mistakes and not healthy scratch them. Let young players battle through slumps. And a coach who will play players based on their play and not play them because you feel bad. Davidson should look for a more offensive coach as the NHL progresses to a faster, high-scoring league.
After the season, it's time to Dethrone King! 
Season 2 Episode 10: Is Patrick Kane The Greatest Blackhawks Player Of All Time
–
Cue The Dagger
In this episode, we discuss if Patrick Kane is the greatest Blackhawks player of all-time, Lukas Reichel's one NHL game, and his unbelievable shootout goal. We also break down Seattle's chances of making the playoffs, is hitting and fighting making a comeback? and much more NHL news and topics  #Blackhawks #ALLCAPS #NHL #SeaKraken #LetsGoBuffalo