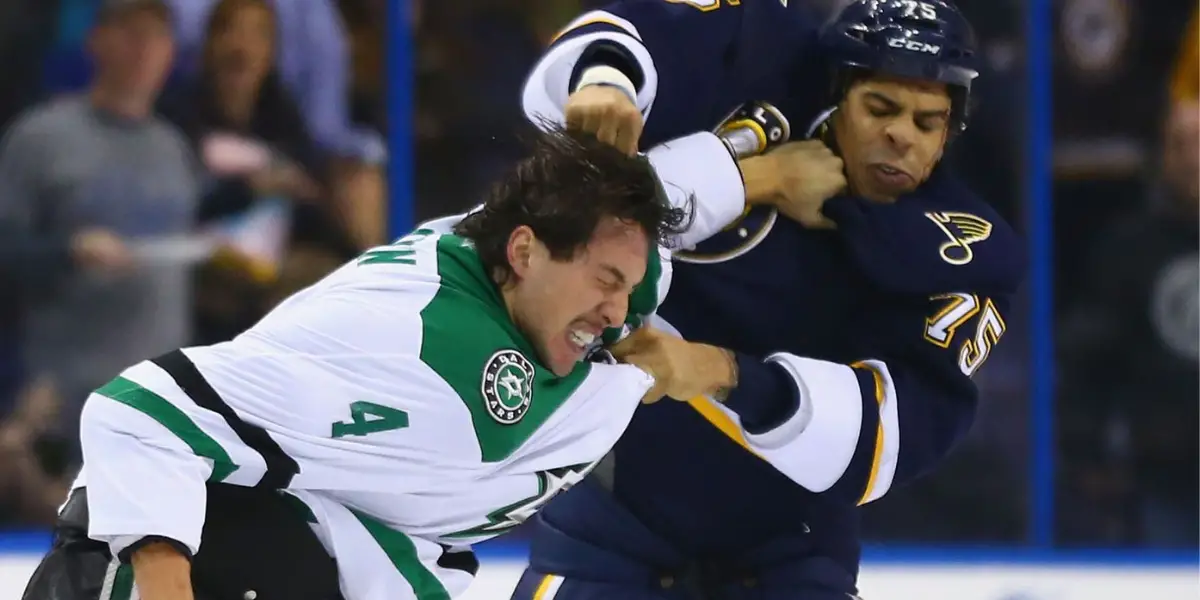 As the title says, the St. Louis Blues' rivalry with the Dallas Stars goes way back. But what exactly do you need to know about the Blues-Stars rivalry, especially if you're a new fan of either team? Read on to find out more about the rivalry!

First things first, St. Louis is arguably Dallas' biggest rival.

After the first-wave expansion following the creation of the Original Six, both Central Division teams entered the NHL. The Stars fought against the Blues at least 88 times, according to HockeyFights.com.

Here's a YouTube video of a fight between Blues right winger Ryan Reaves and Stars defenseman Brenden Dillon on November 23, 2013.

Note: Reaves has been playing for the Minnesota Wild since 2022, while Dillon has been playing for the Winnipeg Jets since 2021.
This fiery fight was just one of the many fired-up fights between the two teams but man, Reaves was a beast on the ice like the tough guy he was and always will be. Reaves is one of the best goons in NHL history, in my opinion. I'm not a fan of hockey fights, but this scuffle is one of my favorite hockey moments of all time.

Second, St. Louis didn't punch a ticket to the 2023 Stanley Cup Playoffs, while Dallas secured its second playoff appearance in back-to-back years.

There's nothing much to comment on the Blues' 2022-23 NHL season, as they've missed the playoffs for the first time since winning their first-ever Stanley Cup in 2019. But, for the Stars, they were a better version of themselves compared to the last postseason when they were eliminated in the first round by the Calgary Flames in seven games.

However, if you're interested in hockey history like me, you probably know about (or at least want to learn about) the Blues' and Minnesota North/Dallas Stars' storied playoff history. Both teams played their inaugural seasons as expansion teams in 1967-68 and then met in the 1968 postseason for the first time. The Blues eliminated the North Stars in seven games in '68.

Both teams missed each other in the 1969 postseason, but they faced off again in the playoffs three consecutive times from 1970-72. It's important to note that in '72, St. Louis and Minnesota were tied at three apiece, but the former came through for the win, thanks to the series hero, Blues right winger Kevin O'Shea (1947-2010).

Did you know that O'Shea appeared in only three seasons during his NHL career? Go figure!

The Minnesota North Stars relocated to Dallas, Texas, in 1993 due to attendance and personal struggles and became the Dallas Stars. The inaugural Dallas Stars team made the playoffs in 1993-94, refused to waste time, and swept the Blues in the Western Conference Semifinals. Ironically, Stars defenseman Paul Cavallini scored the overtime game-winner in Game 4. Cavallini previously played for the Blues from 1987-1993.

The Blues-Stars rivalry reappeared in 2001, but '01 favored the Blues. The Blues defeated the San Jose Sharks 2-1 in Game 6 to send them home packing. After that, St. Louis swept the Ken Hitchcock-led Stars, and the arguably biggest highlight of that short series was Blues left winger Cory Stillman's game-winner for a 3-2 double overtime win in Game 3. Stillman has been working as an assistant coach for the Arizona Coyotes since 2020.

The most recent installment of the Blues-Stars rivalry was in 2019. The Stars finished 2018-19 as a wild-card team and went on to eliminate the Nashville Predators in six games, only to get eliminated by the Blues in seven games. In case you need a refresher, the Blues-Stars Game 7 was a double-overtime thriller as Blues left winger Pat Maroon scored at 5:50 of double overtime, and Stars goalie Ben Bishop made an NHL career-high 52 saves. Maroon now plays for the Tampa Bay Lightning, while Bishop's a former goalie under contract to the Buffalo Sabres.

Last but not least, both fanbases are unique in their respective ways.

Blues fans sing "Take Me Home, Country Roads" by John Denver and "Gloria" by Laura Branigan, while Stars fans rock out to "Puck Off (Dallas Stars Fight Song)" by Pantera. In case you didn't know, "Take Me Home, Country Roads" is about West Virginia, "Gloria" was written and performed by a New York native, and "Puck Off" is essentially a goal horn after each goal scored at the Stars' home games. The first two songs caught the Blues' attention at random times, but the third song was written for the hometown Stars by an Arlington, Texas-based heavy metal band first formed as Gemini and Eternity in 1981.

From my observations, both fanbases have optimistic and pessimistic fans.

Sometimes, one of the two fanbases' fans seems overly negative for the day — and that's okay. Fans of either team feel good and bad emotions. For Blues fans, this wasn't their team's year, and the Blues-Stars matchups were far from must-see television. There's a chance the schedulers scheduled a home-and-home between the Blues and Stars to end the 2022-23 regular season because they prematurely predicted that the two teams would fight for playoff seeding purposes. And, for Stars fans, this may be a better year than expected, but I can't speak for every Stars fan, as some appear more gloomy than happy-go-lucky. Both fanbases, however, can look forward to next season or 2023-24.

Let's take a stroll down memory lane. I don't know about you, but I thought it was clever and funny when the league placed actual fans in the seats at the Blues vs. Stars game at the Enterprise Center on August 9, 2020, and thanked the fans.

Whether you attend Blues or Stars home games, you shouldn't be surprised if you witness harassment from one fanbase to the other. Bandwagon fans help teams financially, but there are moments when they can destroy their new favorite teams' images, reputations, etc. For example, a Reddit user once mentioned that some Stars fans made some Blues fans cry on the Trinity Railway Express (TRE) train after a Stars vs. Blues game at the American Airlines Center in 2019.

Oh, and I remember when a male Blues fan had a perfect response to a female Stars fan that went viral for her skimpy outfit during the two teams' Western Conference Semifinals in 2019. Do you remember?