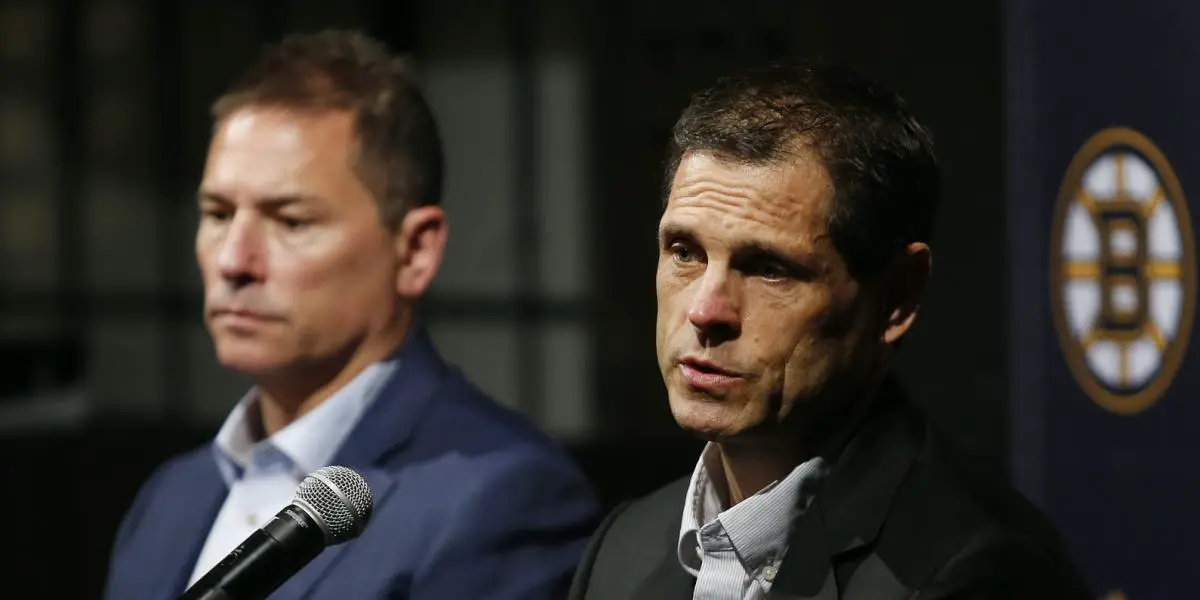 With the season being closer to its end than the beginning, the focus shifts to teams announcing team management and coaching changes. The Boston Bruins have been toward the top 10 teams for the past decade but have yet to cross the finish line and hoist a Stanley Cup since 2011. Say what you will about the team itself, Bruins owner Jeremy Jacobs and company expect success every season.
As someone who has been a supporter of Don Sweeney, I think the time has come for the Bruins to move on from Sweeney and start to prepare for life after Patrice Bergeron.
Drafting
But before we get too harsh on Sweeney, let's look at his record in the first round. Everyone remembers the miserable 2015 NHL Draft where Sweeney had three picks in a row, and I think it's safe to say he completely dropped the ball here. However, this was Sweeney's first draft as the Bruins general manager, and he had only been in the role a few months prior.

2015: Jakub Zboril, Jake DeBrusk, and Zach Senyshyn
2016: Charlie McAvoy and Trent Frederic
2017: Urho Vaakanainen
2018: TRADED
2019: John Beecher
2020: TRADED
2021: Fabian Lysell
After seeing Sweeney's track record, it is hard to feel confident in the Bruins filling up the prospect pool in any potential rebuild in the post-Bergeron era. Outside of traded picks, Sweeney had eight picks in the first round, and I would argue that only three of these players are full-time NHL talents, and one of them has already requested a trade.
There have been rumors that the Bruins would be switching up their draft strategy this offseason. A source close to the situation has told us the Bruins may look to remove Cam Neely from the draft floor and lean more of the power into the scouting staff's hands. I would be relieved to see this come to fruition this July. Personally, I've felt that the Bruins thought they were the smartest team in the room on draft day. They were consistently picking players considerably higher than on most draft rankings.
Free Agent Signings
Most perennial winning teams will never get a top ten draft pick, and they have to make savvy moves on the free-agent market to continue bringing talent to their roster. As far as Don Sweeney goes, he is 50/50 in this category. Sweeney's Achilles heel has been a "power forward" type, like Beleskey, Backes, Brett Ritchie, and Foligno. The Bruins have made obvious attempts at trying to have a Cam Neely-like player on their roster, but ever since Milan Lucic's exit, it has been a disaster for the Bruins. The most unfortunate part of these signings is that they were primarily longer-term with significant AAV. There were a few when you look at the clear wins for free-agent signings—a flurry of signings adding depth at multiple positions with Forbort, Ullmark, Haula, and Nosek. Sweeney made big changes to his roster, and you saw the impact on the Bruins regular-season success in an immensely talented division.
Good Signings
Erik Haula
Derek Forbort
Tomas Nosek
Linus Ullmark
Jaroslav Halak

Bad Signings
Matt Beleskey
David Backes
John Moore
Nick Foligno
Brett Ritchie
Re-Signing players
Re-signing players has been the absolute gem of Sweeney's tenure with the Bruins. He has managed to retain all of the key players in the lineup, and most of the players retained all returned on team-friendly deals. That's always a big plus. Without the ability to bring back top-tier talents like Marchand, Pastrnak, Krug(the first extension), Carlo, Hall, McAvoy, and Lindholm. I don't think I need to mention more; you get the point.
This one topic is what gives me pause on everything else that Sweeney may be lacking. I would bring in another general manager in a perfect world and still want to keep Sweeney somehow solely focused on re-signing players like he has the last few years.
Trades
Another 50/50 category to make things even more challenging to determine. Yes, Sweeney has made some trades that have helped the Bruins team improve and have cap space flexibility. The downside to this is that Sweeney had to trade first-round picks and prospects to dump salary in many moves for deadline acquisitions. Such as moving Beleskey to the Rangers in the Rick Nash deal, David Backes in the Ondrej Kase deal, and John Moore in the Hampus Lindholm trade. All three transactions included a first-round pick and a prospect at the minimum. If you look at it objectively, there are a handful of trades that Sweeney has had a clear win. The hard part is that most of those trades were including draft picks. Draft picks may typically be an attractive asset, but Sweeney has not been good at the draft table in his career, as we mentioned before. Overall, Bruins trades leave you hoping for more; mediocre overall. The most significant victory for Sweeney in this category is definitely getting Taylor Hall from the Sabres.
Verdict
Overall, Sweeney leaves much to be desired from a general manager. Mediocre at most things aside from re-signing players. Is this all Sweeney has to offer at this point? Boston has had one serious cup run under Don Sweeney, and yes, they were the more talented team in the series. But they still couldn't get the job done. With Sweeney currently not having a contract extension, I could see a golden opportunity to make a change at General Manager. With that in mind, if Boston moves on from Sweeney, Bruce Cassidy is now on the hot seat. Most GMs want "their guy" behind the bench of their team. Even if they don't right away, they are quick to fire the coach at the first sign of trouble.
Significant changes may be around the corner for the Boston Bruins.
Episode 51: Interview w/Jack Ahcan Episode 51 is back in action talking about the New York Paingers ITR bet, Can Buffalo Sabres make the playoffs? Is Vancouver in the wrong on the Boudreau treatment? Is Tocchet the right guy? Is Daryl Sutter the last Dinosaur in the NHL?YouTube: https://www.youtube.com/@insidetherinkTwitter: https://twitter.com/CueTheDuckBoatzFacebook: https://www.facebook.com/Cuetheduckboats/Thanks for listening! Please rate and review our show on your favorite listening platform. Check out our partner's website at www.insidetherink.com for all your latest hockey news. Also, catch all of the games in this year's NHL season by signing up for ESPN+ at Insidetherink.com/ESPN