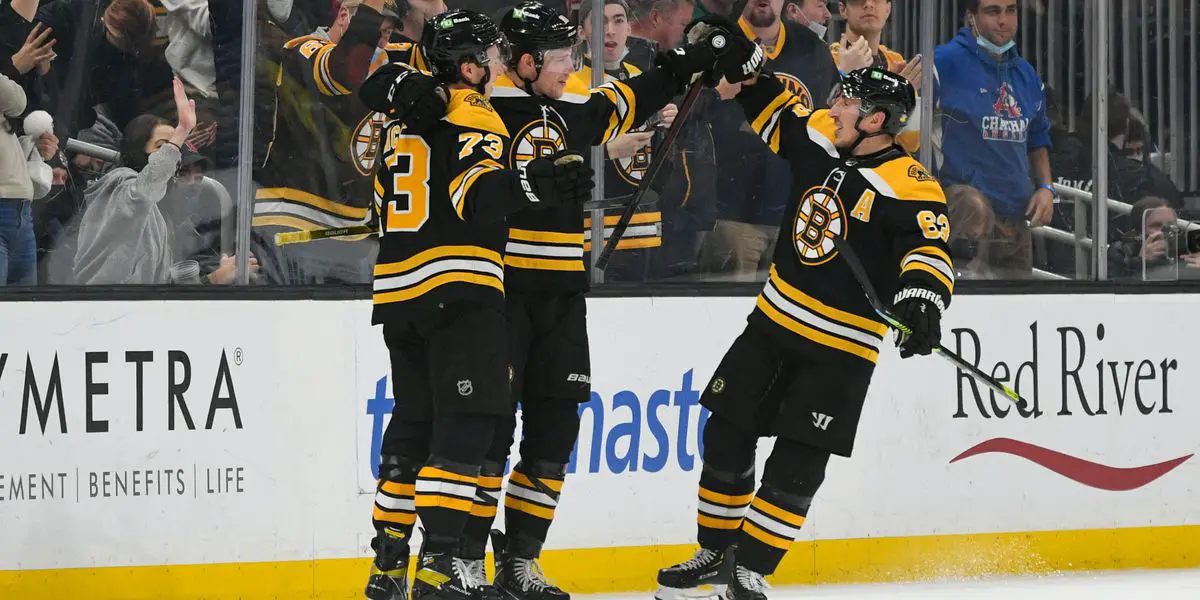 As the Boston Bruins passed the season's midway mark, it is time to evaluate the team. The Bruins have had an eventful season, beginning with an unbalanced schedule. A bout with COVID throughout the team caused some creative roster maneuvers by General Manager Don Sweeney and lineup manipulation from Head Coach Bruce Cassidy and his staff. The Bruins have survived through many trials and tribulations and found themselves in a playoff position as they turn the corner and head down the stretch on the 2021-22 season.

The following looks at each player's performance so far this season based on the expectation entering the year. (Stats are based on games through January 29):

Forwards:
Patrice Bergeron – A-
The Captain has been very steady this season with 33 points in 40 games and has won 63 percent of his faceoffs. The free-agent-to-be has not shown much decline this season.

Brad Marchand – A
Marchand has been one of the best players in the league and a legitimate Hart Trophy candidate. The feisty left-winger has 47 points in 36 games.

David Pastrnak – B+
The high-scoring winger had a tough start. Pasta has now rebounded to have 20 goals on the season. Number 88 has found his game since moving to the second line with Erik Haula and Taylor Hall.

Taylor Hall – B
Hall has also reaped the benefits of Pastrnak's shift to the second line. His grade stays at a B due to only having nine goals on the season.

Charlie Coyle – B-
With the departure of David Krejci, Charlie Coyle was called upon to produce much more than last season when he registered just 16 points in 51 games. Coyle has centered both the second and third lines this season and has already surpassed last season's total with 19 points.

Erik Haula – B-
The free-agent signing has improved his play since moving to the second-line center between Hall and Pastrnak. Haula has shown some chemistry with his linemates. He has won 50 percent of his faceoffs.

Jake DeBrusk – C+
It has been quite a season so far for the Edmonton native. DeBrusk scored on opening night, which resulted in renewed optimism that DeBrusk would regain his past form. However, DeBrusk's play would tail off, followed by a request to be traded. Jake has seven goals and has been better lately.

Craig Smith – C-
It hasn't been a great year for Craig Smith. The winger has just five goals, and his play has been inconsistent for much of the season. The Bruins need more from Smitty.

Curtis Lazar – C
The grinding center has been better as of late, paired with Tomas Nosek and Anton Blidh. Lazar is winning only 45 percent of his draws, however.

Tomas Nosek – B
Nosek has been one of the most consistent players on the team thus far. Offensively, the Bruins could use a little more, but Nosek has been a good fourth-liner for them.

Nick Foligno – D
The Bruins were optimistic when they added Foligno in free agency. However, Foligno has not been good. The 34-year-old has just one goal in 26 games.


Anton Blidh – C
Blidh has provided some physicality and eight points in 22 games. Blidh has been a good addition to the fourth line.

Trent Frederic – D+
Freddy has had a tough season and has not returned since being injured on January 10. The Bruins need someone who can play with an edge and protect teammates, and Frederic just doesn't do it enough.

Oskar Steen – B
Steen has been an excellent addition to the big club and has found some chemistry with Coyle and DeBrusk. Oskar provides good speed and some scoring touch, totaling six points in 16 games.

Defensemen:
Charlie McAvoy – A
McAvoy is a top defenseman in the league and logs just under 25 minutes of ice time per game. The former Boston University star has also increased his offensive input with 28 points in 38 games.

Matt Grzelcyk – B-
Grzelcyk has been underrated for a few years, but with departures of Zdeno Chara and Torey Krug in recent years, more has been put on McAvoy's former college teammate. Griz has been better lately and has 16 points in 37 games. At times, Grzelcyk has uncharacteristically mismanaged the puck and increased playing time puts him at risk for injury.

Brandon Carlo – C
I feel like Bruins fans continue to wait for Carlo to be the shutdown defender many thought he would be. Carlo has had an up and down year. The team needs him to be physical and a little nasty, and frankly, the big D-man doesn't do it enough.

Mike Reilly – C
Reilly's skill set is definitely in his ability to move the puck and be a threat offensively. Defending in his own zone is where he struggles. The Bruins will need more defensively from Reilly going forward.

Derek Forbort – B-
The free-agent signing was brought in to provide good defense in his own zone. Forbort actually provided surprising offense early on in the season. For the most part, Forbort has been steady.

Jakub Zboril – B-
The former first-rounder showed that maybe, just maybe, the Bruins have developed a foundational player from those three first-round picks of the infamous 2015 NHL Draft. An ACL injury derailed his season, unfortunately. Hopefully can return to form next season.

Connor Clifton – D
Cliffy Hockey has become more of a derogatory term in Boston. Clifton gets caught running around too much in his own zone and takes some unwanted penalties. The Bruins need more consistent play from him.

Urho Vaakanainen – B
Vaak has been a pleasant surprise for someone who was pretty much written off before the season started. At times, the former first-round pick has been paired with Charlie McAvoy and has played solid defense.

John Moore – INC
Moore has played just seven games and is a reliable plug-in when needed.

Goalies:
Linus Ullmark: B+
Ullmark has been good lately and 10-1 in his last eleven games. He looks to be the number one goalie if Tuukka Rask continues to struggle.

Jeremy Swayman – C+
With the arrival of Rask, Swayman is back in Providence and could probably use the seasoning. Sway continues to be the goalie of the future for Boston.

Tuukka Rask – INC
We will give Tuukka an incomplete after a long layoff and just four games.

The Bruins survived the schedule and COVID to be right in the mix at the halfway point of the season. With the revised schedule, the Bruins will need all hands on deck to finish the season strong with limited off days.
Season 2. Episode 37. It's Going To Be A Long Off-Season
–
Bruins Benders Podcast
The Bruins off-season will be longer than expected. We like some CHL rules changes. The Bruins defense needs to be nastier, not just bigger. Can this core going forward win a Cup? Plus Beauties and Benders and Rod Brind'Amour whines.