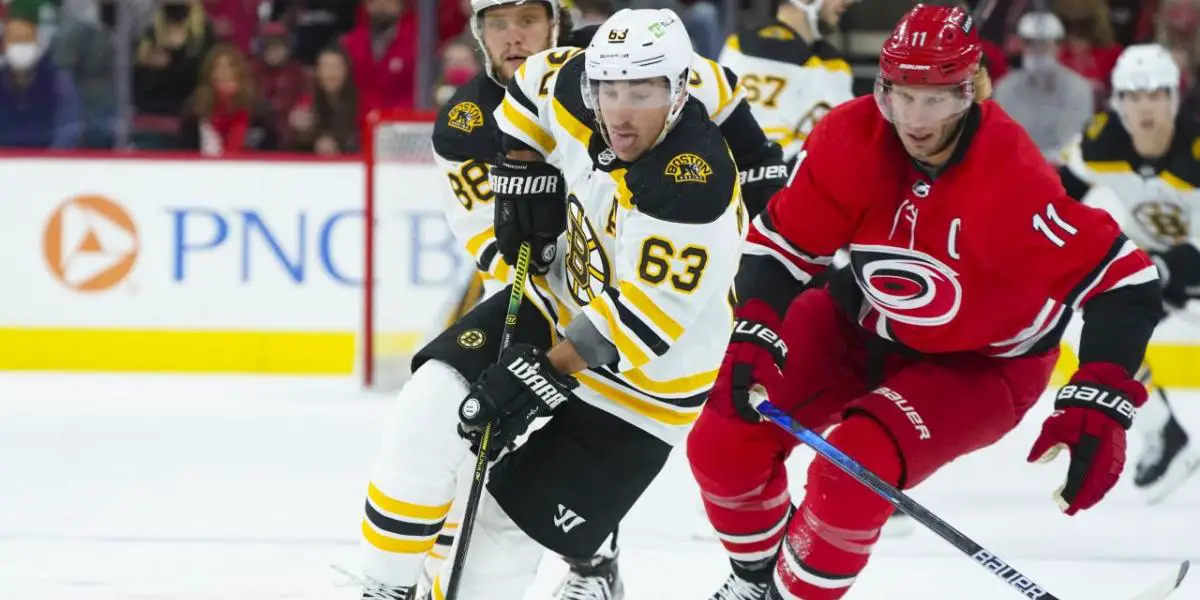 Brad Marchand was born on May 11, 1988, in Halifax, Nova Scotia, Canada. Brad's father played junior hockey and was a youth hockey coach as well. At 16, Marchand began playing in the Quebec Major Junior Hockey League for the Moncton Wildcats. In two seasons with Moncton, the scrappy forward tallied 95 points in 129 games and posted an impressive plus-40 rating in his second season.
Brad Marchand Drafted 71st Overall By Boston Bruins
In the 2006 NHL Draft, the Boston Bruins selected Brad Marchand in the third round with the 71st overall pick. The Bruins had one of their signature drafts in 2006 by also drafting forwards Phil Kessel (5th overall) and Milan Lucic (50th). Marchand's stature raised questions about his NHL worth, but his competitiveness was unmatched. However, his reputation for being mouthy and hot-tempered held him back some. Currently, Marchand is third in points among 2006 draftees behind Niklas Backstrom, Kessel, Claude Giroux, and Jonathan Toews.
Marchand was traded to Val d'Or Foreurs the following season and registered 124 points in 90 games over a season and a half before being traded again, this time to his hometown Halifax Mooseheads where he tallied 29 points in 26 games and 19 in 14 postseason contests in his last season in the QMJHL. In 2008-09, Marchand signed his entry-level contract with Boston and joined the Providence Bruins of the American Hockey League. In his first year in the AHL, the 5-foot-9 forward showed he could play professional hockey with 59 points in 79 games and another good postseason with 16 points.
Brad Marchand's NHL Debut To Today
After just 34 AHL games in 2009-10, the left wing was called up to play with the Boston Bruins. On October 21, 2009, Brad Marchand made his NHL debut in a 3-2 win over the Nashville Predators with one assist, one blocked shot, and a plus-one rating in 14:42 of ice time. In 19 games the rest of the season, Marchand went pointless. The beginning of Marchand's NHL career was a little bit of a bumpy ride. In 20 games that year with Boston, Marchand had just one assist, and his lack of size as a winger made hockey experts question his value as a pro. But those questions were answered the following season as the Bruins won the Stanley Cup, and Brad Marchand was a huge part of their success with 21 goals in the regular season and 11 postseason goals. Marchand had arrived as a viable NHL forward.
From there, Marchand climbed the ranks as one of the top left wings in the National Hockey League. In 874 career games, all with Boston, Brad has posted 795 points, and as a playoff performer, Marchand has excelled with 118 points in 139 games and three Stanley Cup Finals appearances. Among the all-time Bruins leaders, the former third-round pick is sixth in goals, ninth in assists, and seven in points. Marchand is also five in even-strength goals and first in short-handed goals with 33.
Marchand is recovering from double hip surgery and just recently skated with the team. His return will likely be in late November-early December. The 34-year-old is tenth in games played all-time for Boston and just 17 games behind Terry O'Reilly for eighth place.
Season 2. Episode 37. It's Going To Be A Long Off-Season
–
Bruins Benders Podcast
The Bruins off-season will be longer than expected. We like some CHL rules changes. The Bruins defense needs to be nastier, not just bigger. Can this core going forward win a Cup? Plus Beauties and Benders and Rod Brind'Amour whines.