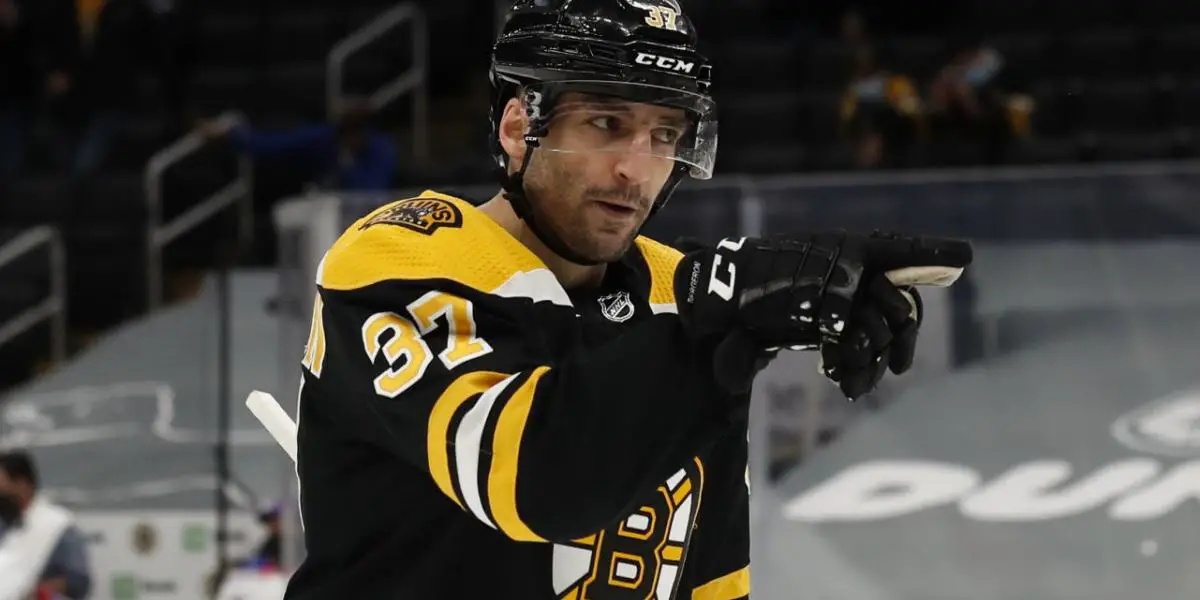 Boston Bruins Captain Patrice Bergeron is unavailable for Game 2 of the first round of the Eastern Conference playoffs as Head Coach Jim Montgomery said that Bergeron is feeling better but still not well enough to play Wednesday night in Boston. Montgomery said that the five-time Selke Award winner is dealing with an "injury, not illness," which keeps him out of the lineup.
Bergeron was injured on April 13 in the Bruins' regular-season finale in Montreal. The injury was deemed "upper-body," and Bergeron did not return to the game, nor did he participate in any practices since. Wednesday morning, the 37-year-old center skated on his own prior to the team's morning skate, which did not include Bergeron. The first-line center did have an illness that other players had on Thursday, but that is not the reason for tonight's absence.
The Bruins won the first game of the best-of-seven series 3-1 on Monday night behind goals from David Pastrnak, Brad Marchand, and Jake DeBrusk. Pavel Zacha has taken over Bergeron's role as a top-line center and will be there again Wednesday as Montgomery announced no new lineup changes.
Bergeron's status for Game 3 on Friday night in Florida is still undecided, and when asked about the entire series, Montgomery did not rule out Bergeron missing all of the games. Wednesday morning's free skate is definitely a sign of progress, but it remains to be seen how long Bergeron will be out of the lineup. The Bruins, ironically, are 5-0-0 without the services of their captain this season.
Game 2 is scheduled for Wednesday night at TD Garden in Boston, with the Bruins leading the series one game to none. The Panthers will look to rebound while trying to solve Vezina Trophy candidate Linus Ullmark who made 31 saves Monday. The Panthers' line goal was scored by 40-goal scorer Matthew Tkachuk. Florida might get a boost as forward Sam Bennett practiced with the team on the second line at the morning skate. Bennett has been out with injury and scored 16 goals in the regular season.
Season 2. Episode 38. Special Guest Terrence Wallin
–
Bruins Benders Podcast
Maine Mariners Coach Terrence Wallin makes a return visit to recap the season. Should the Bruins make room for Tyler Bertuzzi? Will the Bruins move some core pieces? I guess there is more time for golf and more!