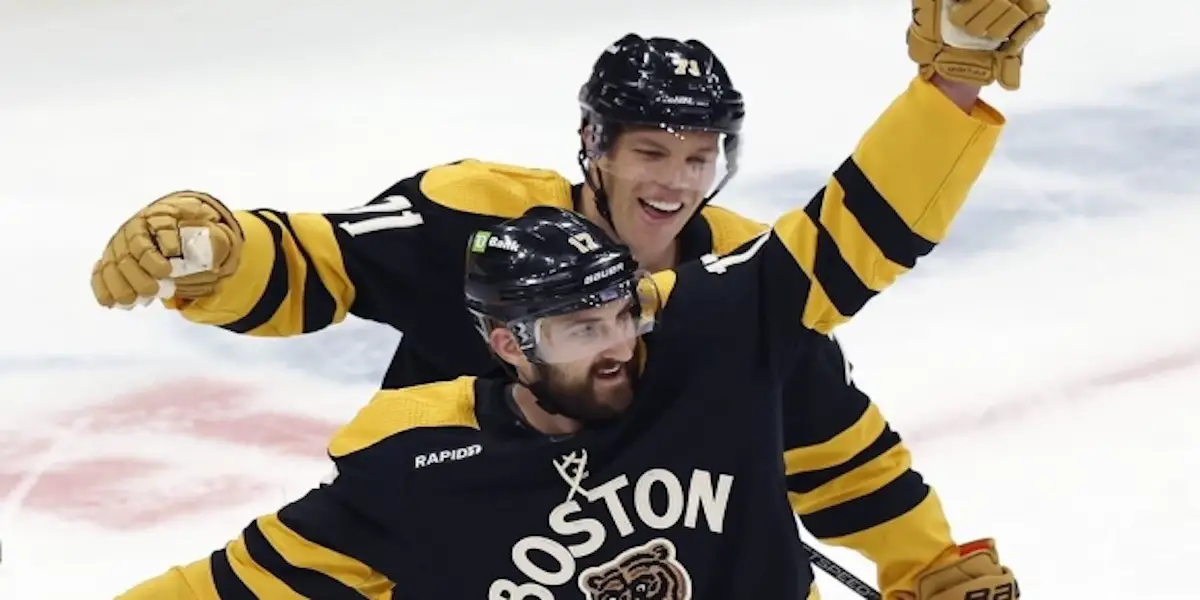 The Boston Bruins won 65 games during the 2022-23 regular season, a National Hockey League record. The roster was bolstered by the trade deadline acquisitions of Garnet Hathaway, Dmitry Orlov, and Tyler Bertuzzi, and all signs pointed to a deep playoff run. However, nobody could have predicted this type of ending to a season that saw the Bruins lose in the first round to the Florida Panthers in seven games. This end-of-season report card now needs to be split into two sections, regular season and postseason, with very different results. Here are the forwards:
Regular Season 21-46-67 in 73 games (B)
Postseason 4-6-10 minus-6 (B-)
Contract: 2 years remaining at $6.125m AAV
Marchand returned early (November 1) from off-season double hip surgery and had produced offensively for much of the season. The feisty winger did feel the effects of the surgery and, by his admission, did not feel as well as he thought he would. The 34-year-old left wing played fairly well in the playoffs but did not have his best game in Game 7 and was a shocking minus-6.
Regular Season 61-52-113 plus-34 in 82 games (A)
Postseason 5-0-5 minus-2 (B-)
Contract: 8 years remaining at $11.25m AAV
Pastrnak had a Hart Trophy-type season for the Bruins and was just the second Bruin ever to score 60 goals in a season. Pastrnak signed an eight-year extension and continued to flourish while playing all 82 games. It was a memorable season for the right wing, for sure. But in the playoffs, Pastrnak took an awkward hit from Aaron Ekblad and banged up his shoulder in the first shift of Game 1. It wasn't until Game 6 that Pastrnak really found his game. But it wasn't enough.
Regular Season 27-31-58 plus-35 in 78 games (B+)
Postseason 1-0-1 minus-6 in 3 games (C-)
Contract: Unrestricted Free Agent
If this was Patrice Bergeron's last season, the captain showed that he can still be a top 200-foot center in the league. Bergeron had another impressive statistical season, particularly in five-on-five play, and is a nominee for his sixth Selke Award. Bergeron possessed a 61.1 percent success rate at the faceoff circle. The Quebec native suffered a herniated disk during the last regular season game in Montreal, which caused him to miss the first four games of the playoffs. When Bergeron returned, his game was not up to speed, and the Bruins went 0-3 with their top-line center in the lineup. Oof.
Regular season 16-20-36 in 61 games (C+)
Postseason 5-3-8 plus-4 and 12 hits 7 games (B+)
Contract: 2 years remaining at $6m AAV
The former Hart trophy winner had an up-and-down season but played much of the year on the third line and played just under 16 minutes per game on the ice. Hall's move to the third line provided a balanced attack, and his 28 even-strength points were valuable. The former first-overall pick did miss 21 games due to injury. Upon his return in the playoffs, Hall seemed energized and scored five goals. However, his ice time seemed to diminish as the series went on. Overall, Hall showed signs of being the elite player he can be.
Regular season 16-29-45 plus-29 (B)
Postseason 1-1-2 minus-1 and 20 hits (C)
Contract: 3 years remaining at $5.25m AAV
The Weymouth, Massachusetts native has become a solid two-way center for the Bruins and had a good rebound season. Coyle was an excellent penalty killer and faceoff guy as well. Even though Coyle is a terrific possession player, his point totals never seem to match it. In the playoffs, Coyle played well at times, but production was down, and he was a minus-1. Overall, it was a good year for Coyle, but he always seems to have you wanting more.
Regular season 21-36-57 plus-26 (B+)
Postseason 0-6-6 (B)
Contract: 4 years remaining at $4.75m AAV
Zacha proved to be an excellent acquisition as he had a breakout season with Boston and signed a four-year extension. The 25-year-old is a reliable player with good instincts and better offensive potential. In the postseason, Zacha saw an average of 17:30 of ice time and played top-six minutes, with Bergeron and David Krejci both missing playoff time. Zacha did not find the net but had six assists and showed promise for the future.
Regular season 27-23-50 plus-26 (B+)
Postseason 4-2-6 (B-)
Contract: 1 year remaining at $4m AAV
DeBrusk had another productive season, and new coach Jim Montgomery. DeBrusk's speed game was on display many nights this season. The Edmonton native tied a career-high with 27 goals and set a high mark of 50 points. In his career, 91 of his 119 goals are even strength. In the postseason, DeBrusk performed well early on but tailed off in the latter games. The Bruins could have used more than 11 shots from Jake DeBrusk in the first round.
Regular season 5-7-12 in 61 games (D+)
Postseason DNP (INC)
Contract: 1 year remaining at $762.5k AAV
Greer burst onto the scene early in the year with sneaky scoring ability and a willingness to fight, which instantly made him a fan favorite. But that production seemingly disappeared which had been the knock on Greer in previous stints in the league. The second-round pick has only played an average of 9:06 of ice time but did amass 114 penalty minutes.
Regular season 7-11-18 in 66 games (C+)
Postseason 0-2-2 (C+)
Contract: Unrestricted Free Agent
Nosek is a good faceoff guy (59.1) and a top penalty killer, but he does not provide much offense. The free agent to be is limited offensively, so the fourth-line center is the position for him. In the playoffs, Nosek was much the same, with a 60.4 faceoff percentage in about 12 minutes of average ice time.
Regular season 10-16-26 plus-18 (B)
Postseason 1-2-3 (B-)
Contract: Unrestricted Free Agent
Foligno provides great leadership in the locker room and, this season, a much stronger presence on the ice. Fliggy also had 147 hits on the season and was a factor on the fourth line. The veteran scored a goal in the playoffs, dished out 21 hits, and was a healthy scratch in Game 7. The free agent would like to return, but it would have to be a league minimum deal.
Related Story: The Nick Foligno vs. Ryan O'Reilly Trade
Regular season 16-40-56 in 70 games (B)
Postseason 1-3-4 minus-3 (C)
Contract: Unrestricted Free Agent
It was good to have the playmaking Krejci back in Boston. The Bruins were a much more dangerous offensive team with Krejci. Defensively, Krejci has lost a step, but his offensive creativity makes players better. After missing a season to play in Czechia, the 36-year-old got off to a slow start but was very good for the Bruins overall and continues to build a strong legacy as one of the best centers in Bruins' history. In the postseason, Krejci missed the first four games, struggled when he returned, and then had 1-2-3 in Game 7. This seemed to be Krejci's last kick at the can, as the 37-year-old is a free agent again.
Regular season 17-14-31 plus-28 and 105 hits (B)
Postseason 0-0-0 minus-2 in 5 games (D)
Contract: Restricted Free Agent
Frederic revitalized his career with renewed confidence offensively and improved skating. Having Hall on his line has helped as well. The former first-round pick scored a career-high in goals but did not produce much in five playoff games, with eight shots and eight hits in only 10:19 of average ice time.
Tyler Bertuzzi
Regular Season w/BOS 4-12-16 in 21 games (B+)
Postseason 5-5-10 minus-4 (B+)
Contract: Unrestricted Free Agent
Bertuzzi was a great pickup at the deadline and made an immediate impact on the ice and with the fan base. The skilled left wing scored five postseason goals and many of them big ones. His pesky, gritty style makes him a natural Bruin. During five-on-five play, Bertuzzi wasn't great at times, but his production was there. The free agent will be hard to sign, but you have to believe the Bruins will consider it.
Related Story: Tyler Bertuzzi registers first NHL playoff point in first playoff game
Garnet Hathaway
Regular Season w/BOS 4-2-6 in 25 games (C+)
Postseason 0-1-1 (D+)
Contract: Unrestricted Free Agent
Hathaway was a disappointment of sorts. The Kennebunkport native was brought in to be an agitator and physical player. He did that at times but was largely absent at other times. The infer just didn't provide enough of the physical play the Bruins had hoped.
Regular season 4-3-7 in 23 games (B-)
Postseason 0-1-1 in 3 games (D+)
Contract: Restricted Free Agent
Lauko showed some promise when brought up to the Bruins throughout the season. He brought some speed and youth, and a willingness to play physical hockey. When called upon in the playoffs, Lauko was a little over his head. He played just 6:5 of ice time and took two penalties in Game 5 in Boston. Hopefully, this was a good learning experience for Lauko.
The forward group could look much different with six unrestricted and a restricted free agent. Decisions will have to be made on who will be a part of the 2023-24 Bruins.
Season 2. Episode 38. Special Guest Terrence Wallin
–
Bruins Benders Podcast
Maine Mariners Coach Terrence Wallin makes a return visit to recap the season. Should the Bruins make room for Tyler Bertuzzi? Will the Bruins move some core pieces? I guess there is more time for golf and more!