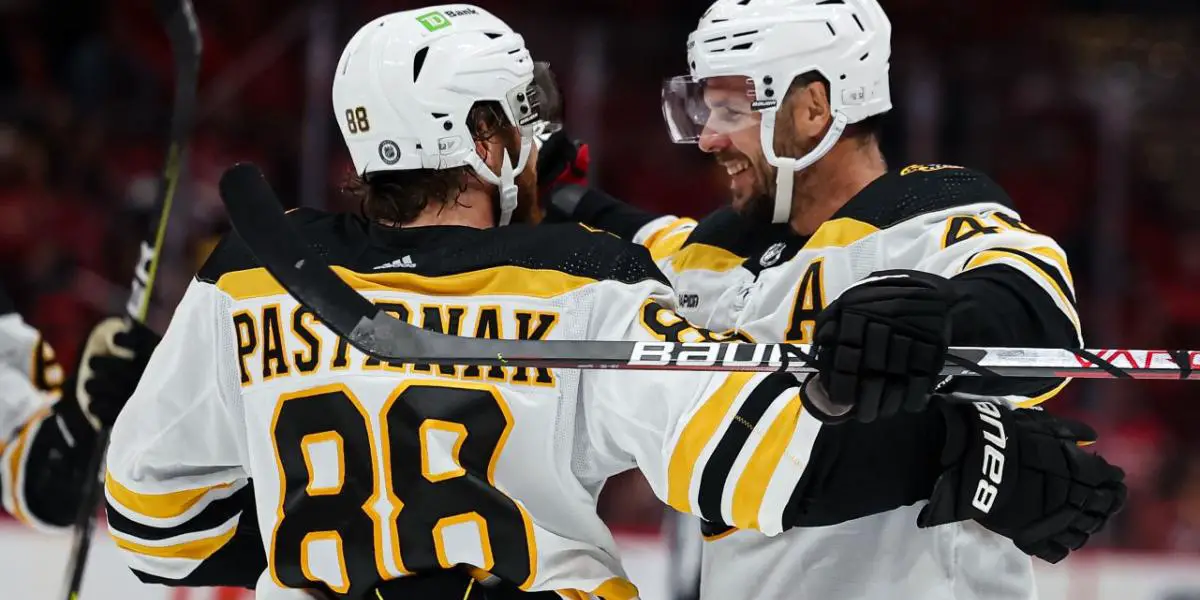 David Krejci was born on April 28, 1986, in Sternberk, Czech Republic. Krejci's brother Zdenek was a goaltender who played several years in Czechia before retiring at the end of the 2008-09 season. As a 14-year-old, David Krejci played for the HC Olomouc U-18 team in his homeland. The following season, the young center joined HC Ocelari Trinec and burst onto the scene with 32 goals and 27 assists in 48 games. In 2002-03, Krejci moved on to the U-20 team as a 17-year-old and totaled nine points in 12 games.
The following season, the playmaking pivot played for the HC Kladno U-20 team and had another terrific year with 60 points in 50 games. Krejci also experienced his first World Junior Championships and registered seven points in seven games for Czechia. When he turned 18 years old, Krejci took his talents to the Quebec Major Junior Hockey League with Gatineau Olympiques.
With Gatineau, the right-shot forward was a top player in the league. In two seasons in the Q, Krejci tallied 144 points, and in the 2005-06 QMJHL playoffs, he had ten goals and 22 assists in 17 games. David Krejci was becoming a viable candidate for an NHL roster.
David Krejci Drafted 63rd overall by the Boston Bruins in the 2004 NHL Draft
Krejci was selected in the second round by the Boston Bruins in the 2004 Draft, the 15th center chosen. After Evgeni Malkin, Krejci has played the second-most games of any center in that draft when he surpasses retired center Travis Zajac (1,037 games). The scout from eliteprospects.com on the 6-foot, 185-pound center proved to be accurate, "Krejčí is a very smart center with a great two-way game. He is a terrific passer and playmaker with excellent vision. Also has a decent physical game."
Krejci's NHL Debut To Today
David Krejci made his National Hockey League debut on January 30, 2007, in a 7–1 loss against the Buffalo Sabres, but he suffered a concussion from Buffalo's Adam Mairduring his third shift. Krejci recorded just 2:07 minutes of ice time. David played increasingly with Boston the following season, appearing in 56 NHL games to go with 25 games in Providence with the Bruins' American Hockey League affiliate. On February 26, 2007, the playmaking center scored his first official NHL goal against Martin Gerber of the Ottawa Senators as the second Bruins goal in a 4–0 home-ice shutout. He finished his rookie NHL season with six goals and 27 points.
The next season, Krejci would become a mainstay in Boston's lineup with 22 goals and 51 assists, played all 82 regular season games, and had an NHL-beat plus-37 rating. Krejci would develop a reputation for being a playoff performer, with eight points in 11 postseason games in 2009 and eight more in nine playoff games in 2010. During the 2010-11 postseason, the slick-passing forward tallied a league-best 12 goals and 23 points as the Bruins won the Stanley Cup. In the 2012-13 playoffs, Krejci led the league with 17 assists and 26 points as Boston again reached the Stanley Cup Finals. The following season, Krejci led the entire NHL with a plus-39 rating in the regular season.
David Krejci will turn 37 years old in April. Last season, Krejci used his unrestricted free-agent status to return to his native Czechia to play back home before returning to the Bruins this season on a $1 million, incentive-laden contract for 2022-23. At the end of this season, Krejci will be a free agent again and will make a decision on returning for a 17th season. At this point, Krejci is in the top 10 in many Bruins categories all-time and played in his 1,000 regular season game on January 16, 2023. Bruins fans hope there are many more games to come.
Season 2. Episode 38. Special Guest Terrence Wallin
–
Bruins Benders Podcast
Maine Mariners Coach Terrence Wallin makes a return visit to recap the season. Should the Bruins make room for Tyler Bertuzzi? Will the Bruins move some core pieces? I guess there is more time for golf and more!