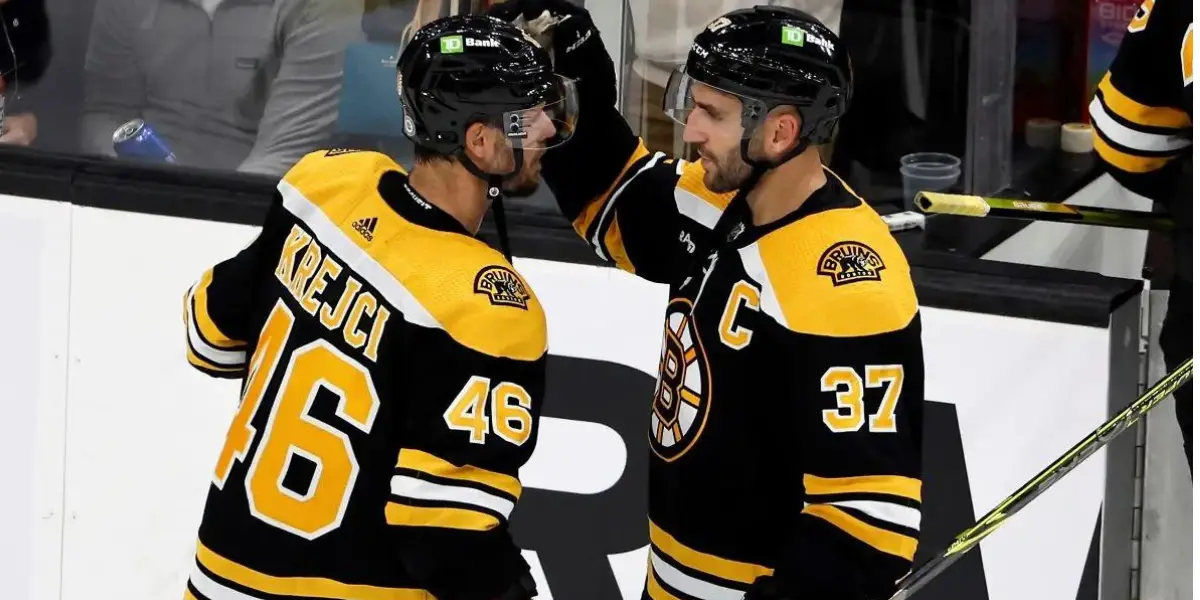 The Boston Bruins had gone 20 seasons since winning a playoff game with both Patrice Bergeron and David Krejci out of the lineup. That all changed in Game 3 of their series against Florida when both centers missed the game due to upper body injuries. Game 4 was much the same, but the Bruins were able to win both contests and secure a 3-1 series lead.
Heading into Game 5, Bergeron seems ready to go. Before Game 4, Head Coach Jim Montgomery told the media that Bergeron was "likely" to play in Game 5. On Monday morning, General Manager Don Sweeney echoed those sentiments by saying that the captain would practice with the team Tuesday and, if ready to go, will play in the potential series clincher in Boston.
On the other hand, Krejci is likely to be out on Wednesday night against the Panthers. The 36-year-old center was a late scratch before Game 3 and missed Game 4 entirely. Krejci missed the final five games of the regular season but came back to play Games 1 and 2 and had one assist but was a minus-3 in a Game 2 loss. The injury is deemed as "upper body," and Sweeney said that Krejci would undergo further testing on Monday.
The Bruins are one win away from winning the first-round series after taking both road games in Florida. If Bergeron plays, it will be the first playoff appearance for the five-time Selke Award winner this postseason. Bergeron has 49 goals and 78 assists in 167 career playoff games. Friday night's Game 3 win marked the first time since April 15, 2003, that the Bruins won a postseason game without their two centers.
With Bergeron getting healthier, the Bruins have a chance to win this series and make a deep playoff run. The loss of Krejci is a difficult one but centers Charlie Coyle, Pavel Zacha, and Tomas Nosek have filled the void well. Hopefully, the 2004 second-round draft pick will be back in black and gold soon enough.
Season 2. Episode 37. It's Going To Be A Long Off-Season
–
Bruins Benders Podcast
The Bruins off-season will be longer than expected. We like some CHL rules changes. The Bruins defense needs to be nastier, not just bigger. Can this core going forward win a Cup? Plus Beauties and Benders and Rod Brind'Amour whines.