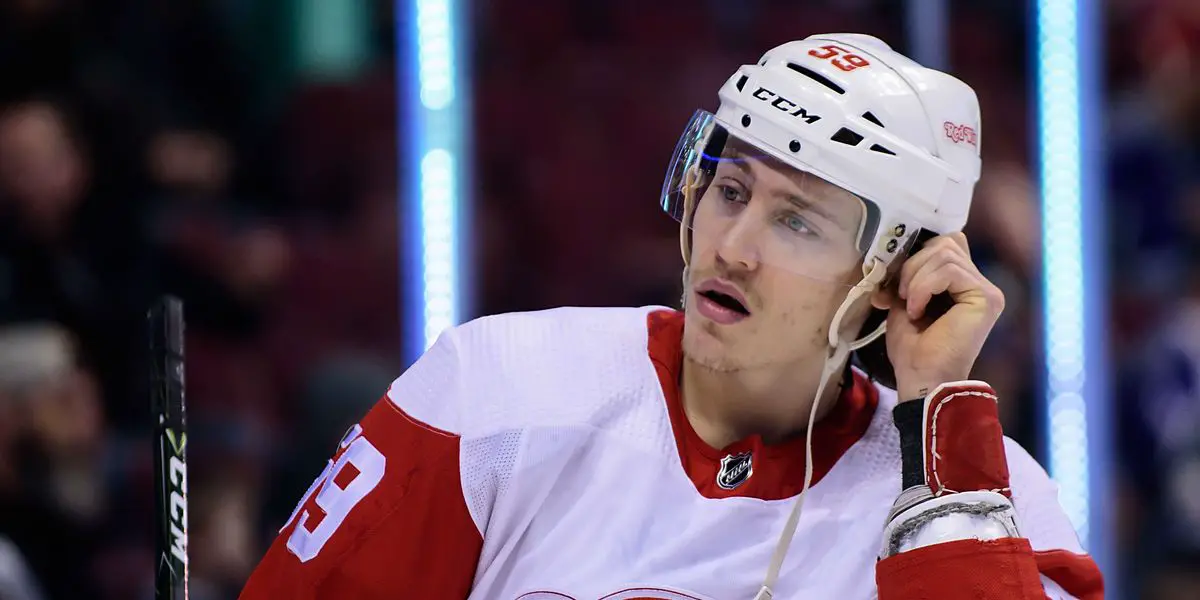 In Detroit, fans like their hockey players to have an edge and play hard every shift. It is no wonder Tyler Bertuzzi quickly became a fan favorite. How did Bertuzzi wind up in Motown? Does he have a future on a Red Wings hockey team emerging from a long rebuild? Let's examine those questions.
Tyler Bertuzzi was selected 78th overall in 2011 by the OHL's Guelph Storm. Bertuzzi would play his first full season of professional hockey and be in the lineup for 61 games. Playing from 2011-'14 for the Storm, Bertuzzi improved every season. With his final season being his best. In that 2014-'15 season, Bertuzzi amassed 43 goals, 55 assists, and 91 penalty minutes with a +/- of +26.
Bertuzzi Drafted 58th Overall in 2013
Back up a year from 2014. In 2013 the Pittsburgh Penguins acquired defenseman Douglas Murray from the San Jose Sharks for a second-round draft pick. The Sharks then traded that pick, along with a 2013 first-rounder(20th overall), to the Detroit Red Wings for a 2013 first-round pick(18th overall), who selected Tyler Bertuzzi in the second round (58th overall.) In the fall of 2014, Bertuzzi would sign his entry-level contract (ELC) three years, $2,775,000.
From 2014-'17, Bertuzzi was assigned to the Red Wings AHL affiliate, Grand Rapids Griffins, for development. While in Grand Rapids, Bertuzzi would grow into the gritty forward he became. Much in the same vein as his uncle, former NHL player Todd Bertuzzi.
Bertuzzi's NHL Career
Summer of 2018, Bertuzzi signed a two-year $1.4 million contract extension. Bertuzzi would see his playing time increase and moved off the Red Wings third line to the second line. Bertuzzi went from 7 goals, 17 assists, and 24 points in 2017-'18 to 21 goals, 26 assists, and 47 points in the 2018-19 NHL season.
In 2020, Tyler Bertuzzi signed a one-year $3.5 million extension. Due to a back injury, Bertuzzi played in just five games that season. In the summer of 2021, the Red Wings and Bertuzzi again agreed on another contract extension, this time, the deal was two years at $9.6 million.
Tyler Bertuzzi enjoyed his best season with the Detroit Red Wings last season. Thirty goals and 32 assists for 62 points. Bertuzzi is in the last year of his contract. Red Wings GM Steve Yzerman has stated he wants to sign Bertuzzi long-term. At 27 years old, Bertuzzi is one of the older players on the roster. Yzerman could trade Bertuzzi for more assets as his team's rebuild is over. The smart move would be to sign Bertuzzi to a longer deal. It would be difficult for Detroit to replace his grit, let alone his production.
With five picks in the top-50 of the 2023 NHL Draft, the Red Wings are in prime position to make a trade for a top-six forward. We breakdown fits of players that are potentially on the trade market and what a potential package could look like. We also start with how Red Wings at the World Championships are performing, focusing on Dominik Kubalik, Carter Mazur, and Lucas Raymond.