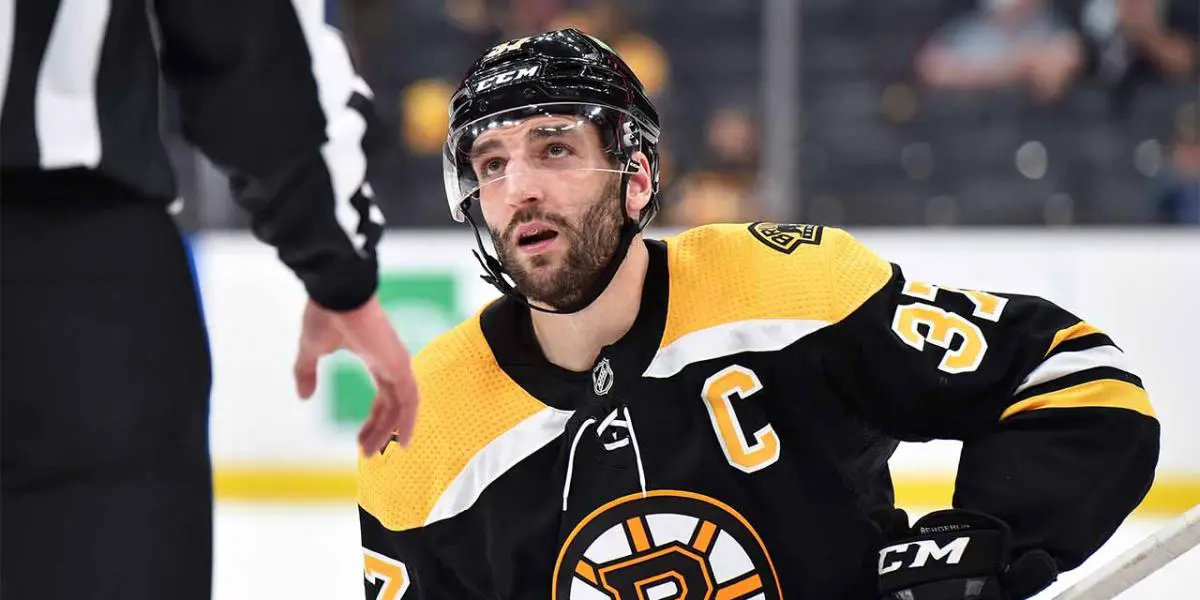 A noticeably focused Boston Bruins team took the ice at Warrior Ice Arena in Brighton for their Tuesday morning practice but with a new look. The return of team captain Patrice Bergeron was the center of attention, his presence captured by fan and news cameras alike. "Feeling good… today's a good day," Bergeron told the media after practice concluded. Actions speak louder than words, so it was even more comforting to see him resume his typical place at center ice leading the team stretch. Yet, another sign pointing to Bergeron making his playoff debut Wednesday night.
Related Story: Bruins Provide Update On Bergeron and Krejci
Bruins head coach Jim Montgomery "blended" his lines in advance of game three, a trend which continued earlier this morning. With Bergeron a full participant in practice, he centered a line of Tyler Bertuzzi and David Pastrnak. Dropping Brad Marchand down on a line with Charlie Coyle and Nick Foligno. Jake DeBrusk and Taylor Hall flanked Pavel Zacha on the third line, and Jakub Lauko, Tomas Nosek, and Garnett Hathaway reprised their fourth line duties. Trent Frederic and A.J. Greer were the extra forwards.
Splitting up Bergeron and Marchand is sure to catch the attention of most. Yet, as practice went along, it began to make more sense. During line rushes, Bertuzzi would plant himself in front of the net, Bergeron would nestle just outside the slot in his patented 'bumper' position, and Pastrnak outside the far faceoff dot. Creating an elongated triangle. Defensemen would chip the puck down low, and Bertuzzi would retrieve it. His options are: either being Pastrnak along the wall or out front to Bergeron. If neither were available? Bertuzzi could go back up to his defenseman or drive the puck to the net himself, with Bergeron and Pastrnak forcing the defenders to either eliminate Bertuzzi or stay to cover their man. 
Defensively the pairs from game four stood. Matt Grzelcyk was paired with Charlie McAvoy, Hampus Lindholm with Brandon Carlo, and Derek Forbort with Dimitry Orlov. Leaving Connor Clifton and Jakub Zboril as the seventh and eighth defenders. Worth noting both Charlie McAvoy and Hampus Lindholm remained on the ice after practice concluded, moving laterally across the blueline and taking shots from the point. Boston was slow to begin the playoffs in terms of offense from their backend, so it will be interesting to see if the extra work pays off in game five.
Quick hits:
Linus Ullmark was the first goal off, so fair to assume he'll have the net in the decisive game five. 
David Krejci did skate alone prior to practice which, if nothing else, indicates progress in his eventual return to the lineup.
Power play unit 1: Marchand, Bergeron, Pastrnak, Bertuzzi, McAvoy
Power play unit 2: DeBrusk, Zacha, Hall, Lindholm, Orlov
The Bruins are reeling and need to right the ship; their division lead is dwindling. What's wrong with Brad Marchand? Is he starting to decline, or stuck in an early slump? Should the Bruins make a deal now? Potential trade partners discussed. Plus much more!DraftKings Sportsbook – Boston's hometown Sportsbook is LIVE right here in Massachusetts! Bet local on all your favorite sports from the comfort of your own home with DraftKings. To celebrate, ALL new customers will receive up to TWO HUNDRED DOLLARS in BONUS bets when you sign up for DraftKings Sportsbook using code ITR! You can now bet local on money lines, spreads, props, and more with one of America's top-rated Sportsbooks – DraftKings Sportsbook!  Download the DraftKings Sportsbook app and sign up with code ITR to get up to TWO HUNDRED DOLLARS in BONUS bets to use now that mobile sports betting is live in Massachusetts. That's code ITR only at DraftKings Sportsbook. If you or a loved one is experiencing problems with gambling, call 800 327-5050 or visit helplineMA.org to speak with a trained specialist, free and confidentially, twenty four seven. 21+. Physically present in MA. Eligibility restrictions apply. Subject to regulatory licensing requirements. Eligibility and deposit restrictions apply. Opt in required. Bonus issued aree bets. Terms at draftkings.com/MA.