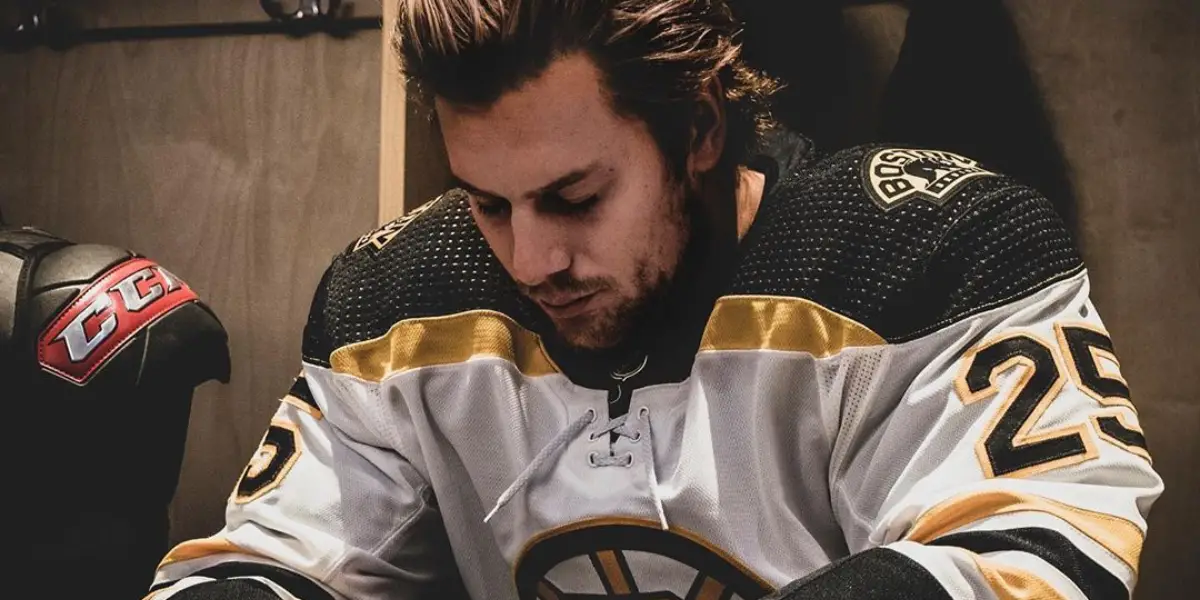 Brandon Carlo was born in Colorado Springs, Colorado, on November 26, 1996. The Colorado Thunderbirds U-14 team was Carlo's first club in 2010-11, and the defenseman scored 13 goals with nine assists in 29 games. The next two seasons, Carlo jumped to the U-16 team and totaled 64 points in 81 games over two seasons. He was also named captain in 2012-13.
The big defenseman entered the Western Hockey League with the Tri-City Americans and played 186 games over three seasons in the WHL, registering 12 goals and 53 assists over that time. Carlo played in the World Junior Championships in 2014-15 with one assist in five games and also competed in the 2014-15 CHL Prospects Game. The right-shot defenseman won a Bronze Medal with the 2015-16 United States World Junior Team.
Brandon Carlo Drafted 37th Overall by the Boston Bruins in the 2015 NHL Draft
The Boston Bruins drafted Brandon Carlo in the second round of the 2015 NHL Draft. Eliteprosects.com had the following pre-draft scout on Carlo: "Brandon Carlo is an industrious, shift-by-shift defenseman who lets the game come to him rather than chasing the play; he is able to quickly adapt to the pace of the game on the fly. Through maneuvering his way around the ice and making high-percentage, skilled decisions in all three zones, he is able to shut the opposition's offense down before it begins to take shape. Carlo is a smooth skater who can control the puck very well and get into open areas for scoring chances; that being said, he does and will need help finding offense due to his natural defensive style of play. All-in-all, he is a towering, defensive d-man that has very few holes in his game and is physically ready to make the next step." At 6'5", 225-pounds, Carlo possessed the type of size Boston covers on defense. So much so that Carlo only played seven games with the American Hockey League's Providence Bruins before joining the NHL team full-time.
Carlo's NHL Debut To Today
Brand Carlo's NHL debut came in the first game of the 2016-17 season against the Columbus Blue Jackets. The Bruins defenseman played 26 shifts with two shots and an assist in a 6-3 victory over Columbus. Carlo would play all 82 games for Boston on the season with six goals and ten assists and averaged 20:49 of ice time with 115 blocks. The rookie established himself early on as a top-4 defenseman in the league.
Carlo has played 460 regular season games in his career with 24 goals and 59 assists, and a plus-92 rating. In the postseason, Carlo has played 52 games while registering 2-4-6 and a plus-five. Injuries and concussion issues have caused the big blue liner to miss time, including two postseasons. But when healthy, Carlo is a solid shutdown defenseman for Boston who is currently under contract through the 2026-27 season.
Season 3 Premiere! Bruins Prospect Challenge recap. Training Camp begins. The Bruins have a new captain. Jake DeBrusk contract negotiations beginning soon. The Bruins Historic 100 and new sweaters!  The Centennial season is here! DraftKings Sportsbook – Boston's hometown Sportsbook is LIVE right here in Massachusetts! Bet local on all your favorite sports from the comfort of your own home with DraftKings. To celebrate, ALL new customers will receive up to TWO HUNDRED DOLLARS in BONUS bets when you sign up for DraftKings Sportsbook using code ITR! You can now bet local on money lines, spreads, props, and more with one of America's top-rated Sportsbooks – DraftKings Sportsbook!  Download the DraftKings Sportsbook app and sign up with code ITR to get up to TWO HUNDRED DOLLARS in BONUS bets to use now that mobile sports betting is live in Massachusetts. That's code ITR only at DraftKings Sportsbook. If you or a loved one is experiencing problems with gambling, call 800 327-5050 or visit helplineMA.org to speak with a trained specialist, free and confidentially, twenty four seven. 21+. Physically present in MA. Eligibility restrictions apply. Subject to regulatory licensing requirements. Eligibility and deposit restrictions apply. Opt in required. Bonus issued as free bets. Terms at draftkings.com/MA.