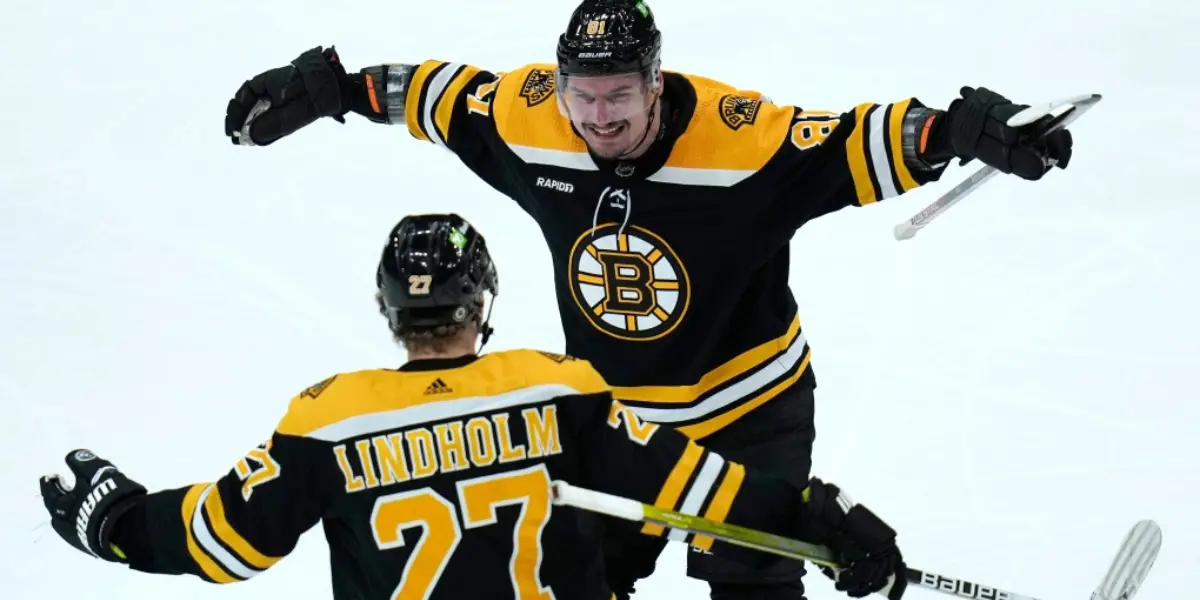 The Boston Bruins won 65 games during the 2022-23 regular season, a National Hockey League record. The roster was bolstered by the trade deadline e acquisitions of Garnet Hathaway, Dmitry Orlov, and Tyler Bertuzzi, and all signs pointed to a deep playoff run. However, nobody could have predicted this type of ending to a season that saw the Bruins lose in the first round to the Florida Panthers in seven games. This end-of-season report card now needs to be split into two sections, regular season and postseason, with very different results. Here are the defensemen:
Previous Story: Boston Bruins Final Grades: Forwards
Regular Season 7-45-52 in 67 games (B)
Postseason 0-5-5 (C-)
Contract: 7 years remaining at $9.5m AAV
McAvoy was coming off shoulder surgery and returned ahead of schedule to take on his normal heavy workload. The former BU Defenseman showed more offensive production but still struggled on the power play at times. In the postseason, McAvoy was a physical presence in Games 3 and 4, but his game was up and down in the series resulting in a minus-3 and eight giveaways. In 78 career playoff games, McAvoy has 79 giveaways. Something to ponder.
Related Story: Where Does McAvoy Rank Among the NHL's Best All-Around Defenseman?
Regular Season 10-43-53 (A-)
Postseason 0-0-0 (D)
Contract: 7 years remaining at $6.5m AAV
Lindholm had a season worthy of a Norris Trophy nomination that ever came. The 6-foot-4 defenseman was excellent for much of the year and the league leader in plus-minus. However, the playoffs saw a different Lindholm. At times, the defenseman was shaky with the puck, and the physicality seemed to rattle him. It was not his best effort, and in 11 playoff games with Boston, he has yet to register a point.
Regular Season w/BOS 4-13-17 in 23 games (A-)
Postseason 0-8-8 (B-)
Contract: Unrestricted Free Agent
The trade for Orlov and Garnet Hathaway at the deadline was good, even though each is a pending free agent. Orlov burst onto the scene with offensive production and the ability to play heavy minutes. In the regular season, he seemed to be the perfect fit. In the playoffs, Orlov did register eight assists, but as the series went on, he had trouble in his end, which included a terrible turnover that led to a Florida goal in Game 2. After all that, Orlov was probably a true rental.
Related Story: Bruins Break-Up Day Answers Some Questions
Regular season 3-13-16 plus-44 (B+)
Postseason 0-4-4 plus-2 (B+)
Contract: 4 years remaining at $4.1m AAV
Carlo had one of his best seasons and played 75 games and all seven playoff games. One could argue that Carlo was the Bruins' most consistent defenseman in the playoffs. The 6-foot-6 blue liner was a shutdown defenseman against Florida and was more confident with the puck than he has been in a while and was a solid shot blocker with 116 in the regular season and 15 in the playoffs.
Regular season 5-18-23 plus-20 (B)
Postseason 0-0-0 in 3 games minus-4 (F)
Contract: Unrestricted Free Agent
Clifton seemed to love playing in Jim Montgomery's system this season. The style of play really seemed to fit "Cliffy Hockey" well. After the acquisition of Orlov, Clifton's role diminished, and he fought for minutes with Matt Grzelcyk. When he entered Game 6 for Grzelcyk, Clifton had his worst game of the season with a minus-3 and a turnover that led to a Florida goal. Not great, and Clifton seems to be on the way out as a free agent.
Regular season 4-22-26 plus-46 (B+)
Postseason 0-0-0 minus-1 (C)
Contract: 1 year remaining at $3.6875m AAV
Matt Grzelcyk rebounded from a tough season last year and shoulder surgery to have a solid season and a plus-46. The small defenseman had trouble in the postseason over his career with a minus-18 but performed well when called upon against Florida. Clifton subbed in for Grzelcyk, which was a head-scratcher in Game 6 but reentered the lineup in Game 7. Rumors have it that Grzelcyk might be dealt this off-season as a result of a salary cap crunch.
Regular season 5-7-12 in 54 games (B)
Postseason 0-1-1 (D)
Contract: 1 year remaining at $3m AAV
Forbort had a solid season as a shot blocker and penalty killer. His value might have been overblown, but Forbort did perform well as a third-pair defenseman. In the postseason, the Bruins penalty kill struggled, which put Forbort's worth in question. Nonetheless, he played all seven playoff games and was exposed at times.
Regular season 1-3-4 in 22 games (C)
Postseason DNP (INC)
Contract: 1 year remaining at $1.1375m AAV
Zboril came off an ACL injury to perform very well in the preseason. But when the regular season started, Zboril struggled, became a healthy scratch for long stretches, and never saw the ice this postseason. That said, Zboril will get a long look in training camp due to his friendly salary.
The Bruins will have to decide how much they want to invest in Orlov while also potentially buying out Mike Reilly and trading Grzelcyk. The team will also have to figure out if prospect Mason Lohrei can take a spot next season.
Related Story: Bruins: Sweeney extends Jakub Zboril two years
Season 2. Episode 37. It's Going To Be A Long Off-Season
–
Bruins Benders Podcast
The Bruins off-season will be longer than expected. We like some CHL rules changes. The Bruins defense needs to be nastier, not just bigger. Can this core going forward win a Cup? Plus Beauties and Benders and Rod Brind'Amour whines.