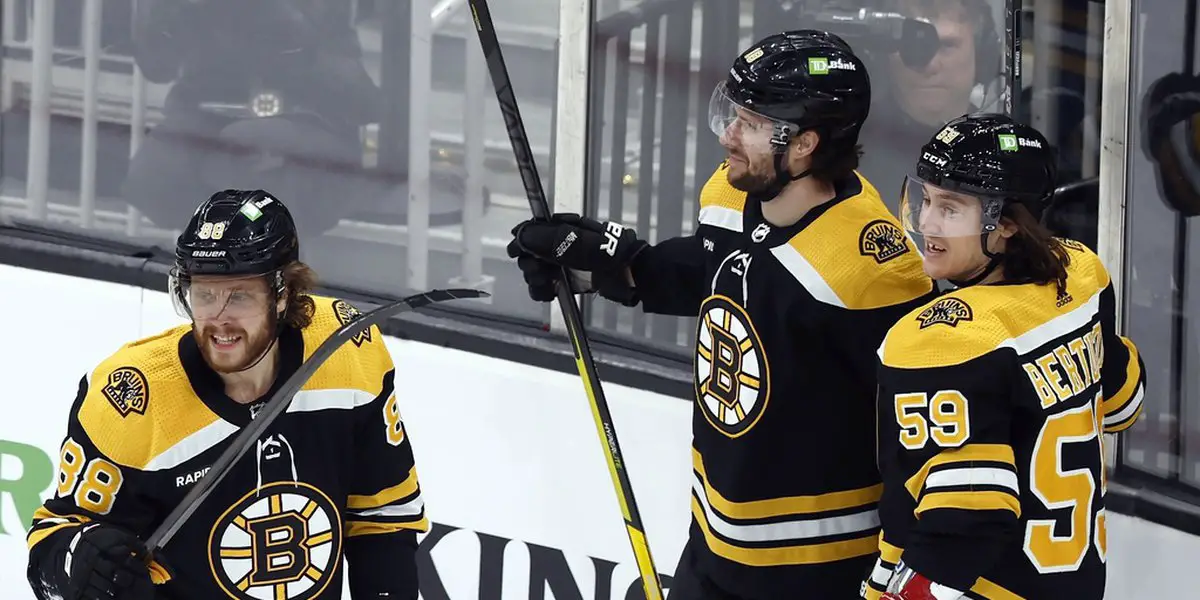 The season is over for the Boston Bruins much more abruptly than anyone thought. Record-setting wins and point totals highlighted a sensational year for a team that was primed to win their second Stanley Cup in 12 years. But a 3-1 series lead in the first round turned into a stunning four-games to-three series loss to the Florida Panthers, who had 43 fewer points than the Bruins during the season. Tuesday, the Bruins packed their things and said their goodbyes after a lost opportunity of epic proportions. It is on to the off-season with major roster decisions to be made. It is safe to say that this team will never be the same. Here are some notes from "getaway day."
Tyler Bertuzzi's Future
The Bruins acquired Bertuzzi on March 2 in exchange for their first-round pick in 2024 and a fourth-round pick in 2025. The left wing made an immediate impact with four goals and 12 assists in 21 regular season games. The impending unrestricted free agent tallied five goals and five assists in the seven-game playoff series and endeared himself to Bruins fans with his elite passing and gritty style. Bertuzzi just looked the part when it comes to the Bruins' way. During break-up day, Ty Anderson reported that Bertuzzi is going to take a couple of days to make a decision on staying in Boston, but he "loved the city. Lived in the North End and ate pasta every day". One would be led to believe that Bertuzzi is looking for a big, long-term contract.
What Was Ailing Linus Ullmark
Ullmark played six of the seven games in the playoffs after a Vezina Trophy-worthy season. NHL analyst Kevin Weekes reported that Ullmark was hampered by a "debilitating and painful" injury. On Tuesday, Ullmark declined to disclose his injury and said that there was a difference between being injured and hurt. If he was injured, he would have removed himself from the lineup.
Will Patrice Bergeron and David Krejci Return?
Bergeron missed the first four games of the playoffs with a herniated disk injury he sustained in Montreal during the regular season finale. Bergeron stayed he "was not there yet" regarding a return to the Bruins in 2023-24. Krejci was not willing to make a decision just yet on whether he will play hockey next season either but did say it would be as a Bruin or he would retire.
What Is The Status Of The Other Free Agents
The Bruins have several unrestricted free agents. Here is an update on a few:
Dmitry Orlov was acquired in a trade with Washington before the trade deadline, and Matt Porter reports that it seems as though Orlov would like to return to Washington for "his last contract".
Tomas Nosek would like to return to the Bruins if possible. The center was a key member of the team and an excellent penalty killer and faceoff guy.
Nick Foligno stated that he wants to play another year of NHL hockey and has had a conversation with General Manager Don Sweeney about staying in Boston. Salary cap restrictions might get in the way.
Forward Trent Frederic and goalie Jeremy Swayman are restricted free agents. Both stated that they would like to remain with the Bruins, but each wants their agents to handle negotiations.
What Caused David Pastrnak's Slow Playoff Start?
Pastrnak got off to a slow start to the series with Florida but scored two goals in Game 6 and a goal in Game 7 to give the Bruins a 3-2 lead after telling the media he would be better after Game 5. Pastrnak said on Tuesday that he injured his shoulder in the first game during the first shift, but it was getting better toward the end of the series. No surgery is needed.
An important off-season for the Boston Bruins awaits, and many decisions will need to be made. But as was the case last off-season, it all starts with the statuses of Patrice Bergeron and David Krejci.
Season 2. Episode 37. It's Going To Be A Long Off-Season
–
Bruins Benders Podcast
The Bruins off-season will be longer than expected. We like some CHL rules changes. The Bruins defense needs to be nastier, not just bigger. Can this core going forward win a Cup? Plus Beauties and Benders and Rod Brind'Amour whines.