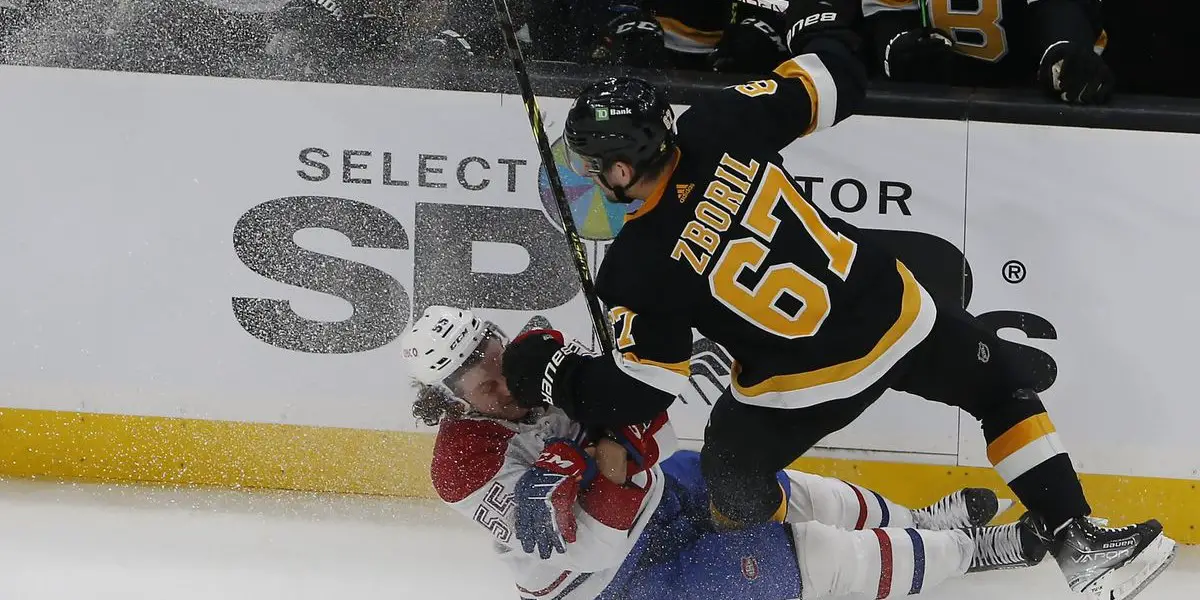 Jakub Zboril was born in Brno, Czechia, on February 21, 1997. Zboril's brother Adam is a 27-year-old forward currently playing for HC Kometa Brno in the Czechia League and has registered seven goals and 25 assists this season. Jakub Zboril for the HC Kometa Brno U-16 team in 2010-11 as a 13-year-old defenseman, totaling 30 points in 30 games. Zboril's team won the U-16 National Championship. The younger Zboril split time with the U-16 and U-18 teams the next two seasons and played internationally for the U-17 Czechian National Team in 2012-13 with three goals and four assists in 23 games.
After a solid season with the U-20 team, Zboril took his talents to the Quebec Major Junior Hockey League and joined the Saint John Sea Dogs in 2014-15, where he had a terrific season with 13 goals and 20 assists in 44 games. In three seasons with the Sea Dogs, the left-shot defenseman played 144 games with 28 goals and 66 assists.
Jakub Zboril Drafted 13th Overall by the Boston Bruins in the 2015 NHL Draft
The Boston Bruins used one of their three first-round picks in the 2015 NHL Draft to select Jakub Zboril. Eliteprospects.com had the following scout on the young defenseman: Jakub Zboril is a smart, fleet-footed two-way defenseman that plays to his strengths in all three areas of the ice. While he doesn't aim to impress, he does all the little things right and plays with an edge. The neutral zone is his launching pad: He can take off into the offensive end or backcheck quickly into his own end. Very sound positionally. Zboril is a smooth skater with lots of energy to burn. Not afraid to lay the body or take a hit to make the play; can and will stand up for teammates. He possesses good hands and awareness on the ice, as well as a hard shot that is quite accurate. All-in-all, a complete defenseman who is relied upon to offset any oncoming attacks, as well as create chances in the opposing end".
Zboril's NHL Debut To Today
Jakub Zboril made his NHL debut for Boston on November 16, 2018, in a 1-0 overtime loss to the Dallas Stars. In that game, the 6-foot, 195-pound defenseman played 10:53 of ice time with one shot on goal. In his fourth year in Boston, Zboril notched his first career NHL goal in a 3-1 win over Buffalo. The third-period goal was eventually the game-winner in his 65th career game.
Over three seasons, Zboril played 182 games for the Providence Bruins of the American Hockey League, scoring 11 goals with 46 assists and a plus-35 rating. During the 2020-21 pandemic season, Zboril went back home to play 18 games before returning to Boston. In 70 total regular season games with the Bruins, Zboril has one goal with 13 assists. The 26-year-old has played just 16 NHL games this season and has yet to play in a postseason game.
Jakub Zboril signed a two-year, $2.275 million contract with Boston on May 16, 2022, with an annual salary cap hit of $1,137,500 per season, and will be an unrestricted free agent at the end of the 2023-24 season.
Season 2. Episode 38. Special Guest Terrence Wallin
–
Bruins Benders Podcast
Maine Mariners Coach Terrence Wallin makes a return visit to recap the season. Should the Bruins make room for Tyler Bertuzzi? Will the Bruins move some core pieces? I guess there is more time for golf and more!