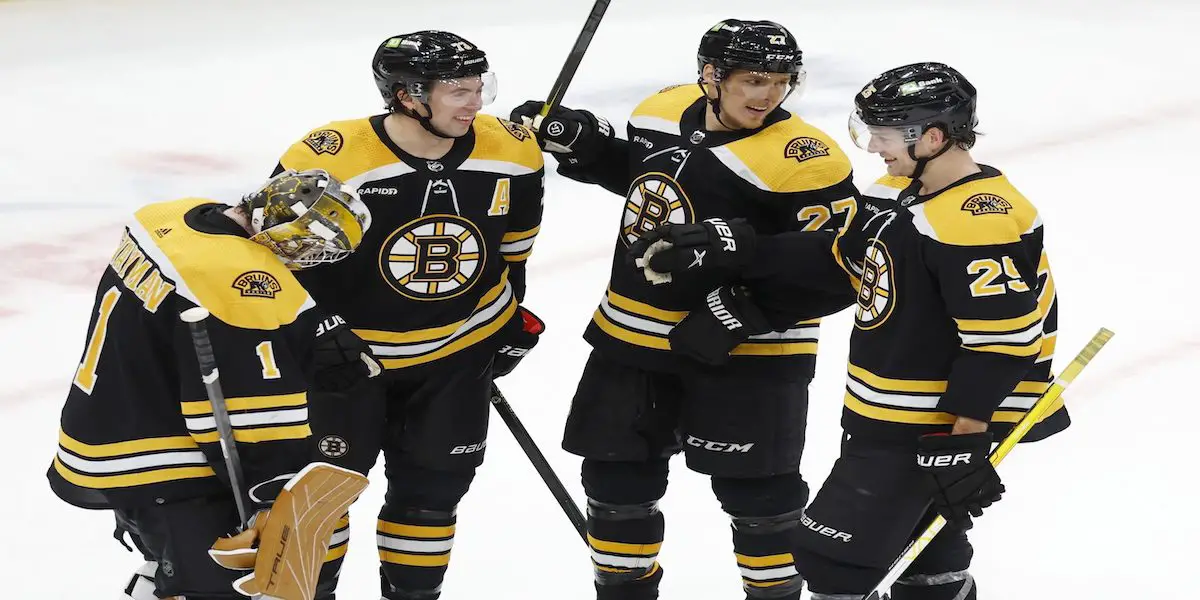 The Boston Bruins have two games remaining in the regular season and have set the NHL record for wins with a 5-3 victory on Easter Sunday in Philadelphia. The Bruins are 63-12-5 and have sealed the President's Trophy as the league's best regular season team. Even more impressive is that Head Coach Jim Montgomery and his staff have navigated through injuries and resting players to continue to post wins. The Bruins have lost just one game in their last 14 contests and have two non-playoff teams remaining on their schedule.
The challenge for Montgomery and his staff is to come up with the right lineup in the postseason with loads of depth at every position. There are decisions to make on the fourth line, with Nick Foligno expected to come back as the playoffs begin from a lower-body injury sustained on February 28 in Calgary. Newly acquired Garnet Hathaway would appear to be included on that line, along with Tomas Nosek and Trent Frederic.
Another area with improved depth is on defense, where Dmitry Orlov has been a great fit since being acquired with Hathaway from Washington. The 31-year-old defenseman has three goals and 12 assists in 21 games with Boston and has played an average of 22:12 of ice time. The addition of Orlov has allowed Montgomery to use fellow left-shot defender Hampus Lindholm with either Charlie McAvoy or Brandon Carlo. The challenge will be when Derek Forbort returns from the lower-body injury he suffered on March 16 by blocking a shot against the Winnipeg Jets. This past week, the 31-year-old blue liner began skating again with the Bruins in practice. Forbort is currently on Long Term Injured Reserve, with a return during the playoffs expected.
In a 2-1 win Saturday over New Jersey, Orlov played on the right side with Jakub Zboril. Connor Clifton played with Forbort for much of the season and was a healthy scratch. When the Bruins are healthy on defense, Montgomery will have to decide which six defensemen get the nod for Game 1 of the playoffs. Lindholm and Orlov will be playing, as well as McAvoy and Carlo. But who will be the last two to suit up for Boston in their quest for their first Stanley Cup since 2011?
Clifton and Forbort formed one of the top five-on-five pairings in the league before Forbort's injury. Forbort has been a top shot blocker and penalty-killing defenseman for Boston as well. Matt Grzelcyk has had difficulty with postseason physicality in the past but does have a plus-46 rating in his season, which is tied with Lindholm for best in the league.
If everyone is available, you might see Grzelcyk and Forbort on the ice to begin the playoffs. From there, the Bruins have the luxury of slotting in good NHL defensemen if there are injuries or to create matchups. At the end of the day, it is a good problem to have, and a credit to General Manager Don Sweeney for putting together a roster that can be in the conversation for the best Bruins team ever.
Season 2. Episode 38. Special Guest Terrence Wallin
–
Bruins Benders Podcast
Maine Mariners Coach Terrence Wallin makes a return visit to recap the season. Should the Bruins make room for Tyler Bertuzzi? Will the Bruins move some core pieces? I guess there is more time for golf and more!