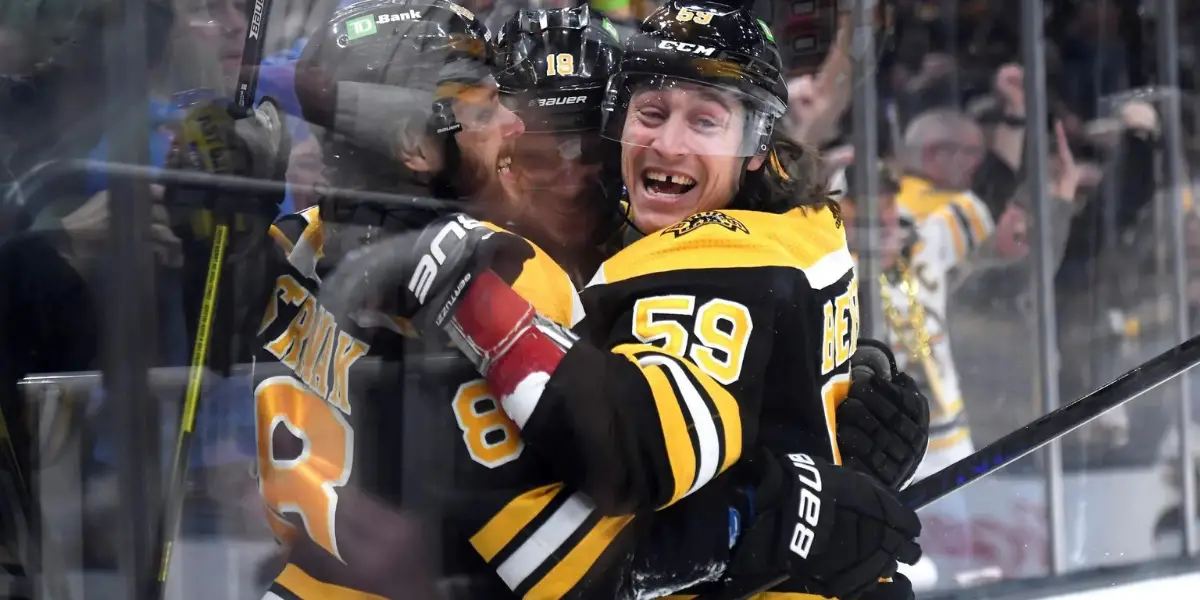 Tyler Bertuzzi had a memorable run-in with Boston Bruins agitator Brad Marchand in December 2018 when Bertuzzi and the Detroit Red Wings visited Boston and defeated the Bruins 4-2. Both players play similar styles as each is similarly talented and commonly irritating at times. Who knew that a little more than four years later, "Bert" and "The Little Ball of Hate" would be teammates? On March 2, 2023, the Bruins acquired Bertuzzi for a protected 2024 first-round pick and a 2025 fourth-round pick. The talented left wing had two broken hands during the 2022-23 season, but when healthy is a terrific offensive player and plays a similar game to his new fellow left-wing teammate.
Bertuzzi was brought in for improved forward depth and will most likely play with Charlie Coyle and Taylor Hall in the postseason. That third line will possess Coyle's great puck possession game, Hall's dynamic skating and goal-scoring ability, and Bertuzzi's vision and superior passing. This will provide Boston with three viable lines that can all score at any moment. Bertuzzi scored 30 goals with Detroit in 2021-22, Hall scored 39 in his MVP season in 2017-18, and Coyle has double-digit goals in nine different seasons.
The question will be, what happens after this season in regards to the unrestricted free agent Bertuzzi? The 28-year-old forward has four goals and 11 assists in 20 games with Boston and has shown growing chemistry with David Pastrnak in the last few games, including earning a goal and five assists in the last two games. The Sudbury, Ontario native assisted on Pastrnak's 60th goal of the season Sunday in Philadelphia, the 300th of Pastrnak's career.
The Bruins will have many decisions to make after this historic season. Patrice Bergeron and David Krejci have to decide if they will play another year. Tomas Nosek, Nick Foligno, Connor Clifton, Dmitry Orlov, and Garnet Hathaway are all unrestricted free agents. Jeremy Swayman and Trent Frederic are restricted free agents and the salary cap should only increase by about one million dollars.
In order to re-sign Tyler Bertuzzi, the Bruins will have to find some cap room. What would it cost? How many years would the Bruins want to invest in the second-generation player? As the Bruins transition their roster, Bertuzzi might be the type of player with which to move forward. Boston is loaded at left wing with Marchand and Hall, so signing Bertuzzi to a new deal might have to include trading Hall and his $6 million salary. Hall has been good for Boston, particularly as a third-line player this season. But should the Bruins go in a different direction and pay a playmaker like Bertuzzi instead?
Winning a Stanley Cup this postseason could dictate some major changes to the roster. The lineup could look very different next season. And if it does, Tyler Bertuzzi could be a big part of that roster turnover.
Season 2. Episode 38. Special Guest Terrence Wallin
–
Bruins Benders Podcast
Maine Mariners Coach Terrence Wallin makes a return visit to recap the season. Should the Bruins make room for Tyler Bertuzzi? Will the Bruins move some core pieces? I guess there is more time for golf and more!