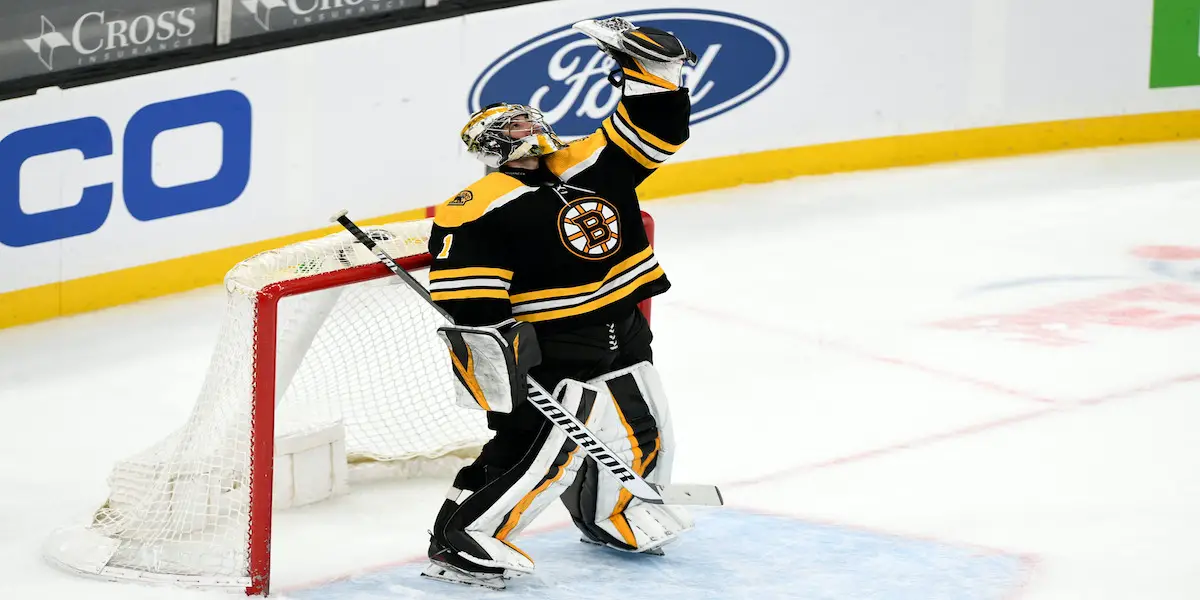 Jeremy Swayman was born in Anchorage, Alaska, on November 24, 1998. Swayman is one of only 12 players to play in the National Hockey League from Anchorage, Alaska. As a 12-year-old goaltender, Swayman played seven games in his native country for the Alaska All-Stars U-14 team posting a 0.99 goals against average and a .895 save percentage. In 2013-14 Swayman changed teams to the Alaska Junior Aces U-16 team, posting a 2.20 GAA and .924 save percentage. It was in 2016-17 that the netminder began showing promise with the Sioux Falls Stampede of the United States Hockey League as an 18-year-old (2.90 GAA, .914 SVP)
The 6-foot-3, 195-pound goalie would choose the University of Maine-Orono to play college hockey. Swayman played three seasons for the Black Bears and would make Hockey East All-Rookie Team in the 2017-18 season registering a 2.72 GAA and a .921 save percentage. In his third and final season at UMaine, Swayman would finish as runner-up for the Hobey Baker Award as the Nation's Top Collegiate Player with a 9.34 save percentage and 2.07 GAA.
Jeremy Swayman Drafted 111th overall by Boston in the 2017 NHL Draft
The Boston Bruins selected Swayman in the fourth round of the NHL Draft in 2017. The UMaine star was the 12th goaltender taken in the draft, including NHL goalies Jake Oettinger of Dallas and Ukko-Pekka Luukkonen of Buffalo. The scout on Swayman entering the draft by dobberprospects.com was a "big, solid goaltender with quick hands and an aggressive playing style. Sometimes gets himself into trouble with his attack-first mentality but should continue to fine-tune his game with the University of Maine". And fine-tuning his game is precisely what Swayman did.
Swayman's NHL Debut To Today
On April 6, 2021, Jeremy Swayman made his NHL debut subbing for an injured Tuukka Rask. The backup, Jaroslav Halak, tested positive for the COVID virus, and Swayman was called to play in Philadelphia against the Flyers. Swayman would have a memorable debut making 40 saves in a 4-2 win over Philadelphia. The left-catching goalie had signed a three-year, entry-level contract with Boston after his junior season was cut short due to COVID. Swayman would play ten games in 2020-21 for the Bruins with a 7-3-0 record and 1.50 GAA. The big goalie would play 41 games in 2021-22 with a 23-14-3 record, splitting time with Linus Ullmark. This season Swayman is 16-4-4 with a 2.17 GAA working as a backup to Ullmark. Swayman will be a restricted free agent at the end of the 2022-23 season.
Season 2. Episode 37. It's Going To Be A Long Off-Season
–
Bruins Benders Podcast
The Bruins off-season will be longer than expected. We like some CHL rules changes. The Bruins defense needs to be nastier, not just bigger. Can this core going forward win a Cup? Plus Beauties and Benders and Rod Brind'Amour whines.