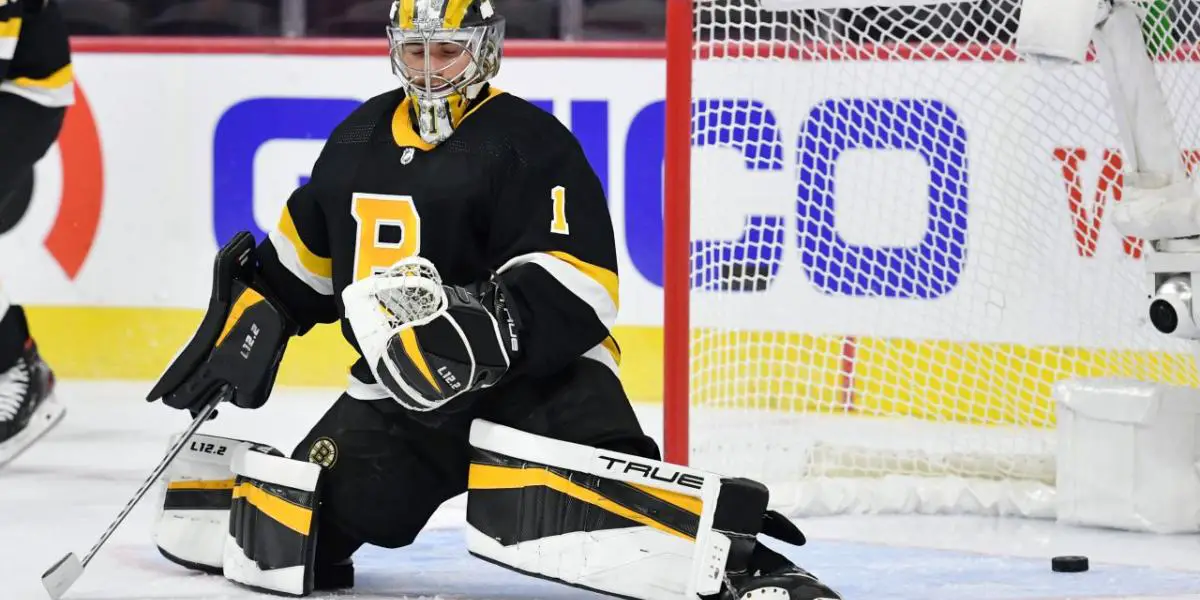 Throughout their record-setting season, goaltending has been one of the bright spots for Boston. Linus Ullmark and Jeremy Swayman were fantastic, not to mention the fan-favorite goalie hugs. Ullmark was able to win the Triple Crown of NHL Goaltending, having a 1.89 GAA, .938 SV%, and gathering 40 wins—one of the most impressive seasons that you can have as a goalie. Enter Jeremy Swayman, accumulating an impressive 24 wins, a .920 SV%, and a 2.27 GAA. As you can see, they are two pretty impressive goaltenders. Both goalies ranked top 5 in the league for SV% and GAA.
Linus Ullmark
Now, Linus Ullmark. Ullmark WAS the Bruins rock throughout the regular season, yes. However, it is widely regarded that the playoffs are a different season altogether. The problem is, Ullmark doesn't have a long postseason resume. As of Game 6, he has 8 playoff games under his belt.
'22-'23 Round 1 Stats: 6 Games Played – (3-3) – 2.79 GAA – .896 SV%
'21-'22 Round 1: 2 Games Played – (0-2) – 4.17GAA – .860SV%
Coming into the series against Florida, many were confident the Bruins would take the series. One of those reasons was Linus Ullmark. However, the Panthers had other ideas. Florida's forecheck caused chaos for the Bruins defensively, something we haven't seen from them all year. Boston has produced 70 giveaways so far in the series to Florida's 63. The increase in takeaways have resulted in a number of odd-man rushes or Grade A chances for the Panthers. Causing Ullmark to face a lot of high-quality shots. Unfortunately for the Bruins, he has been visibly out of position, missing a step on his timing, and his rebound control has left the building.
So for Ullmark, yes. It's not entirely his fault; the team in front of him has to play NHL caliber hockey as expected. As a high tide will raise all ships, subpar defensive play will also ruin everyone's stat sheet. Overall, I'd still give him a C-.
Jeremy Swayman
As we've covered, Swayman had a great season and should more than likely be a starter on most teams. The fact that Boston went with Ullmark to start the postseason isn't shocking. What is shocking is that even with Ullmark battling an injury to start the series, Boston didn't give the Game 5 OR Game 6 start to Swayman. After Game 4, Boston was up 3-1 in the series and had some wiggle room. Montgomery has shown no hesitation in pulling players in and out of the lineup throughout the six games. But yet, not for goaltending.
Here's where the opinion piece comes into play. I believe Swayman should've been the slam dunk starter in Game 5. While the Bruins were up 3-1, Swayman could've come in and gotten the Game 5 start to potentially close out the series, and it would've been a feel-good story all around. If they lost that Game 5, you managed to give Ullmark some rest and mentally reset for Game 6.
Now hindsight is obviously 20/20, and we look to the future, Game 7. Swayman should, hands down, be the starter. I know the Ullmark got you here story; I get that. However, Ullmark just dropped back-to-back elimination games, giving up 10 goals. Ullmark CAN NOT be in net for Game 7.
Could it be unfair to put in the young Swayman in a Game 7 elimination game? Maybe. His resume shows that he could stand up to the task. If Swayman is going to be the goalie of the Bruins future, I'd like to see him get more meaningful postseason minutes.
The boys are back after a long break but have plenty to talk about as the playoffs are in full swing. We go series by series, looking at how teams have fared so far and who will come out on top. Thanks for listening! Please rate and review our show on your favorite listening platform. Check out our partner's website at www.insidetherink.com for all your latest hockey news.