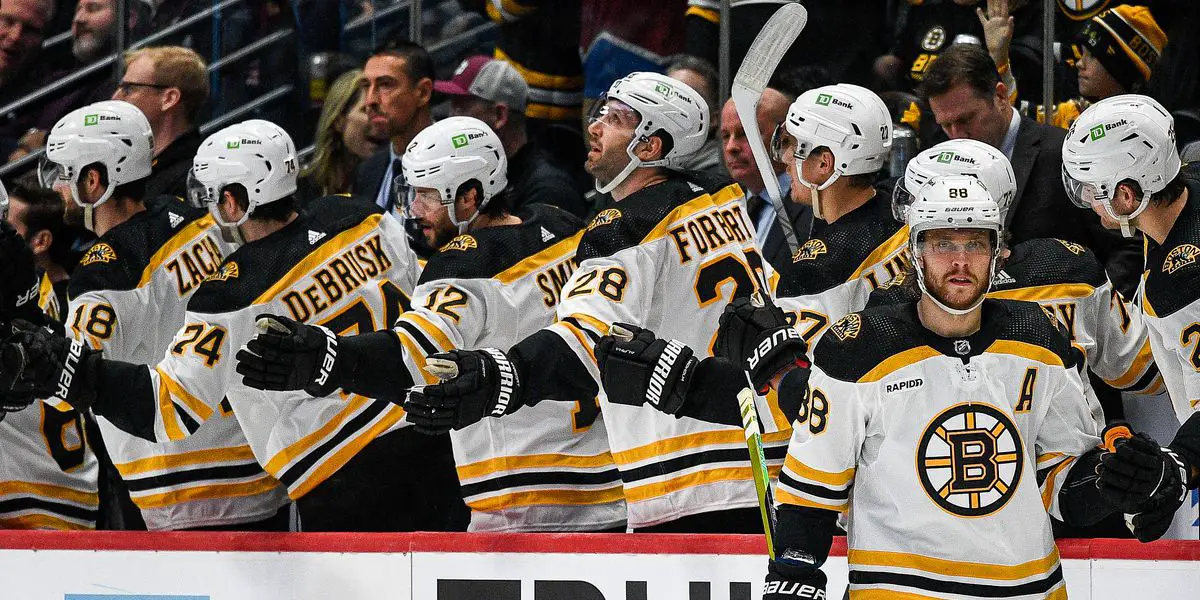 Through 47 games, the Boston Bruins own a 38-5-4 record as they are past the halfway mark of the season. The NHL-leading Bruins have 80 points and are atop the Atlantic Division as they pursue a return to the Stanley Finals, looking to bring home the Cup for the first time since 2011.
While this team has been a juggernaut, there is always room for improvement, even despite a historic start. General Manager Don Sweeney has until the March 3rd trade deadline to get a deal in place to bring in some extra talent and shed some cap space. The Bruins always have the option of standing pat, but that might not be in their best interest as other contenders will be active as they attempt to build up their rosters for a playoff run. This year is even more special because this may be the last dance for the Bruins core that has seen them reach the Stanley Cup finals three times, bringing the Cup back home to Boston once. This could add some pressure to Sweeney, as the time is now to deliver a championship to a city that has been waiting for over a decade.
If the Bruins wish to make a deadline splash, here are some of the available trade assets to help bring in an impact player or two.
Bruins Potential Needs
Even with how good the Boston Bruins have been this season, no team is perfect, and the Bruins have some needs that need to address by the deadline. The Bruins' top nine is set in stone, and there is no question about it. The Bruins could use an upgrade on their fourth-line right wing spot, as Craig Smith has not been the answer this year despite scoring his second goal of the season on January 7th. The consistency hasn't been there for the veteran forward, even after getting chances on the top line with Patrice Bergeron and Brad Marchand.
Boston has been strong on defense this season despite facing a handful of injuries to their blue line. Injuries have hit at different times this season, as well as missing Charlie McAvoy to begin the season as he recovered from offseason surgery. They have recently started showing some signs of diminished, which is to expect as the season progresses. The Bruins are set on the left side with Hampus Lindholm, Matt Grzelcyk, Derek Forbort, and Jakub Zboril. Adding a right-shot defenseman should be one of Don Sweeney's priorities considering Brandon Carlo's history of concussions and injuries and Connor Clifton getting tied toward the end of the season. Defensive depth is critical for a deep playoff run after players wrap up an 82-game season.
Top Trade Assets
Fabian Lysell
Lysell is the Bruins' top prospect, and any team that has discussions with Don Sweeney ahead of March 3rd will likely be starting with the Swedish winger. This is especially true if the Bruins are looking at top talents such as Bo Horvat or Jakob Chychrun. Deciding to move on from the 21st overall pick of the 2021 Entry Draft should only be considered if Boston is able to acquire and extend a star talent as they did with Lindholm and Taylor Hall the last two years. Moving him for a rental, such as Patrick Kane or Jonathan Toews, would make no sense as it is not a move to make.
Even though he struggled production-wise at the 2023 World Junior Championship, one tournament doesn't decide a player's future. Lysell is enjoying a solid first pro season for the Providence Bruins of the AHL as he's adjusted to the playing style and tempo. He is getting top-six and power play minutes while working on his defensive game. On the season, Lysell has scored eight goals to go with 21 points through 26 games. There is no doubt about Lysell's talent level and skill which should keep him in Boston for years to come. Sweeney would have to be blown out of the water for him to even think about moving Lysell, but you never know what opportunity might come his way.
Mason Lohrei
Considered Boston's best defensive prospect, the 21-year-old defenseman is having a strong sophomore season at Ohio State University as he continues to develop. After four goals and 25 assists in his freshmen season, Lohrei already has 19 assists throughout 26 games this year, playing in all games for the eight-ranked Buckeyes. Lohrei has always had a strong offensive game, especially as a playmaker. During his two seasons with the Green Bay Gamblers of the USHL, he recorded 27 goals and 69 assists.
Lohrei has a big frame standing at 6-foot-4 and weighing 209 pounds. He was the 58th overall pick in the second round of the 2020 Draft and has the size and reach to be a shutdown NHL Defenseman while also possessing an impressive offensive skill set, something rarely found. Keeping Lohrei may be necessary for the Bruins as they are not blessed with NHL defensive talent in the AHL. Just like Lysell, you never know what opportunity will come to change Sweeney's mind about mortgaging the future for a chance at the Stanley Cup this year.
Matthew Poitras
Poitras has only been in the Bruins system for six months now and is already one of their best assets. Drafted 54th overall in the second round of the 2022 Draft, the talented forward has quickly made a name for himself with the Guelph Storm of the OHL. Last year he scored 21 goals and tallied 29 assists in 68 games during the 2021-22 season. This year he already has ten goals and 39 assists in just 38 games.
The Bruins' lack of center depth in their prospect pool moving forward is concerning. They have been fortunate enough to have David Krejci and Patrice Bergeron in their top six for over a decade. Now that their careers are ending, they must ensure the future has some bright spots. Poitras is still young at 18 years old, but he is a player with the potential to carve out a role in the top six one day. He is also a player who draws some interest from teams looking for young center depth they can wait to develop. If the Bruins were to go after Bo Horvat, Poitras would most likely be involved in the trade. The Bruins would get a 27-year-old established veteran, and the Cancucks would get a package that includes an intriguing prospect in Poitras.
Brett Harrison
Harrison is a versatile forward who has played center and wing this season for the Oshawa Generals in the OHL. He was recently traded to the Windsor Spitfires for a massive haul of draft picks and will play out the remainder of the season there. With the Generals, he tallied 16 goals and 17 assists as he was enjoying a solid start. With his move to the Spitfires, Harrison is now being coached by former Bruin Marc Savard and, in nine games, already has eight goals and seven assists.
Harrison was considered a steal for the Bruins when they drafted him 85th overall in the third round back in 2021. He has a quick release shot, is strong on faceoffs, is not afraid to play around the net, and gets many of his goals on rebounds. Just like the other three mentioned before him, don't be surprised if teams target Harrison in a trade package, as he may be required to get the deal done.
Johnny Beecher
Like his former teammate Jack Studnicka, Beecher has been a highly regarded center prospect for the Bruins since his college days at the University of Michigan. He battled injuries during his collegiate career but overcame them as he signed last season following his junior season and made the jump to Providence.
Beecher has gotten some time playing on the same line with Lysell. So far this season, the two-way center has appeared in 31 games scoring three goals and adding six assists playing in the top six. What separates Beecher from the other prospects is the fact he is more NHL-ready at this point in his career and could draw more interest from teams not wanting to wait for a prospect to develop.
Craig Smith & Mike Reilly
These two players have been at the forefront of trade rumors since the offseason, as they are both considered cap casualties. Reilly is playing in Providence for the Bruins AHL affiliate, while Smith has been in and out of the Boston lineup, mostly alternating with A.J. Greer on the fourth line. Both players have been waived this season, and still, Don Sweeney can not find a way to move on from them and their cap-eating contracts.
When the Bruins signed Smith back in free agency in 2020, they were hoping to get the 20-goal scorer he was during his days as a Nashville Predator. It just has not worked out that way, and now in the final year of his contract and not expected to be re-signed, Smith is the perfect candidate to be shipped to a team looking for scoring depth.
Rielly has been in Providence since November as the Bruins chose to keep Jakub Zboril in Boston. Since being sent down, Reilly has requested a trade which the Bruins have been working to fulfill. He is an offensive defenseman and, at 29 years old, still has years left in the league. He could provide depth to a team looking to sure up their blue line as both he and Smith could be used to address a bottom-six right-wing need.
Bruins 2023 First-Round Pick
Don Sweeney has never been shy about trading away his first-round pick to make a splash for a veteran player, and this season is no different, as the 2023 first-round pick will be on the table. It has been many years since Boston made any picks in the draft's opening round as Sweeney has repeatedly traded the pick away, including the last two years for Taylor Hall (2021) and Hampus Lindholm (2022). Just like these two players, Sweeney should only use it to acquire a big-named player such as Bo Horvat.
Sweeney will be actively working the phones up until 3 pm on March 3rd, when the deadline closes. Improving this team will be his number one goal if he wants to increase his chances of winning one more Stanely Cup with the current core of Patrice Bergeron, David Krejci, and Brad Marchand. While not all these assets will be in play, a majority of them will be with the possibility of them all of them depending on the deal. Anything can happen behind the scenes leading up to the Trade Deadline as a deal may present itself that Sweeney can't say no to.
The boys are back after a long break but have plenty to talk about as the playoffs are in full swing. We go series by series, looking at how teams have fared so far and who will come out on top. Thanks for listening! Please rate and review our show on your favorite listening platform. Check out our partner's website at www.insidetherink.com for all your latest hockey news.