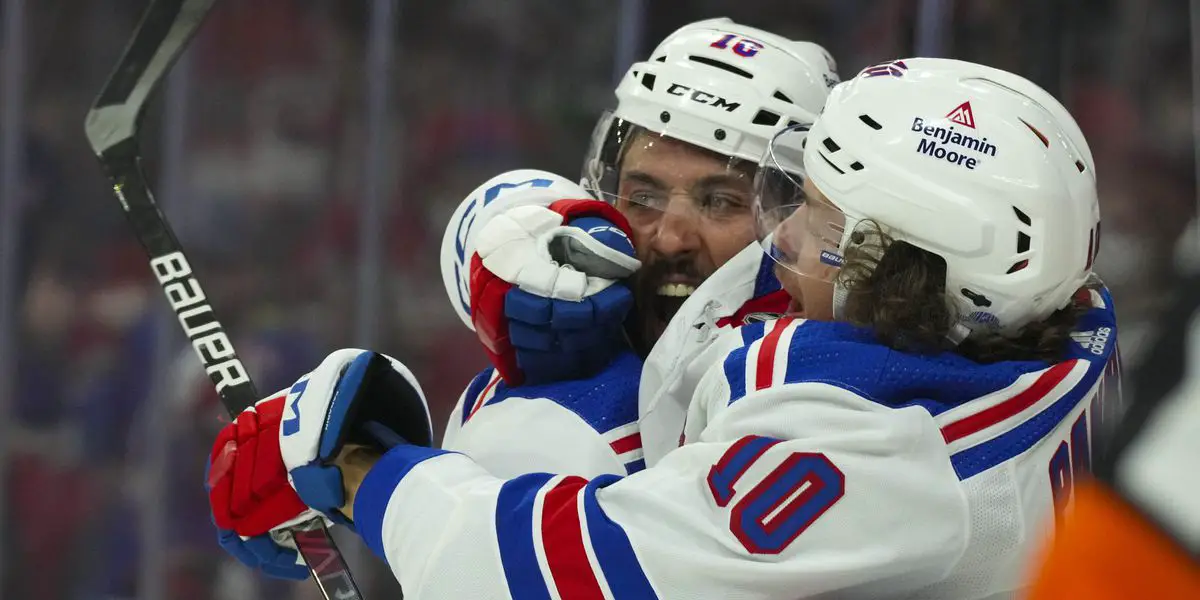 Call me cliche, but there was no other headline worthy enough to use. The NY Rangers stunned the Carolina Hurricanes last night 6-2 with a smothering third period led by a surge from a storm named Artemi Panarin. A lot to unpack, so let's break down the good, the bad, and everything in between.
THAT'S GOOD
LEAVENED BREAD
No, this will not be a lesson about Passover. What an absolute explosion last night by Panarin. With a player this talented, you shouldn't be surprised when something extraordinary happens; however, this season, we haven't seen as much of his old magic. Well, abra-freaking-Cadabra.  
He did have an assist on Mika's power-play goal in the first, but for the first half of this game, his warts were more the story. So much so that Gallant "demoted" him back to his old connection with Trocheck. (This came after some lazy blind passes and a wild miss of a shot off a two-on-one.)
Well, whatever happened worked because Bread was as dynamic as he's EVER been, evidenced by the first four-goal game in his career.  
His first might have been the most important, as the Rangers were out of gas for the whole second period. That goal from a simple but nice feed from Trocheck tied the game and energized the Rangers from there on out.  
What had been a deflating sequence in the second period that gave Carolina the lead suddenly became a different narrative. Now it was, "hey, we're tied after two periods against a great team even when we are tired and not at our best. We got this." Then the Rangers proceeded to get it.
In the third, Panarin was the recipient of more hard work from Trocheck (he's really playing well out of the All-Star break) when he snared the puck and whipped it into the net past Andersen for a 3-2 lead.  
That lead held through most of the period, including an excellent penalty kill from the Rangers with about eight minutes left. Soon after, Panarin was sprung for a breakaway due to a great play by K'Andre in his own zone. Panarin took off and then zipped one through for a 4-2 lead, a hat trick, and a loaf of bread on the opponent's ice. (Damn, Rangers fans are resourceful).
The game was in hand, but that didn't stop Panarin from finding himself alone late in front of the net off a beautiful pass from Vesey. He spun around like a top and scored his FOURTH (!!) goal of the game.
We'll see if this unleashes a scoring barrage going forward for Artemi, but for one night, the wizard we know and love was casting spells all over the place.
JARO HALAK
Seven wins in a row now for Halak, who has really found his game. He made some solid saves during some tense moments, including a STELLAR one against a streaking Sebastian Aho.
It's no coincidence that the Rangers' return to form has coincided with our backup goalie's more-than-solid play.
TURNING THE TIDE
Let me know if you start getting sick of all these storm references, but it's time we start paying attention to the Rangers effectively beginning to change a couple of narratives. Not only with their play in general but how it relates to the Carolina Hurricanes.
I'm not saying this team has solved them, and indeed, any series against Carolina can go south quickly, but it's no longer a franchise that should spook us.  
We see how you have to play them, and we seem to do it well. If you bank in enough of your opportunities and get solid goaltending, you can take them. At the very least, you'll be in every game with a chance to steal the victory.  
I'm not saying we go into any matchup with them as a favorite, but it's certainly not the formidable obstacle it once felt like.
THAT'S BAD
CLEAR AND PRESENT DANGER
I've accepted that this is just something we need to live with as Rangers fans, but this team is at its worst defensively when it has issues clearing the puck from their defensive zone.
This could manifest like the two goals last night, where they fumble around and can't get the puck on their sticks, or perhaps it's the cute, light touch passes they make that get intercepted and held in our defensive zone. Either way, this bad habit is directly related to the goals we give up.  
I don't have the stats to back it up, but I'd be shocked if the majority of goals against are not a byproduct of a bad clear or turnover in the zone.  
If we clean those up, this team can be unstoppable.
CAN I GO NOW?
Tons of shoutouts for players last night. Vesey was a demon all game, with two assists and several chances. The aforementioned (up above) Trocheck has been insanely active lately. The Kid Line continued to excel (another goal for Kakko), and Mika stayed blazing hot with another power-play goal. These contributions were envisioned when this team was built—skill, depth, and balance throughout the lineup with great goaltending. What's scary for the rest of the league is we might only be seeing the start of something greater.
Elliotte Friedman reported that the Rangers are shopping Kravtsov. That is not a surprise, and if this is going to be how he's used, then we might as well do it. Still, I don't agree with Gallant's hardline stance on this player. I don't think Kravtsov has been great or will be, but he surely deserves a more consistent chance than this.
Our next game is on the West Coast against Vancouver. 10 pm EST, so get some rest now, folks.
In this weeks episode it's good all vibes with the Rangers being first in the NHL. We discuss Mika, Trouba, the NHL and more.Thanks for listening! Please rate and review our show on your favorite listening platform. Check out our partner's website at www.insidetherink.com for all your latest hockey news.