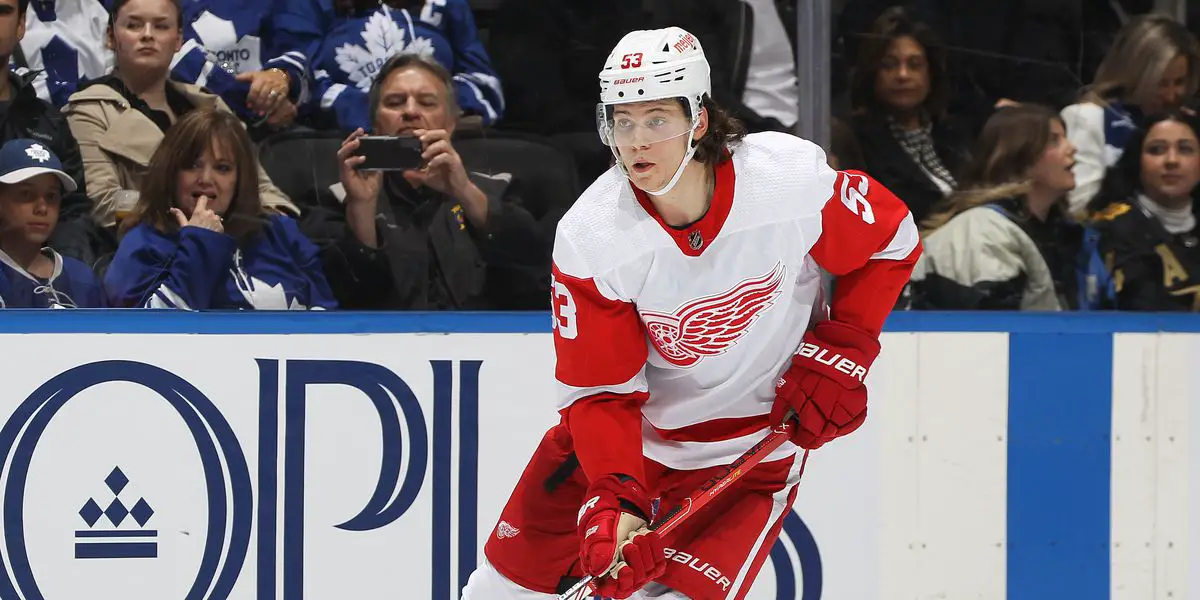 After a convincing 6-2 victory during the preseason opener in Pittsburgh, the Detroit Red Wings will continue the preseason at home tonight against Chicago.
Last night, Detroit received excellent play from Dominik Kubalik (two goals), Filip Zadina (one goal, one assist), and Michael Rasmussen (two assists). Other goals were scored by Tyler Spezia, Elmer Soderblom, and Steven Kampfer. Victor Brattstrom started in goal and made 19 saves on the 20 shots he faced during his half of the game. Top rookie goaltending prospect Sebastian Cossa made 12 saves on the 13 shots he faced during the second half of the game. Pittsburgh had several veterans in their lineup and outshot Detroit 33-21 during the contest.
Many of the top healthy players will suit up for Detroit tonight against the Blackhawks. Regulars from last year that are expected to play tonight include forwards Lucas Raymond, Pius Suter, Givani Smith, Dylan Larkin, and Adam Erne. Regular defensemen from last year that are expected to play tonight include Gustav Lindstrom and Moritz Seider.
Free agent signees expected to play tonight include forwards Matt Luff, David Perron and defenseman Ben Chiarot. Alex Nedeljkovic and Jussi Olkinuora will share the goaltending duties.
What top prospects are playing?
Pontus Andreasson is in the lineup tonight and, with a good preseason, could make his way into the opening night roster. Andreasson had an excellent rookie season in the SHL last year and is on a one-year, two-way contract with Detroit.
Elmer Soderblom played in last night's 6-2 victory in Pittsburgh. Soderblom scored a goal, had three shots on goal, four hits, and two blocked shots in 11:26 minutes of playing time.
Simon Edvinsson is the top defensive prospect in the organization. The preseason will determine if he is ready to make the jump to the NHL to start the season. He looked poised during the Prospects Tournament but was prone to giveaways during the Red/White game.
Albert Johansson is a smooth-skating 21-year-old defenseman who looked very good during the Prospects Tournament. Johansson has already played three seasons in the SHL and, with a good preseason, could make the opening night lineup for Detroit.
Next Up
Washington @ Detroit, Friday, September 30, 7:30 pm ET at LCA in Detroit, MI.
In this episode, we recap Traverse City and the annual Red vs. White game and discuss standouts and takeaways from training camp. Later, we give our breakdown of the Red Wings' 4-3 win over the Penguins, with DeBrincat making his Red Wings preseason debut, Danielson scoring his first goal, the first powerplay unit, and more! To wrap up, we give our Central Division predictions!