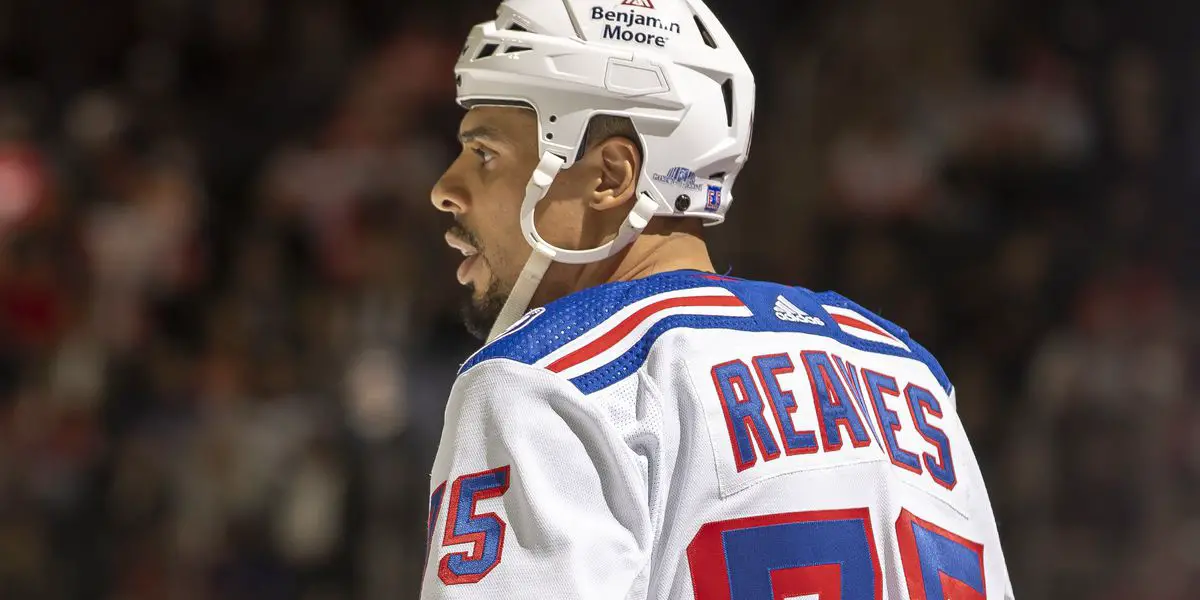 Dang, who is going to release Shesty now?!  
Perhaps not surprising, but still a shockwave throughout Rangerstown, Ryan Reaves has been traded to the Minnesota Wild for a 5th-round pick.  
The writing had been on the wall for a while now. This season, especially recently, Reaves went from 4th line stalwart to pretty frequent healthy scratch. Reaves can read a room as well as anyone, so he asked for a trade while the Rangers were in Cali. Drury acted quickly and did an excellent job acquiring a 2025 5th-round pick.  
Reaves now joins our old friend Zuccarello on the Wild. We are just now emotionally getting over trading Zuccarello, but now with Reavo there, the Rangers should make January 10th Kleenex Night when the Wild visit MSG. 
Really, with most trades, we usually go through the battle of Emotion vs. Business. Even the most passionate fans will ultimately live with a trade if Business > Emotion. The Zuccarello trade was a mental battle in that regard, even though we were heading to a rebuild, and it was the right call. In Reaves's case, while I'll miss him, this was an excellent move by Drury. 
Whether you are Insane For Kane (has anyone patented that yet? Dibs!  I'm not, by the way, I want royalties) or not, the Rangers will have very little flexibility at the deadline this year. Last season, we had unreal cap space and retooled with several pieces that were sorely needed and helped us take that next step. Not only were we going to be in a cap position NOT to acquire Kane, but with the full roster of 23 we were playing with, we weren't going to be able to accrue enough to get ANY player that would be an improvement over what we have now. So from a financial standpoint, this was quite the coup for Drury. It was also a no-brainer once it was clear Reaves was becoming a plug-in player, at best. His salary wasn't worth it. 
So Cold-Hearted Business Marc is writing the facts (he's a cold SOB). The other side of me is very sad to see Reaves go. We can argue about the merits of a fighting enforcer in today's NHL. What can't be argued is just what a positive presence Reaves was in that locker room. A wonderful person who brought personality, professionalism, and toughness to a roster that needed it. You can tell he was both a mentor and leader, and I think he will be missed.  
I didn't know much about him before he got here beyond the fighting, but he now leaves, making one heck of an impression on me. A player can rarely make such an impact on a fanbase without producing much, but that's a testament to who he is and the intangibles he brought. I can't wait to see the well-deserved ovation he gets on January 10th. 
Thanks for everything, Reavo. 
We have on Former NHL referee and ESPN rules analyst Dave Jackson. He brings us behind the scenes details on NHL refs, rules, and more.Thanks for listening! Please rate and review our show on your favorite listening platform. Check out our partner's website at www.insidetherink.com for all your latest hockey news.