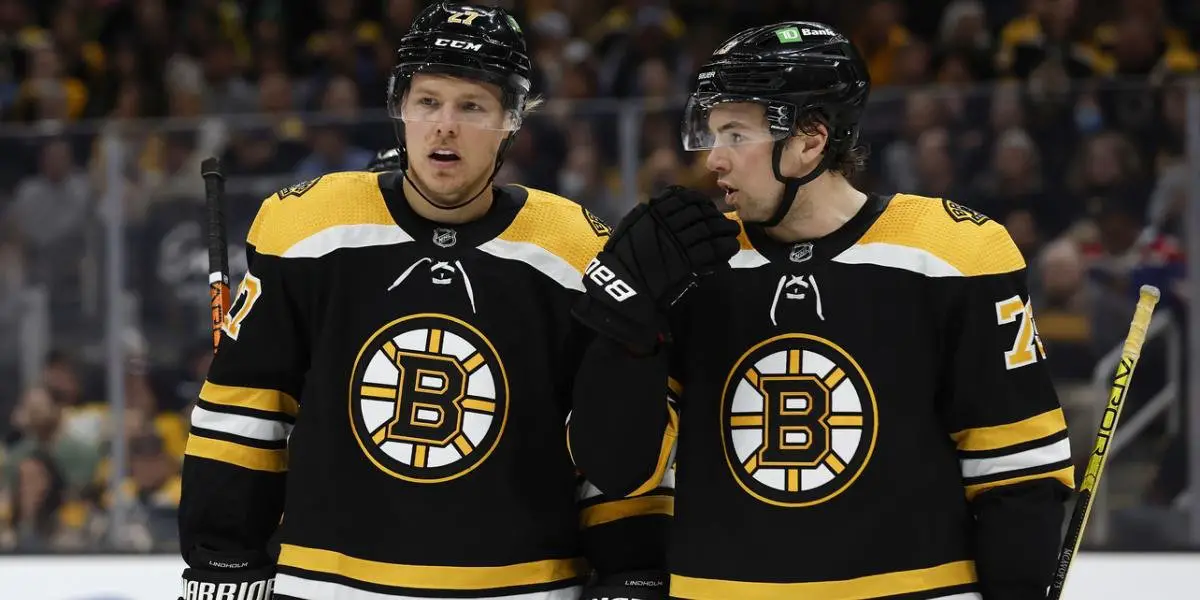 After Game one, there was a lot for head coach Bruce Cassidy to take away. His team played great till a few things didn't go their way. The Bruins came out hot, getting shot after shot on Carolina goaltender Antti Raanta with a goal being stopped just inches from the line. On the other end of the ice, Linus Ullmark was solid for most of the game, with a lot of the blame coming on the defenseman who repeatedly couldn't clear Carolina players from the front of the net. With these observations, Bruce Cassidy will go to the drawing board and tinker with his defensive pairing to find a balance that will work and set his team up for the most success.
Sometimes plans change as a head coach looks to find balance. Bruce Cassidy just announced that he would be swapping around two of his top-four defenseman to create a new balanced look, hoping their attributes and skills play off one another. The idea of having Hampus Lindholm and Charlie McAvoy on your top pair was a dream come true when the Bruins acquired him at the deadline this year.
Hampus Lindholm will slide down to the second pairing to team up with Brandon Carlo. This move could be what's needed to get Carlo going and push him to the next level that the Bruins will need to win.
On the top pairing, McAvoy will once again skate with Matt Grzelcyk. This move should work as McAvoy is a warhorse and is not afraid to hit and clear people from the crease, something the undersized Grzelcyk struggles with. This pair, Bruins fans shouldn't worry about as the analytics speak for themselves about how successful the two are when playing together.
Cassidy also confirmed that he would be riding with game one starter Linus Ullmark as he keeps his faith in the veteran goaltender. Game two kicks off tomorrow night as the Bruins will look to get back on track and tie the series up before returning to Boston for games three and four this weekend.
Episode 51: Interview w/Jack Ahcan Episode 51 is back in action talking about the New York Paingers ITR bet, Can Buffalo Sabres make the playoffs? Is Vancouver in the wrong on the Boudreau treatment? Is Tocchet the right guy? Is Daryl Sutter the last Dinosaur in the NHL?YouTube: https://www.youtube.com/@insidetherinkTwitter: https://twitter.com/CueTheDuckBoatzFacebook: https://www.facebook.com/Cuetheduckboats/Thanks for listening! Please rate and review our show on your favorite listening platform. Check out our partner's website at www.insidetherink.com for all your latest hockey news. Also, catch all of the games in this year's NHL season by signing up for ESPN+ at Insidetherink.com/ESPN