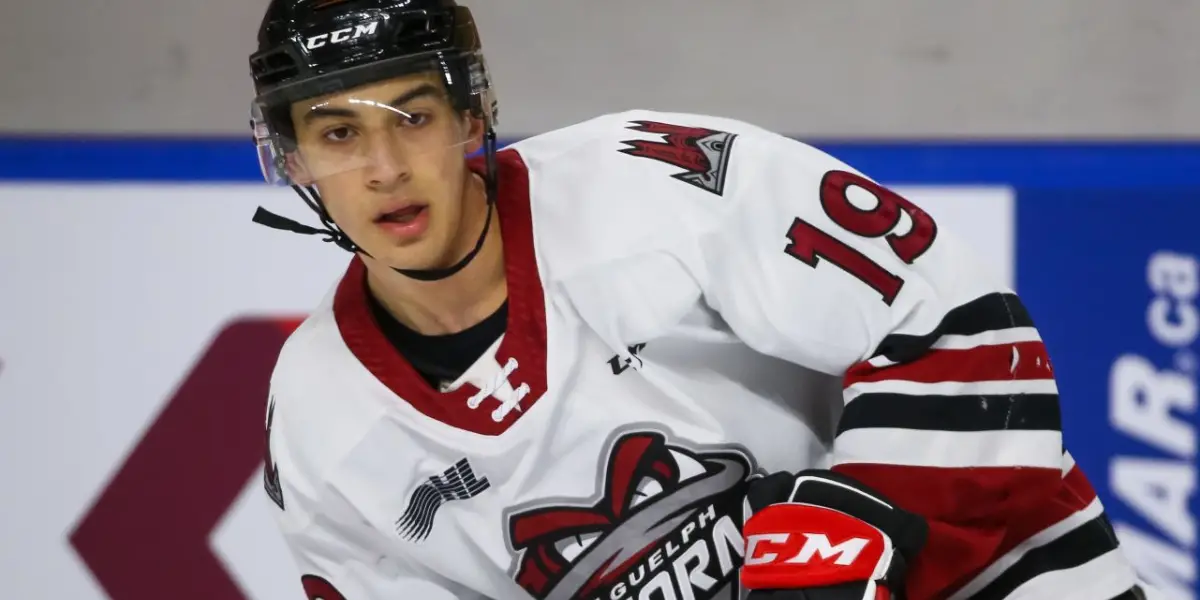 Matthew Poitras was a second-round pick, 54th overall, by the Boston Bruins in the 2022 NHL Draft. The Bruins are in need of young talented centers to develop in preparation for the retirements of Patrice Bergeron and David Krejci soon. Poitras just completed his second season with the Guelph Storm and saw a huge jump in production. In 2021-22, the skilled center registered 21 goals and 29 assists in 68 games. But this past season, Poitras totaled 16 goals and 79 assists in 63 games. His assist total was two shy of the franchise record. The Storm are currently down three games to two in the first round of the Ontario Hockey League playoffs against fellow Bruins' draft pick Ryan Mast and the Sarnia Sting.
Poitras' terrific season led to the Brooklin, Ontario native being nominated for the Red Tilson Award for Most Outstanding Player in the OHL. Past recipients of this prestigious award are a long list of players who became top NHL players. John Tavares, Tyler Seguin, Connor McDavid, Mitchell Marner, Alex DeBrincat, and Jordan Kyrou have all won the OHL's Most Outstanding Player award in past years.
The Red Tilson Trophy is the most prestigious individual award presented by the Ontario Hockey League. First presented in 1945, the trophy is named in honor of Albert "Red" Tilson, who was killed in action in Europe during World War II. Tilson was the OHA scoring champion for the 1942-43 season after scoring 19 goals and 38 assists for 57 points in 22 games with the Oshawa Generals. The Red Tilson Trophy is voted on by the sports writers and broadcasters of the Ontario Hockey League.
Poitras has become one of the league's best playmaking centers with a high hockey IQ and tremendous passing skills. The 5-foot-11, 175-pound pivot was an intriguing draft prospect, and The Elite Prospects Draft Guide wrote that Poitras "pre-scans, establishes body positioning, escapes out the back door, and then looks inside for teammates. Doesn't just make the most direct play; he's selective and generally balances risk and reward well. Wins positioning by getting low, using heel-to-heel steps to change the point of contact, and changing pace on incoming pressure".
In the postseason, Poitras has one goal and four assists for Guelph and is currently unsigned. When his season is completed, Poitras will make a decision on potentially signing an Amateur Trout Offer with Boston and joining the American Hockey League Providence Bruins or returning to the OHL for another season. Time will tell, but for now, it seems the Bruins have hit on their second-round pick from 2022.
Season 2. Episode 38. Special Guest Terrence Wallin
–
Bruins Benders Podcast
Maine Mariners Coach Terrence Wallin makes a return visit to recap the season. Should the Bruins make room for Tyler Bertuzzi? Will the Bruins move some core pieces? I guess there is more time for golf and more!