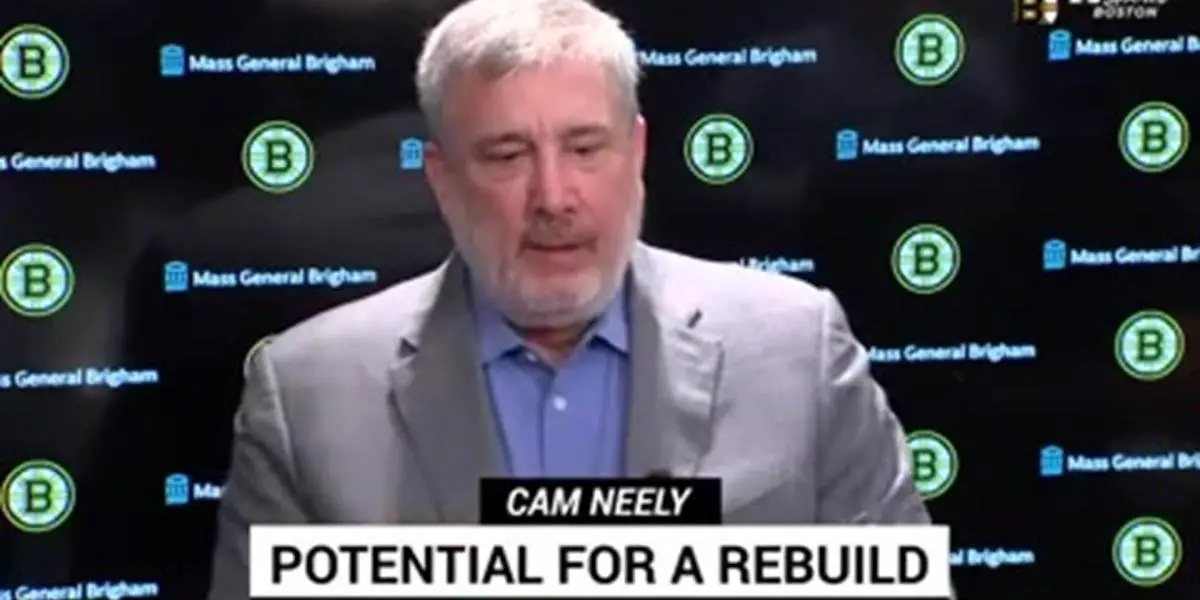 Boston Bruins Team President Cam Neely spoke with the media Thursday to discuss the season and the future of the Bruins organization. A general manager is waiting on a possible contract extension, and captain Patrice Bergeron decides on his future as a hockey player. This all leads to an important off-season for a team that failed to make the second round of the playoffs for the first time in five years. Here are some of the topics Neely touched on during his press conference.
On the team's performance:
"We've got to do a better job of getting inside the dots." The Bruins struggled, especially during the playoffs against a good Carolina team, with getting to the front of the net and creating traffic and opportunities in front of the net. There just wasn't enough "jam" to score "greasy" goals on tips or rebounds. This is something that needs to be improved next season.
On the general manager's contract extension:
Neely said he wanted to see how the year went to make a determination on extending Don Sweeney's contract. After the trade deadline, Neely went to ownership with plans to keep Sweeney. Neely then went on to say that he hoped to "hammer out a deal" within the next few days. The trade for Hampus Lindholm and the team making the playoffs probably saved Sweeney's job.
On the status of Patrice Bergeron:
"Hopefully, he comes back. If he doesn't, we've got to go to work." Neely said that the team would give Bergeron the time and space to make a decision but did acknowledge that the team has to get to work soon. If Bergeron retires, the Bruins will be left with a huge hole at the top-line center and in the locker room.
On the coaching staff:
Neely addressed the offensive challenges for the team and admitted that there should be changes in "the way we coach." Bruce Cassidy just completed his sixth season as head coach and is the only coach in NHL history to have six consecutive seasons with a winning percentage of .650 or better. The Bruins made it past the first-round four straight seasons. Neely's frustration was with zone entries, saying, "I found it frustrating where we would continue to try to gain the zone the same way with the same results." Neely said he would leave it up to Don Sweeney to decide the future of Cassidy, who he called "a fantastic coach."
During last season's Neely presser, the President of the Bruins mentioned the need for the "elusive left D." The Bruins now have that left-shot defenseman in Lindholm. And after the 2020 season, Neely mentioned taking a hard look at the roster. However, the Bruins seemed to have gone as long as they could with an aging core led by Bergeron. Boston has most of its roster under contract for next season and about $4.3 million in cap space. After the general manager is signed, Bergeron's decision is at the forefront. Jake DeBrusk's status is also a priority. The 25-goal scorer has two years left on his deal but has not rescinded his trade request. There also seems to be a surplus of defensemen who play the left side (ironic, huh?). These are just a few of the low-hanging fruit for Sweeney that need to be addressed shortly after the ink dries on his new contract.
This could be an off-season that determines just how good the Bruins can be for the next five seasons and beyond. It can also help determine if Cam Neely, Don Sweeney, and Bruce Cassidy will still be in the organization past 2022-23.
Season 3 Premiere! Bruins Prospect Challenge recap. Training Camp begins. The Bruins have a new captain. Jake DeBrusk contract negotiations beginning soon. The Bruins Historic 100 and new sweaters!  The Centennial season is here! DraftKings Sportsbook – Boston's hometown Sportsbook is LIVE right here in Massachusetts! Bet local on all your favorite sports from the comfort of your own home with DraftKings. To celebrate, ALL new customers will receive up to TWO HUNDRED DOLLARS in BONUS bets when you sign up for DraftKings Sportsbook using code ITR! You can now bet local on money lines, spreads, props, and more with one of America's top-rated Sportsbooks – DraftKings Sportsbook!  Download the DraftKings Sportsbook app and sign up with code ITR to get up to TWO HUNDRED DOLLARS in BONUS bets to use now that mobile sports betting is live in Massachusetts. That's code ITR only at DraftKings Sportsbook. If you or a loved one is experiencing problems with gambling, call 800 327-5050 or visit helplineMA.org to speak with a trained specialist, free and confidentially, twenty four seven. 21+. Physically present in MA. Eligibility restrictions apply. Subject to regulatory licensing requirements. Eligibility and deposit restrictions apply. Opt in required. Bonus issued as free bets. Terms at draftkings.com/MA.