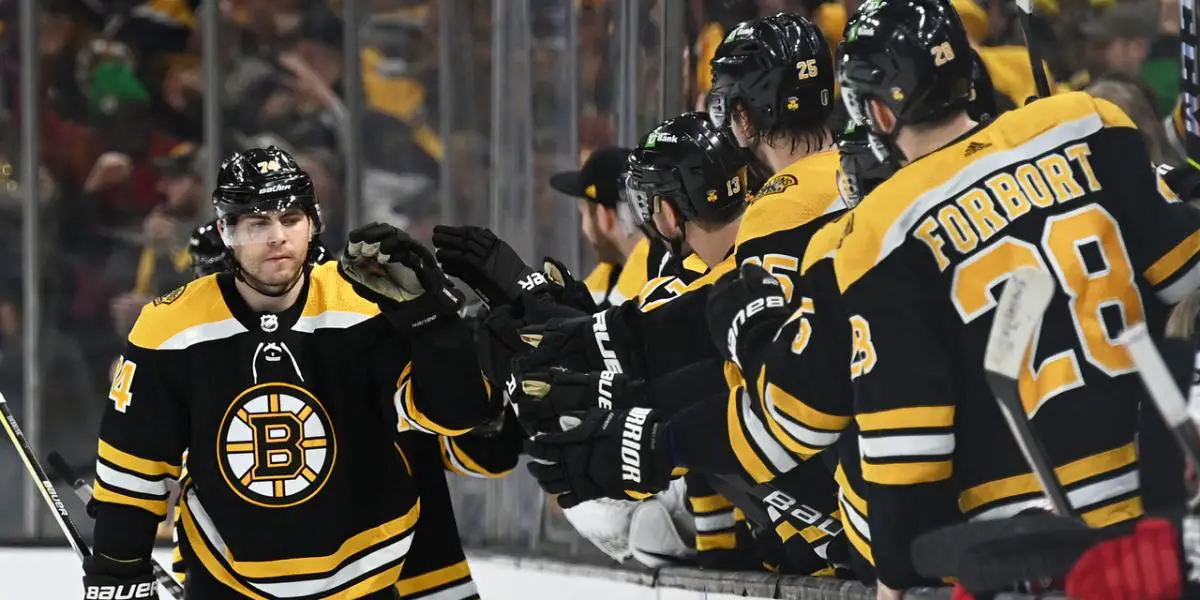 What a difference a calendar year makes for Boston Bruins forward Jake DeBrusk! Last season, the Bruins left wing became a top-line right wing and has flourished ever since. But the circumstances surrounding that change in status and responsibility are far more complicated. DeBrusk struggled in 2020 with playing in the bubble during COVID and was open about his struggles with his mental health. In 2021, the former first-round pick had issues with former Head Coach Bruce Cassidy's honest and sometimes harsh coaching style, which caused a late November trade request from the Edmonton native. It was a difficult time in the young career of a talented forward who was struggling with his role on the team. Now, one year later, DeBrusk is in the first year of a two-year contract with the team, has rescinded his trade request after a coaching change to Jim Montgomery, and just scored his 100th career goal in a 5-1 win over the Colorado Avalance Saturday night. Life is good again for Jake DeBrusk.
It took five games for DeBrusk to move on from number 99. After the game said it "felt like a curse for a second there," but DeBrusk has been consistently playing good hockey for the Bruins, who are now 42-12-1 since the left-shot forward was moved to the first line with Patrice Bergeron and Brad Marchand last season when the team was looking for more offensive balance among the forward groups. This was a move by Cassidy, who was reluctant to move David Pastrnak off of the "Perfection Line" but finally made the switch just after DeBrusk's trade request. The team tried to honor DeBrusk but could not find a fair trade return leaving the 6'0″ forward on the team for the remainder of last season. DeBrusk responded with 25 goals and a renewed desire.
Saturday night's goal was the 100th in 343 games for DeBrusk, who already has 76 more goals than his father, Louis DeBrusk, scored in 401 NHL games. The 26-year-old is off to a great start in 2022 with 8 goals and 9 assists in 17 games. DeBrusk is known more for his scoring than playmaking but has seen an increase in helpers so far this season. And to show even more versatility, DeBrusk almost immediately went on the penalty kill after his milestone goal and has become a very good all-around player who is showing far more value than his $4 million price tag.
The Bruins are the best team in hockey at 20-3-0 and 14-0-0 at home, and a big reason for that success is their tremendous forward depth. DeBrusk adds speed and an ability to get to the front of the net to score goals on any line. But the former 14th overall pick has been most effective on the top line on the NHL's best team, something that nobody thought possible at this time last season. On Monday night, DeBrusk will look to begin the quest toward the next 100 goals with an ironic twist. DeBrusk and the Bruins face their old coach Cassidy and the Vegas Golden Knights, and you can bet Jake DeBrusk will be ready to play.
Season 2. Episode 38. Special Guest Terrence Wallin
–
Bruins Benders Podcast
Maine Mariners Coach Terrence Wallin makes a return visit to recap the season. Should the Bruins make room for Tyler Bertuzzi? Will the Bruins move some core pieces? I guess there is more time for golf and more!