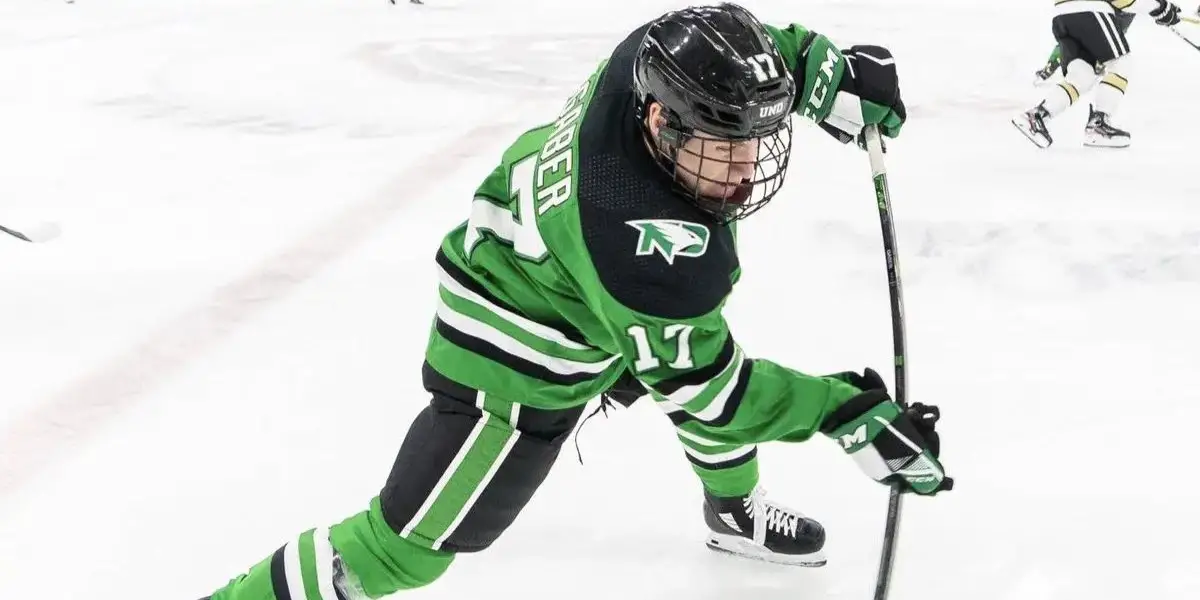 The Boston Bruins have had success recently with signing college-free agents, and another player on their radar might be more of a familiar face. The Bruins typically invite unsigned college players to their rookie development camps, and last season one of them stood out at Warrior Arena.
Riese Gaber, who just completed his junior season at the University of North Dakota, will be a more sought-after college free agent in the coming days. But Boston might have an inside track after Gaber elected to attend the Bruins' summer camp for rookies this past July. The highly skilled right wing was impressed with the Bruins' history of developing undrafted players at the time. Now Gaber has a chance to select the Bruins again, but this time as a place where he can begin his professional career.
The 5-foot-8, 161-pound Gaber, now 23 years old, was better than a point-per-game player for North Dakota in 2021-22, posting 15-22-37 totals in 34 games that season. His linemate Jake Schmaltz was a 2019 seventh-round pick of the B's, so the club's player development personnel, Jamie Langenbrunner and Adam McQuaid have had plenty of viewings of Gaber. The Gilbert Plains, Manitoba native scored 20 goals with 17 assists as an assistant captain this year and has improved his stock as a late-bloomer addition to any National Hockey League team.
Gaber dominated in the United States Hockey League for two seasons before attending college with 105 points in 108 games with the Dubuque Fighting Saints. In 2019-20, Gaber was USHL Player of the Year. This season, the speedy winger was a first-team All-Star in the National Collegiate Hockey Conference.
As far as the scout on Gaber. Bruins' Director of Player Development Jamie Langenbrunner said this last summer, "Riese Gaber's a really good hockey player," Langenbrunner said. "He's got what I believe you need if you're going to play at that size. He's got a lot of courage. He's got a really good stick. He can get underneath guys. His motor is nonstop. … He's a guy we'll definitely be tracking."
Expect the Bruins to make a push to sign the 23-year-old forward to a three-year entry-level deal soon. Riese Gaber could end up following former college free agents like Noel Acciari, Georgii Merkulov, and Marc McLaughlin as players who the Bruins develop into strong prospects.
Season 2. Episode 38. Special Guest Terrence Wallin
–
Bruins Benders Podcast
Maine Mariners Coach Terrence Wallin makes a return visit to recap the season. Should the Bruins make room for Tyler Bertuzzi? Will the Bruins move some core pieces? I guess there is more time for golf and more!