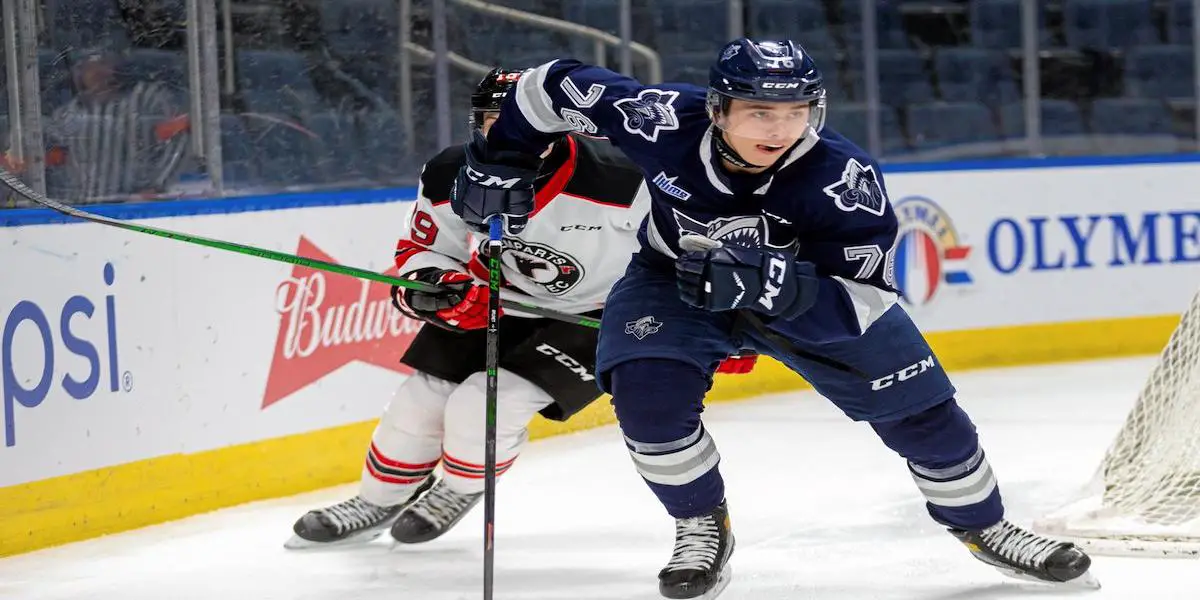 The Bruins are the best team in the NHL this season, and it's not even close. They have achieved this success by building a roster full of veterans with not even a single rookie or second- or third-year player on the roster. For years the Bruins have focused on retooling via trades and free agency, except for a few players like David Pastrnak, Jake DeBrusk, Trent Frederic, Charlie McAvoy, and a few others. The common theme is over the last five-plus years, the Bruins really haven't developed many young players into everyday NHL talent. They have been fortunate enough to have drafted lifelong Bruins such as Patrice Bergeron, Brad Marchand, and David Krejci to carry the torch year after year allowing the front office to field a team around them.
The time is coming as those players are nearing the ends of their careers that the Bruins need to start hitting on draft picks to be the next wave of talent to help Boston win. It's never easy to project what an 18 or 19-year-old player will become as many turn into busts or bottom-six players while others live up to the hype and excel.
The Bruins are known as owning one of, if not the worst, prospect pool out of all 32 NHL teams. This happens when you're a steady contender for quite a while and use picks to acquire veterans or constantly draft in the back of the first round.
Since Don Sweeney took over as general manager, there have not been a lot of draft picks to be excited about.
However, as Bruins Network on Twitter shared, the Bruins may have found a gem in the 2022 Draft:
Frederic Brunet is a defenseman the Bruins drafted 132nd overall in the fifth round from the Rimouski Oceanic of the QMJHL.
The 19-year-old is a big body left-shot defenseman who is 6'2″ and 185 pounds. He has proven he is a playmaker on the blueline and, as shown in the video above, has the skillset to succeed at the next level. He has registered six goals and 29 assists in just 36 games this season after tallying 12 goals and 34 assists in 63 games last year.
What also makes Brunet an intriguing prospect is that before the Bruins drafted him, he would work out with team captain Patrice Bergeron in the off-season. That proves this young man, along with his talent, has the work ethic required to make it to the next level.
If the Bruins can continue to hit on players, especially in the later rounds, this franchise may be in a good spot moving forward. Brunet wasn't the only prospect from the 2022 NHL Entry Draft that has been turning heads, as Matthew Poitras has been lighting it up in the OHL all season.
Episode 54 is here and the boys break down the Bruins adding Tyler Bertuzzi, Taylor Hall and Nick Foligno Injury updates, and Pastrnaks contract extension. Followed up with a tour around the NHL and breaking down the MOUNTAIN of trades that happened since last episode.DraftKings Sportsbook – Boston's hometown Sportsbook will be LIVE – soon – right here in Massachusetts! Bet local on all your favorite sports from the comfort of your own home with DraftKings. To celebrate, ALL new customers will receive up to TWO HUNDRED DOLLARS in BONUS bets when you sign up for DraftKings Sportsbook using code insidetherink! Soon you'll be able to bet local on money lines, spreads, props, and more with one of America's top-rated Sportsbooks – DraftKings Sportsbook!  Download the DraftKings Sportsbook app and sign up with code ITR to get up to TWO HUNDRED DOLLARS in BONUS bets to use once mobile sports betting hits Massachusetts. That's code insidetherink only at DraftKings Sportsbook.  If you or a loved one is experiencing problems with gambling, call (800) 327-5050 or visit (https://helplinema.org/) to speak with a trained specialist free and confidentially twenty four seven. 21+. Physically present in MA. Eligibility restrictions apply. Subject to regulatory licensing requirements. Eligibility and deposit restrictions apply. Opt in required. Bonus issued as free bets. Terms at draftkings.com/ma.