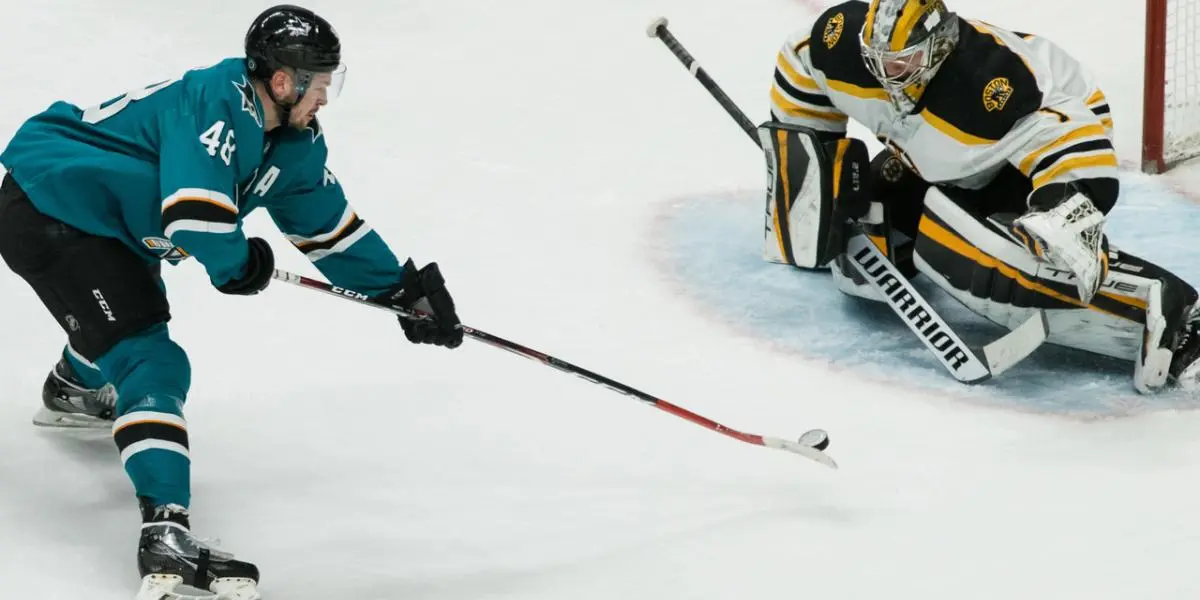 Boston Bruins rookie goaltender Jeremy Swayman has been a pleasant surprise this season. Coming into the 2021-22 season, Bruins management was unsure if the 23-year-old netminder would be ready to take on the number one goalie role from the retired Tuukka Rask. Instead of entering the season with two rookie goalies, the Bruins signed former Buffalo Sabres goalie Linus Ullmark to a 4-year, $20 million contract and traded the other rookie, Daniel Vladar, to Calgary.
When Rask decided to make a comeback attempt in January, Swayman was sent to Providence in the American Hockey League. It looked as if Swayman would get some seasoning in the minors, and Rask and Ullmark would be the Bruins' goalies. But Rask's comeback ended after just four starts, and a new opportunity arose for the former University of Maine-Orono star, who would pounce on it.
Swayman would eventually be the top goalie with excellent numbers, particularly after his call-up. From February 12th through March 12th, Swayman would go 9-0-1 as the Bruins surged back into the Atlantic Division race. The Bruins had their heir apparent to Rask and Tim Thomas before him. From 2006 to 2021, the Bruins had excellent goaltending and knew that they had come to the postseason. Now, it looked like Swayman was about to continue that trend.
However, a deeper look into the Anchorage, Alaska native's numbers may be cause for pause. Swayman is just 5-8-2 against teams who are currently in the playoff picture, including a loss to Toronto on March 29th, where the goaltender allowed six goals. Furthermore, in Swayman's nine regulation losses, the netminder's goals-against average is 3.99 with a .862 save percentage. And here is a strange stat: Swayman's goals against is 2.76 at home and 1.73 on the road. Typically a rookie goalie will perform better at home, but not in this case.
There were reports early on this season that the Bruins may deal Swayman to improve the roster for a playoff push. But as the goalie's performance elevated, general manager Don Sweeney made Swayman untouchable and would not include the goalie in a blockbuster trade with Arizona for defenseman Jacob Chrychrun. Boston went from being unsure of Swayman to depending on the rookie to carry the team into the playoffs. Swayman might be great in the postseason, and Ullmark is still a decent insurance policy, but it is still an unknown for a team that has question marks on their third defensive pair. A position that was stabilized for the better part of fifteen seasons now has some uncertainty.
Now, here is some more uncertainty. Jeremy Swayman has not faced the team that the Bruins would face if the season ended today, the Florida Panthers. If the Bruins face the Tampa Bay Lightning, Swayman won his only game against them but allowed five goals. And if the Carolina Hurricanes are the opponent, Swayman is 0-1 against them. Overall, Jeremy Swayman has been very good and, at times, even great, but it is still yet to be determined just how good the Bruins goaltending will be this postseason.
The Bruins are reeling and need to right the ship; their division lead is dwindling. What's wrong with Brad Marchand? Is he starting to decline, or stuck in an early slump? Should the Bruins make a deal now? Potential trade partners discussed. Plus much more!DraftKings Sportsbook – Boston's hometown Sportsbook is LIVE right here in Massachusetts! Bet local on all your favorite sports from the comfort of your own home with DraftKings. To celebrate, ALL new customers will receive up to TWO HUNDRED DOLLARS in BONUS bets when you sign up for DraftKings Sportsbook using code ITR! You can now bet local on money lines, spreads, props, and more with one of America's top-rated Sportsbooks – DraftKings Sportsbook!  Download the DraftKings Sportsbook app and sign up with code ITR to get up to TWO HUNDRED DOLLARS in BONUS bets to use now that mobile sports betting is live in Massachusetts. That's code ITR only at DraftKings Sportsbook. If you or a loved one is experiencing problems with gambling, call 800 327-5050 or visit helplineMA.org to speak with a trained specialist, free and confidentially, twenty four seven. 21+. Physically present in MA. Eligibility restrictions apply. Subject to regulatory licensing requirements. Eligibility and deposit restrictions apply. Opt in required. Bonus issued aree bets. Terms at draftkings.com/MA.