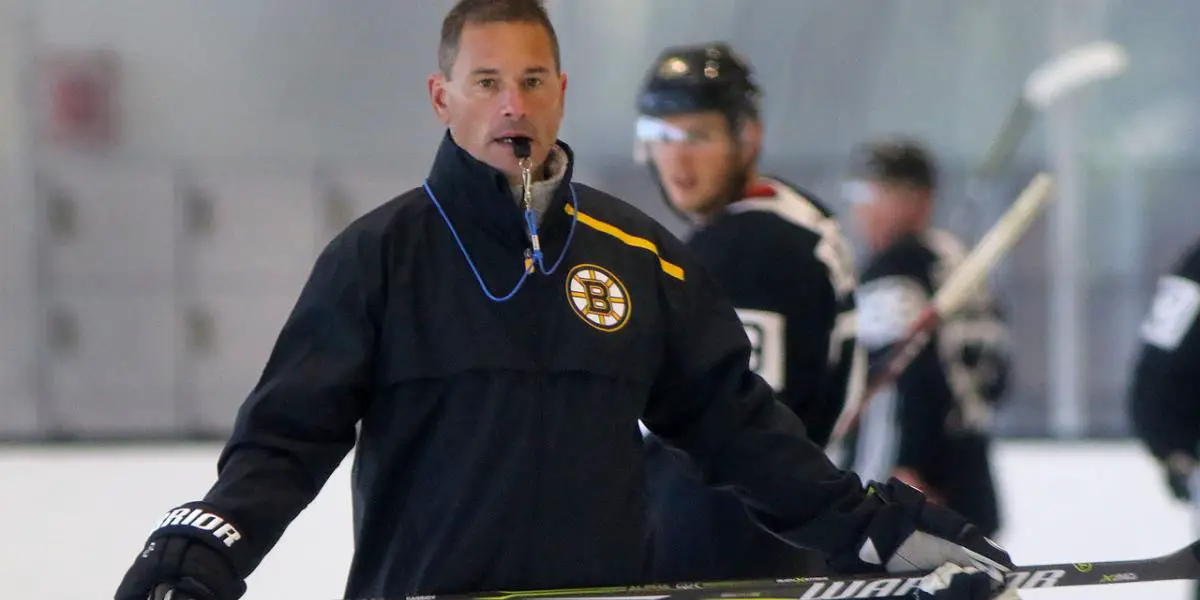 When the Bruins take on the St Louis Blues tonight at TD Garden, it'll be an important night in Boston. Boston has ten games remaining on the season as they look to move back into the Atlantic Division top three, which would give them a first-round playoff matchup with either the Toronto Maple Leafs or the Tampa Bay Lightning. Currently, the Bruins are in the top wild-card spot as they sit one point behind third-place Tampa Bay and five points behind second-place Toronto. Besides the playoff seeding, there will be more cause for celebration in Boston tonight as a major milestone will be hit for Head Coach Bruce Cassidy, and another impressive feat can be accomplished for the Bruins organization.
Bruins Look to Clinch a Playoff Spot
The Bruins organization has the chance tonight to clinch a playoff spot for the sixth straight year and the 13th time in 15 seasons. For the Bruins to reach this accomplishment, it will require a win from the Bruins and a New York Islanders loss in any fashion. The Islanders take on the Pittsburgh Penguins at home tonight at 7:30 pm EST, so stay tuned after the Bruins game is over, as the news will arrive shortly after.
Cassidy going for 500
For Head Coach Bruce Cassidy, who took over the reins of the Bruins from Claude Julien during the 2016-2017 season, he has continued the winning culture that Boston fans expect. With tonight's game, Bruce Cassidy will coach in his 500th career game as a head coach in the NHL, and it will be his 390th game as a Bruin. Cassidy's record as the Bruin's head coach heading into this game is 194-82-41, and he has led the team to five playoff appearances, one of them being a Stanley Cup Final appearance in 2019 against the St. Louis Blues.
Bruins-Blues Meet Again
For the Bruins, this will be their first matchup against the St. Louis Blues since October 26, 2019, when they had their Stanley Cup rematch following a hard-fought seven-game series that the Bruins could not pull off. This game will also mark the first-time Torey Krug will appear at the TD Garden since he departed the Bruins in free agency during the 2020 offseason.  
Episode 51: Interview w/Jack Ahcan Episode 51 is back in action talking about the New York Paingers ITR bet, Can Buffalo Sabres make the playoffs? Is Vancouver in the wrong on the Boudreau treatment? Is Tocchet the right guy? Is Daryl Sutter the last Dinosaur in the NHL?YouTube: https://www.youtube.com/@insidetherinkTwitter: https://twitter.com/CueTheDuckBoatzFacebook: https://www.facebook.com/Cuetheduckboats/Thanks for listening! Please rate and review our show on your favorite listening platform. Check out our partner's website at www.insidetherink.com for all your latest hockey news. Also, catch all of the games in this year's NHL season by signing up for ESPN+ at Insidetherink.com/ESPN