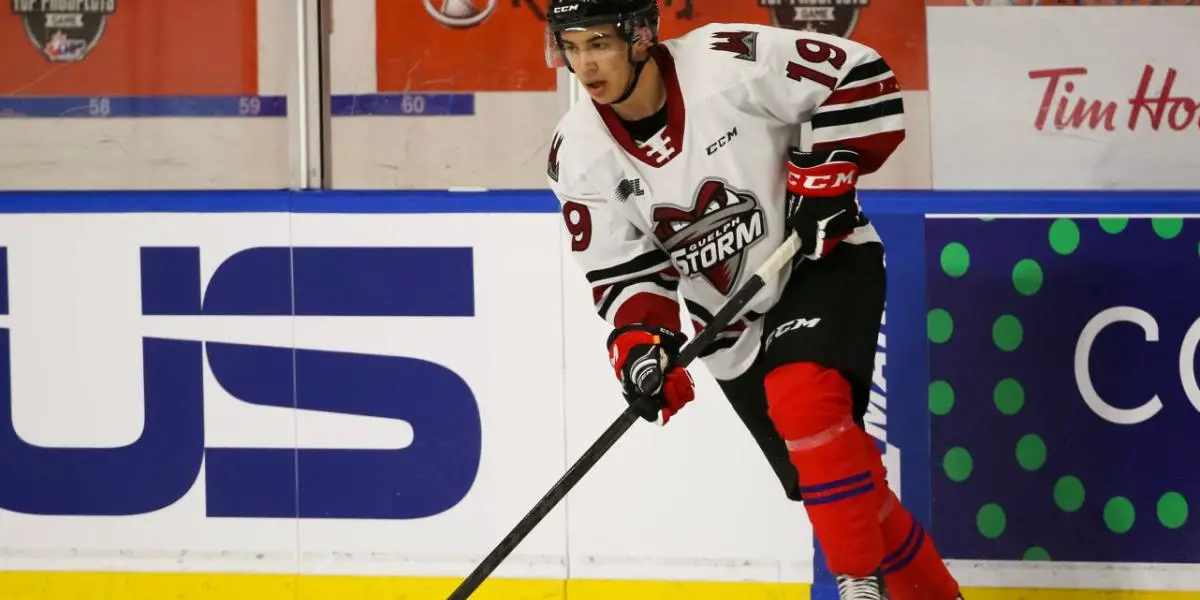 The Guelph Storm will meet the Sarnia Sting in the opening round of the OHL playoffs. Guelph finished its regular season with a 7-3 road win in Saginaw Saturday night, leaving them in sixth place in the standings. The best-of-seven series between the two teams will begin Friday, March 31, in Sarnia.
Boston Bruins' former second-round draft pick, Matthew Poitras, is a player to watch in this series. The skilled center was selected with the 54th overall pick in 2022 and just completed his second regular season with the Storm. Last season, Poitras registered 21 goals and 29 assists in 68 games and totaled four points in five playoff games.
This past season was one to remember for the 19-year-old pivot. Poitras finished with 16 goals and 79 assists in 63 games and was just two assists shy of the franchise record set by Jeff O'Neill, who did it twice in 1993-94 and 1994-95. In his last ten games, Poitras had 18 assists and was a +7 in his last five.
The Bruins have been looking to develop centers to replace Patrice Bergeron and David Krejci when they possibly retire. Poitras was targeted as a playmaking center with a good motor. Eliteprospects.com described the Brooklin, Ontario as a player who "pre-scans, establishes body positioning, escapes out the back door, and then looks inside for teammates. Doesn't just make the most direct play; he's selective and generally balances risk and reward well. Wins positioning by getting low, using heel-to-heel steps to change the point of contact, and changing pace on incoming pressure".
At the Guelph Storm end-of-season awards, Poitras won The Top Scorer Award, Owen's Corning Tony Camilleri Playmaker Award, and the Paul Fendley Memorial Scholastic Player of the Year Award. Poitras will return to the Guelph Storm for a third season next year.
Poitras attended Bruins Rookie Development Camp last summer and showed a good offensive skill set, vision, and passing ability. Bruins Associate Director of Amateur Scouting Ryan Nadeau says Poitras impressed the team with his diverse set of skills. "We see a player that's a driver, someone who has the puck a lot and can make things happen," said Nadeau. "Even when he doesn't have the puck, the motor is running, he's getting involved."
The 5-foot-11, 176-pound center is still growing physically, and in his 200-foot game, the Bruins are very excited about Poitras' potential and might have found a future NHL player in the second round, the 20th center taken in that draft.
Season 2. Episode 38. Special Guest Terrence Wallin
–
Bruins Benders Podcast
Maine Mariners Coach Terrence Wallin makes a return visit to recap the season. Should the Bruins make room for Tyler Bertuzzi? Will the Bruins move some core pieces? I guess there is more time for golf and more!