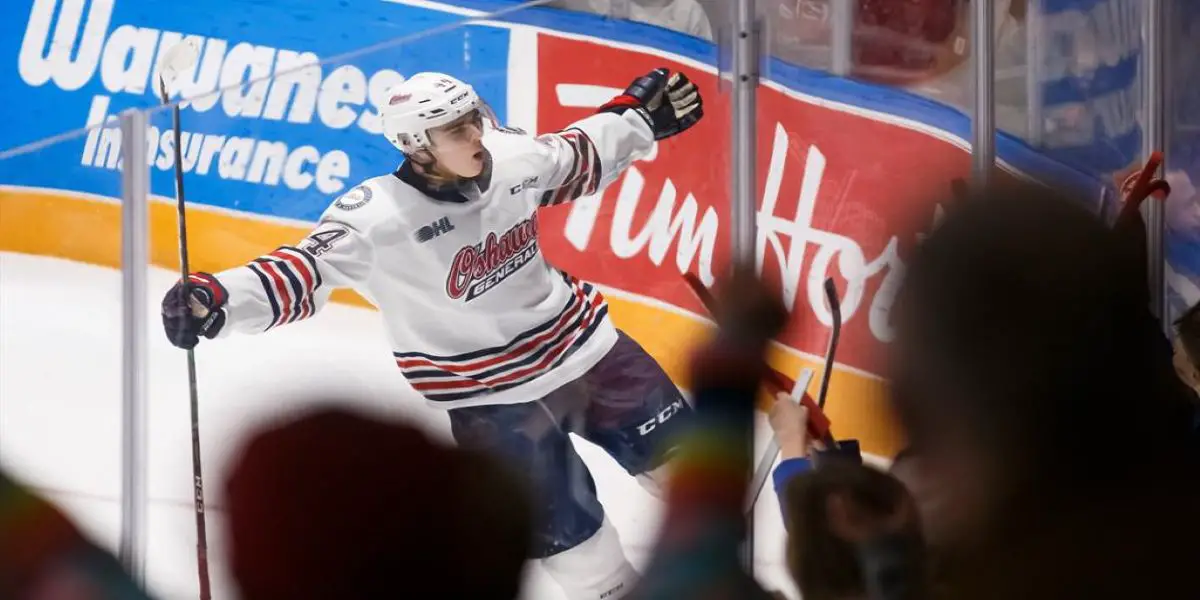 The Boston Bruins are the best team in the National Hockey League, aiming to win their first Stanley Cup in twelve years. What happens after this season is anyone's guess with an aging roster and limited salary cap space. The Bruins will be relying on top prospects to make the jump to the NHL soon or packaging them in deals to upgrade the current team. One prospect who has made a huge jump this season is center Brett Harrison.
The Boston Bruins prospect, and former Oshawa General Brett Harrison, has fit in very quickly for the Windsor Spitfires, scoring in his first game in Windsor and providing an offensive spark in each game since. Harrison was traded from Oshawa to Windsor for six draft picks recently. In nine games with Windsor, Harrison has registered eight goals and seven assists for the Spitfires, including a highlight reel between-the-legs goal last week. Playing on a line with OHL leading goal scorer and captain Matthew Maggio and Seattle Kraken prospect Shane Wright has only elevated the skill of the Bruins pick. The Spitfires have won nine of their last ten games, including a current six-game win streak.
The highlight of Harrison's season was on January 22nd in an 8-7 win over the Barrie Colts when the 2021 third-round pick scored three goals and added two assists. The left-shot center had a previous career-high of four points in a game on December 12th, 2021, in a 4-1 victory over the OHL Peterborough Petes as a member of the Oshawa Generals organization. In that game, he contributed two goals and two assists. Harrison, now a 19-year-old 6′-2″ 185-pound versatile forward, is most likely playing his last season of OHL hockey unless the Boston Bruins see fit and Windsor has room for a return to the Canadian Juniors for his overage season.
Harrison is now on a line with Wright, who played eight NHL games with Seattle before being assigned to the OHL. Harrison's other linemate, Maggio, has scored a league-high 32 goals. The line has been a factor in carrying Windsor to a 28-10-14 record thus far this season. The head coach of the Spitfires is Marc Savard, a former Bruin who has been a successful coach with Windsor and is a candidate for a National Hockey League coaching position soon.
On August 1st, 2022, the Bruins signed Harrison to a three-year entry-level contract with an annual NHL cap hit of $859,167. Expect Harrison to participate in this summer's rookie camp and be a candidate to make either the NHL or AHL's Providence Bruins' roster next season. The young center missed the Bruins' rookie development camp this past summer with a shoulder injury.
Season 2. Episode 37. It's Going To Be A Long Off-Season
–
Bruins Benders Podcast
The Bruins off-season will be longer than expected. We like some CHL rules changes. The Bruins defense needs to be nastier, not just bigger. Can this core going forward win a Cup? Plus Beauties and Benders and Rod Brind'Amour whines.