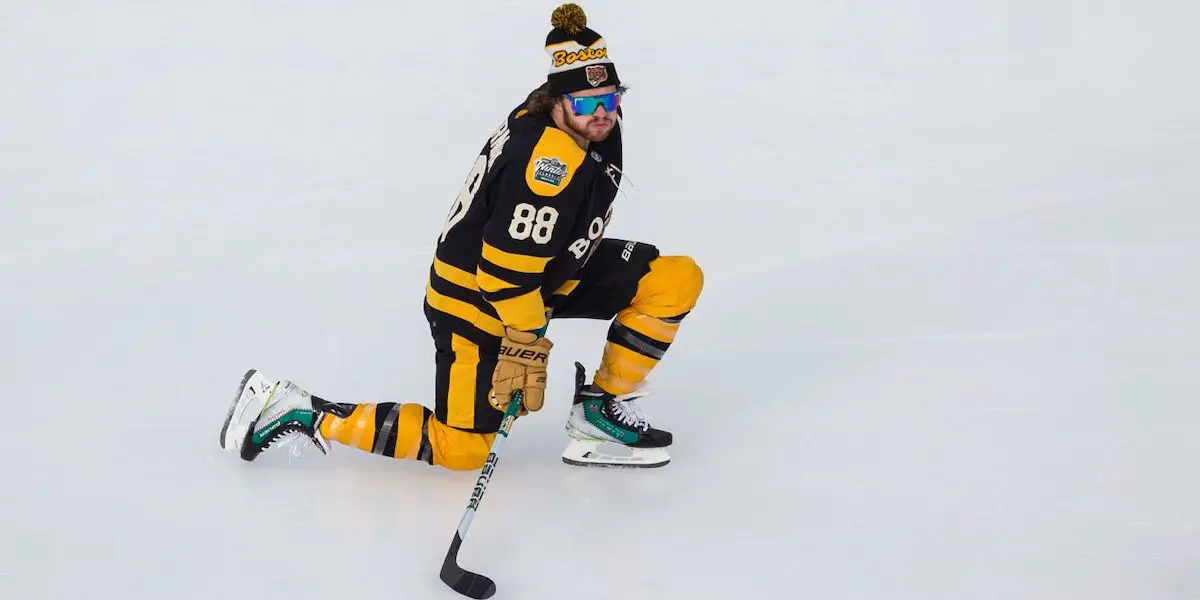 The Boston Bruins are in the midst of a historic season. Their dynamic goal scorer David Pastrnak is having the best year of his career after signing an eight-year extension with the club in March to further ensure that he will be in Boston for his entire career. The Bruins are 60-12-5 with five games to play, and Pastrnak has career highs in goals (56) and points (103). The Stanley Cup in 2023 goes through Boston, and there is a lot to be excited about. So why has a debate ensued that questions Pastrnak's worth?
Pastrnak's hat trick gave the right-wing his 56th on the season on Saturday in Pittsburgh, helping him surpass Cam Neely's 55 goals in 1989-90 and Phil Esposito's 55 in 1972-73 for most since Esposito scored 61 in 1974-75. Pastrnak's 103 points are the most since Adam Oates totaled 112 points in 1993-94. It has been a spectacular year for the 26-year-old sniper. One would believe that Pastrnak has done very little wrong.
Recently on the Felger and Mazz radio show on 98.5 The Sports Hub in Boston, co-host Michael Felger put some of the blame for the Bruins' power-play struggles on Pastrnak, who is sixth in the National Hockey League with 18 power-play goals. On March 29, on the radio show, Felger said, "Sit him down. Sit him down. It blows me away. Do you watch the game? Shouldn't the turnover leader take a seat?" Pastrnak does lead the NHL in giveaways with 101, tied with Pittsburgh's Evgeni Malkin.
Pastrnak has averaged 19:41 of ice time per game this season, the most of any forward on the Bruins. In a 2-1 loss to Nashville on March 28, the high-scoring forward played 7:16 of power play time with no shots on goal. The next day was when Felger suggested taking Pastrnak off the man advantage. Typically players who score many goals have the puck on their stick a lot. Pastrnak has averaged four giveaways per 60 minutes which is the most in the league. However, many top stars are near the top of the list, including Leon Draisaitl of the Edmonton Oilers, who has scored 30 power-play goals and probably won't be benched any time soon.
Signing a long-term, high salary contract comes with some scrutiny for sure. Pastrnak is not a perfect player, but he is a player who Bruins fans have longed to see in the spoked "B" for many years. David Pastrnak will score many more goals in the next eight seasons, bringing a lot of excitement to the franchise. The roster will lose key members soon, but number 88 will be in the lineup night after night. The Bruins might have issues in the coming years, but Pastrnak will both way down the list of concerns. The Bruins have a great team led by one of the game's great goal-scorers, who should remain on the ice as much as possible.
Season 2. Episode 37. It's Going To Be A Long Off-Season
–
Bruins Benders Podcast
The Bruins off-season will be longer than expected. We like some CHL rules changes. The Bruins defense needs to be nastier, not just bigger. Can this core going forward win a Cup? Plus Beauties and Benders and Rod Brind'Amour whines.