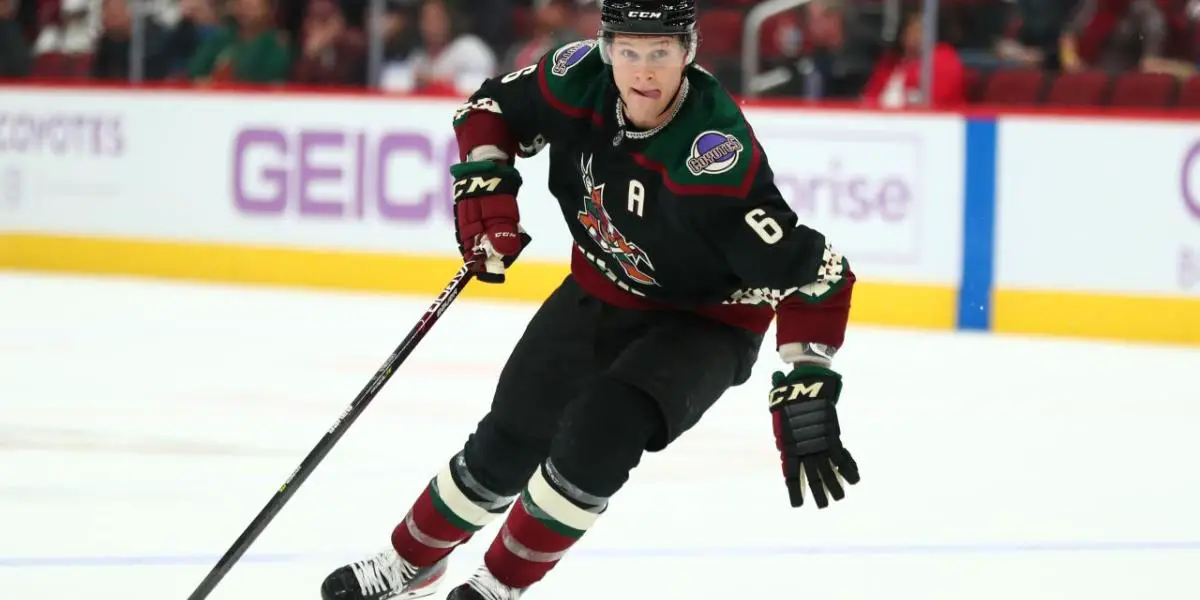 With the injury to Jakob Chychrun's lower body earlier in the week, many thought the trade value and interest would disappear. This was especially true when the Arizona Coyotes themselves announced that their star-studded defenseman would be sidelined two to four weeks, complicating the market even more. While dealing for an injured player is always risky, it takes some true faith when you're about to give up the trade package the Coyotes have in mind. Any team that wants to acquire the rights, the 23-year-old defenseman must send first-round draft picks, top prospects, and even a proven player or two to the desert if they wish to have Jakob Chychrun suit up in their colors.
Not as Severe as Expected
With recent reports coming out today, though, courtesy of Darren Dreger and Pierre Lebrun of TSN Hockey, it appears that Chychrun's lower-body injury is not as severe as first expected and reported. Just two days after being announced he would be out two to four weeks, the news reports are saying he could be back on the ice skating later this week, which instantly returns the trade value and interest for Chychrun.
Chychrun instantly slides into the top, paring on the left side of the defense for whichever teams decide to trade for him, giving an immediate upgrade and making that team that much better. Before the injury, Chychrun had begun to find his stride as the young defenseman has 10 points over his last seven games, including five goals and two multi-goal games.
The Contract
What makes Chychrun so desirable, besides his age and skill set that hasn't even peaked yet, is his contract situation with the price and years of control. With three years left of control on his contract and at an affordable price of $4.6 million AAV, teams are getting a contract steal for a player of Chychrun talent who's only going to get better.
Who's Interested in Chychrun
With the reports of Chychrun possibly returning to the ice towards the end of the week, his value and Arizona's willingness to move him are setting up two potential teams to swoop in and get the deal done. Those two teams are the LA Kings and the Boston Bruins, who are both reported to be all in and willing to do what it takes to acquire the Arizona defenseman. The Bruins are no surprise here as they have been searching for a top-four left-shot defenseman to pair with the talented Charlie McAvoy on the top pairing. With the core pair of Patrice Bergeron and Brad Marchand not getting any younger, the time is now for Don Sweeney to make the moves and go all in.
What it Would Cost Boston
For the Bruins to come up with a trade package to entice Arizona, they will have to dig deep and involve many moving parts to make it happen. Kiss your 2022 first-round pick goodbye right off the bat, as that is just the starting point. Next, up names like Jake Debrusk, Urho Vaakanainen, Jakub Zboril, Zach Senyshyn, Mason Lohrei will all be involved as the Bruins try and narrow down which players make the most sense and give them the best chance to close the deal. Another name that has recently been floated around if the terms and time is right is Matt Grzelcyk, who could add some top-end value and potentially save some prospects.
Don Sweeney and company have work to do in the coming days to get this deal done and solidify the top end of their defense. Time is of the essence not just because of the trade deadline coming up quickly but also because of the pressure to beat out the LA Kings, who have many more well-known prospects to work with. If Don Sweeney can pull off back-to-back trade deadline deals for elite players contributing to a winning culture and a Stanley Cup, that infamous 2015 draft may finally be put in his rearview mirror.