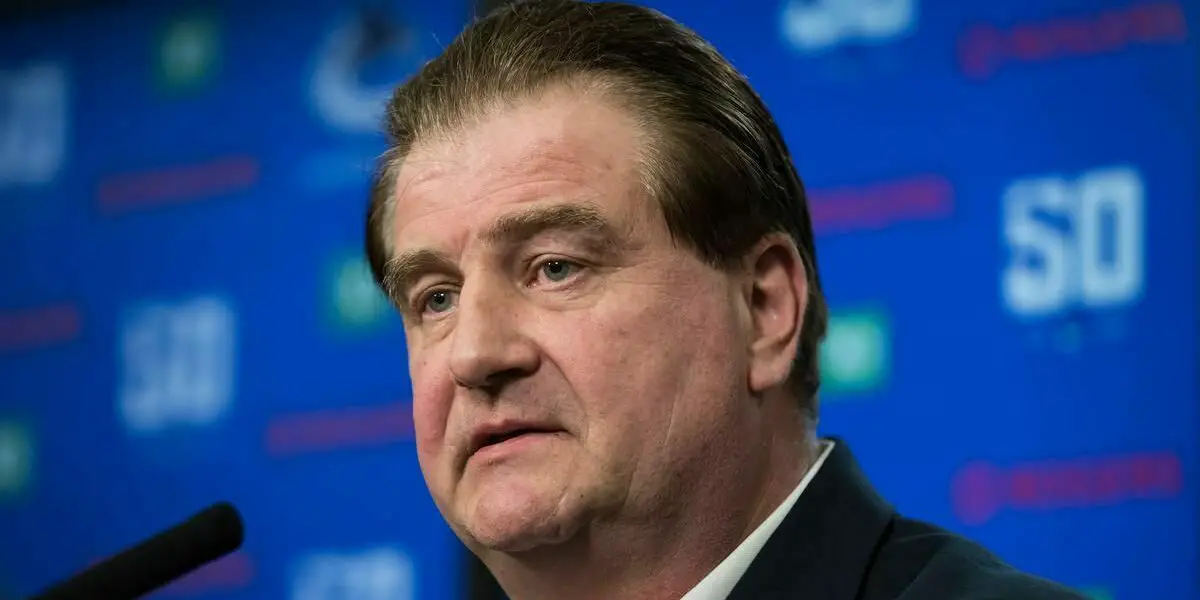 Jim Benning and Travis Green Fired From The Canucks' 
The Vancouver Canucks fire General Manager Jim Benning and Head Coach Travis Green, after a poor start to the 2021-22 season, with a record of 8-15-2. This was a long time coming for both Green and Benning. Bruce Boudreau filled the Head Coaching role. 
Who Could Be The Next General Manager Of The Canucks?
With Jim Benning's firing, it had left an important question of who could be the next General Manager of the Vancouver Cancuks. The likeliest person to fill that role will be one of the Sedin twins, who are currently both employed by the Canucks as Senior Advisors to the General Manager and have been seen as Benning's replacement since they were hired into those roles. The Canucks have also reportedly been interested in former Montreal Canadiens General Manager Marc Bergevin, and I don't see that working out. Another name I have pondered is Roberto Luongo, the Associate General Manager of Canada's Olympic Team. He may have a tough time helping select players to play in the Olympics if the NHL decides to pull out. I have also heard that the Canucks aren't against hiring people into Hockey Operation Positions, which is where I see Bergevin getting a role, with one of the Sedin twins getting President of Hockey Operations and the other getting Executive Vice President of Hockey Operations, along with Bergevin, giving Luongo the General Manager role. 
Flyers' Fired Alain Vigneault 
The Philadelphia Flyers fired Head Coach Alain Vigneault, and this comes after losing eight straight under Vigneault. The Intern Head Coach role has been given to Mike Yeto. From what I've heard, the likeliest replacement for Alain Vigneault is one of John Tortorella, Rick Tocchet, and Jim Montgomery, don't be surprised if Travis Green and David Quinn also get on that list. 
Jake Debrusk's Trade Request
Boston Bruins Forward Jake Debrusk has requested a trade, saying the reason behind the request is his career. Don't expect this move to happen till around the deadline. Bruins' General Manager Don Sweeney wants the best possible return for Debrusk and will likely get that around deadline time, with guys like Rikard Rakell, Vladimir Tarasenko, Dylan Strome, and Ryan Strome available. I have heard that the Blues' have pulled out of trade talks involving Debrusk, but this is likely due to cap restraints and not wanting to touch what has seemed like a strong roster to start the season. I've been asked what the return could look like, which I don't have the answer to. I've first heard the name as a possible return for Debrusk was Center Mason Appleton from the Seattle Kraken, and I don't see this being the route Sweeney takes. I see Sweeney including Debrusk as a part of a larger package to get a second line center or winger, and Appleton isn't that guy. I could see a possible situation where Appleton becomes a Bruin,' but I don't see it being at the top of Don Sweeney's list of things to do. I have been asked if the trade could happen during the Bruins' Western Canadian road trip, with the Bruins' facing three teams who have been interested in Debrusk, being Calgary, Edmonton, and Vancouver. As I had said previously, I don't see this being the case. 
Maple Leafs' Forward Jason Spezza Suspended Six Games
Toronto Maple Leafs Forward Jason Spezza has been suspended six games for Kneeing Winnipeg Jets Defensemen Neal Pionk. This is the first time Spezza has received a suspension in his 1.203 game career. The NHLPA has filed an appeal of the suspension.
Tuukka Rask Practices With The Bruins' 
Former Bruins' Goaltender Tuukka Rask practiced as an emergency goalie with the club. Bruins' Goaltender Linus Ullmark was out with a Non-Covid Illness, which makes Rask potentially the best EBUG in NHL history. Rask is still a UFA after receiving surgery in the offseason to repair a torn labrum with which he played through the 2020-21 playoffs with. This has raised the question of Rask's return to play and who it will be with, the Bruins' have always been Rask's priority throughout this all, and it is believed he will sign there. The other teams listed as possibilities are the Edmonton Oilers and Colorado Avalanche, with ESPN and NHL Network analysts believing the Oilers' will be the club to sign him, sorry Kevin. Still, I have to disagree with you on that one. I think Rask currently has a contract with the Bruins'. 
Montreal Canadiens General Manager Search
The Montreal Canadiens still have yet to name a new General Manager, and a new name has appeared on the list of candidates being Kent Hughes, yes another Hughes. I don't know about the status of where the Canadiens are on bringing in a General Manager.