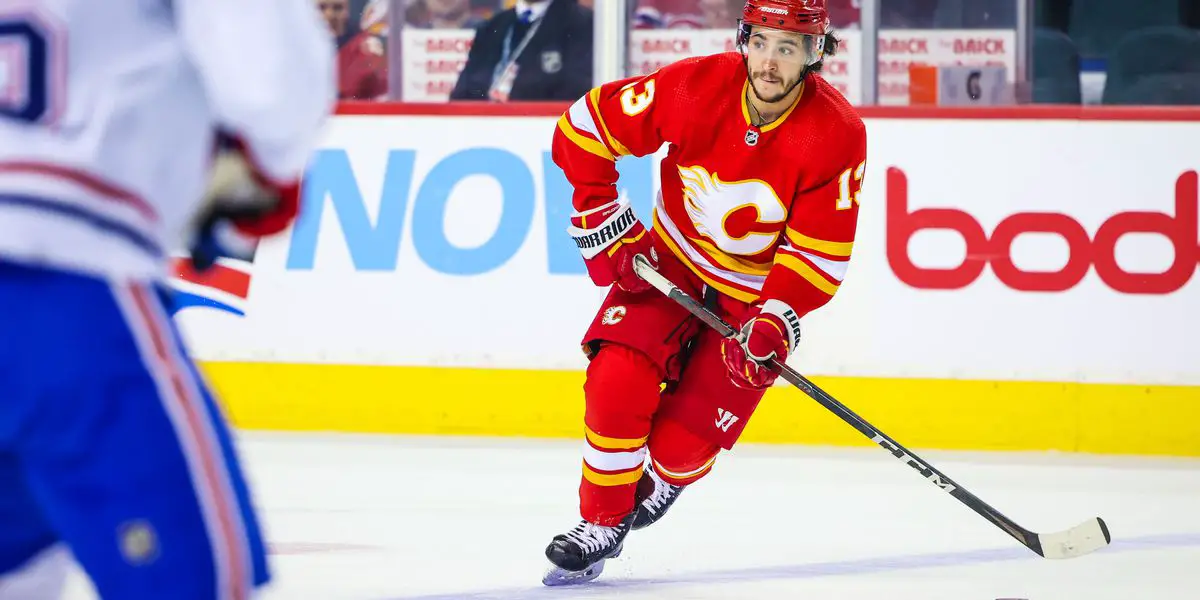 With the playoffs right around the Corner, the Calgary Flames are gearing up for a Cup run with a loaded roster that brings plenty of question marks once the season is over. This may be their one shot to win it all for Calgary while being led by players Johnny Gaudreau and Matthew Tkachuk, who anchor your top line and play some of the best hockey in the entire league. The problem with these two players is they are hitting the open market come the offseason, and both players deserve and will get paid a hefty amount as they are experiencing career years. For Calgary finding the money to pay both these players and fellow 30 goal scorer Andrew Mangiapane and defenseman Oliver Kylington will be a problem for the cap-strapped Flames. They will have to be willing to move on from a couple of players this offseason via trades to free up the much-needed salary it will take to sign these elite forwards and solid defensemen. If the Flames want to afford to keep their core players together and be able to continue the success they have endured this season.
Monahan on the Move
The first name and the most obvious on the roster is Sean Monahan, as there were recent talks at the trade deadline of Calgary shopping the 27-year-old forward around. Monahan has been a shadow of himself this season as he has fallen to fourth-line duties and even a healthy scratch as injuries have taken their toll on a player that was once one of the most consistent goal scorers in the league from 2013 to 2019. Still, at 27 years old and with his history of goal scoring, there will be interest in the forward as a change of scenery may be what it takes to get Monahan back on his game and be a 20 or 30 goal scorer again. Monahan has one year remaining on his contract with a cap hit of $6.375 million, which isn't awful for a guy that could produce if he regains his form on a new team. To help move the contract, the Flames will most likely have to throw a sweetener in the package to entice a team. At this point, throwing in a draft pick to create cap room is a no-brainer for general manager Brad Treliving as he's the one saddled with the most challenging job this offseason.
Will Backlund Be Back?
The second player the Flames can look to move is aging forward Mikael Backlund, who at 33 years old still has two years left on his current contract that carries a $5.35 million cap hit. Backlund is a player that doesn't get much recognition around the league but is a solid two-way center that Flames fans know how valuable he is on the second line. Backlund has value in a trade as the center can still put up 40 plus points in a season. What started as a slow season for Backland has seen the second-line center step up his game as he has now produced 12 goals and 32 points through 65 games. Even though Backlund is enjoying a solid season, he is a player that GM Brad Treliving will consider moving this offseason as he can find a cheaper replacement on the market. Even though Backlund doesn't possess a bad contract for his production, as a general manager always looking to improve your team, Treliving has to do his due diligence and see what the market dictates for a player with 809 career games of consistency. 
Lucic's Contract the Biggest Hurdle
The third player that could certainly be moved but will require an incentive attached to the package is 33-year-old forward Milan Lucic. Not the player he once was during his time in Boston, the 33-year-old Lucic has shown this season that he still has value in this league lacing up his skates for a franchise. The only problem for Lucic is the value that he brings to an NHL lineup does not match up his $5.25 million cap hit that he carries, as he doesn't produce offensively like he used to. Lucic was once what a team coveted in a power forward, as his style of play was perfect in the NHL during his prime. But as time has gone on, the NHL has become a faster league with players relying on speed and quickness, which are two things Lucic has had difficulty adjusting to. At this stage in his career, Lucic has become best suited as a checking forward in a bottom-six role which still has value, especially when you can hit as hard as Lucic can and punish players. While getting Lucic's contract off the books would be great for the Flames, the possibility of another team being willing to absorb that cap hit is unlikely. Still, it never hurts to kick the tires and make some calls to see if there are any interested teams.
What it Will Cost to Resign the Four
While not all three players have to be moved, at least one or two need to be moved if the Flames want to have a chance at resigning their top four free agents mentioned previously. Without the extra cap space, the Flames have no room to wiggle as they will have to pay serious money just for Johnny Gaudreau and Matthew Tkachuk before even getting to Andrew Mangiapane. At 28-years-old and on pace to have his first 100 plus point season of his career, Johnny Gaudreau looks to cash in on the final big contract of his career as he will receive a contract that is most likely going to be eight years at $8.5 to $9.5 million AAV. Paying Gaudreau the money would be no problem if the Flames didn't also have to pay fellow linemate 24-year-old Matthew Tkachuk a contract of eight years at $9 to $10 million AAV. Having the cap space to commit $20 million to two players potentially is one thing when the rest of your team is already under contract. There are still two players to go as Andrew Mangiapane will command a five-year at $5.5 to $6.5 million AAV deal, and Oliver Kylington will get a significant raise with a potential four year at $3 to $4 million AAV contract. The one thing that is guaranteed is that this will be the toughest off-season of general manager Brad Trevliving's career as he has the responsibility of juggling the cap space and maintaining the roster's core. Anything can happen once the flood gates of free agency open and all hell breaks loose as teams look to recruit elite talents. This year's playoff run could impact if these players decide to resign or not, as a first-round exit from the playoff could change these players' minds, while a deep run or a Stanley Cup win could have these players bought in for the long run.
The boys are back after a long break but have plenty to talk about as the playoffs are in full swing. We go series by series, looking at how teams have fared so far and who will come out on top. Thanks for listening! Please rate and review our show on your favorite listening platform. Check out our partner's website at www.insidetherink.com for all your latest hockey news.