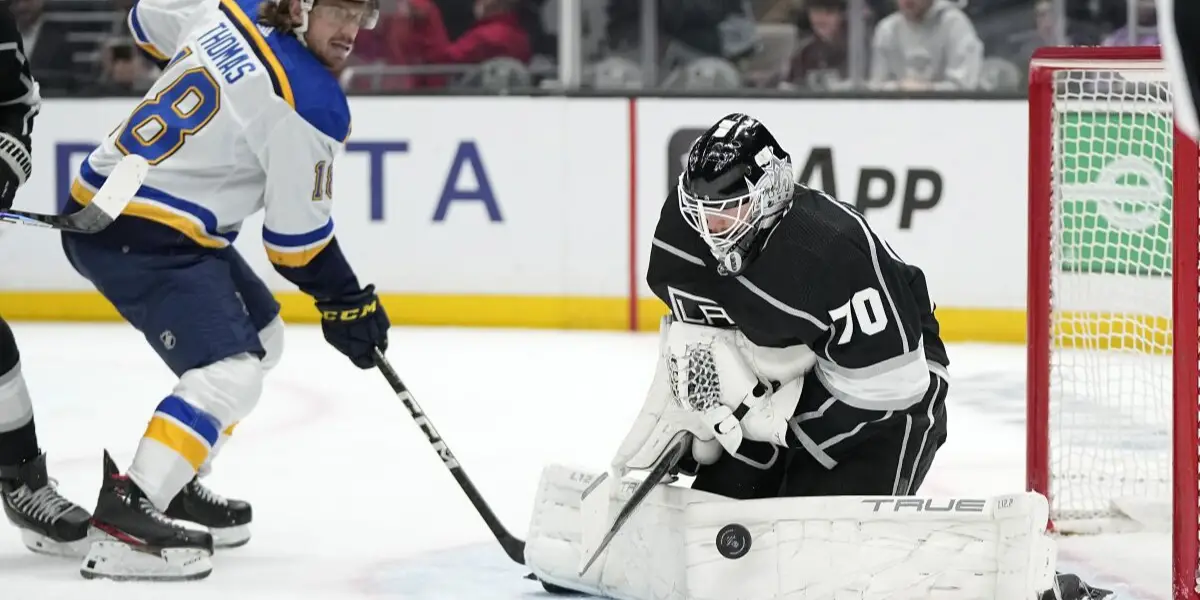 Undoubtedly, the Los Angeles Kings have had one heckuva hockey season.
As of this writing (Tuesday, April 11), the team, who clinched a spot in the Stanley Cup playoffs for a second straight season, is 46-25-10 with 102 points. They are currently third in the Pacific Division and 11th in the league.
Throughout the regular season, the Kings had no problem putting the puck in the net. They are currently 11th in the league in goals scored with 269 goals in 81 games (3.32 goals per game) as they got consistent offense from the likes of Anze Kopitar (27 goals and 45 assists for 72 points), Kevin Fiala (23 goals and 49 assists for 72 points), and Adrian Kempe (38 goals and 25 assists for 63 points).
The Kings were also lights out on the power play. They are currently fourth in the league in that category, as they have converted on 25.3 percent of the opportunities they have been given.
Defensively, the team was mediocre at best. The Kings are currently 17th in the league in goals allowed, as they have given up 251 goals this season (3.10 goals against per game).
This brings us to a big question mark come playoff time – goaltending. If a team wants to win the Stanley Cup, they need solid and consistent goaltending in order to win 16 games, which is no easy task.
This team goes into the playoffs with a tandem of Pheonix Copley and Joonas Korpisalo. Those names should not exactly strike fear into anyone, as neither of them is a true number-one goaltender.
This is a very unfamiliar position for the Kings. For well over a decade, the Kings were set in goal for the playoffs with Jonathan Quick.
Quick helped the Kings win two Stanley Cups (2012 and 2014) and earned himself the Conn Smythe Trophy as the league's most valuable player during the playoffs in 2012. Quick's numbers in the playoffs with the Kings were also outstanding, as he was 49-43 with a 2.31 goals-against average, a .921 save percentage, and ten shutouts.
With that said, Quick is now gone. He was traded to the Columbus Blue Jackets in exchange for Korpisalo and Vladislav Gavrikov before being flipped to the Vegas Golden Knights.
Switching back to the Kings, both Copley and Korpisalo have played well for the team this season. Copley, 31, is currently 24-6-0-3 with a 2.64 goals-against average, a .903 save percentage, and one shutout.
It has been a magical season for Copley. All he does is win hockey games, and because of it, he earned himself a one-year, one-way contract extension worth an average annual value (AAV) of $1,500,000 through the 2023-24 season.
Korpisalo, 28, has played extremely well since joining the Kings. He is currently 6-3-0-1 with a 2.03 goals-against average, a .926 save percentage, and one shutout.
While it is nice that both Copley and Korpisalo have played well in the regular season, neither of them has much experience playing in the postseason. In fact, Copley has not played a single Stanley Cup playoff game.
Korpisalo, on the other hand, has only played nine, and that was back during the 2019-20 season. In those playoffs, he went 3-5 with a 1.90 goals-against average, a .941 save percentage, and two shutouts.
This puts team head coach Todd McLellan in an interesting position. Who does he think gives his team the best chance to win when it matters most?
I certainly would not want to be in his position because, in my opinion, I am not sure either of them can have success in the playoffs. Yes, the Kings will also need to be able to put the puck in the net, cash in on the power play, and play good team defense, but if they are not able to get good goaltending, none of those things are going to matter, and it will be a first-round exit.
Whether the team goes with Copley or Korpisalo, it might end up being a lose-lose situation when all is said and done.
The boys are back after a long break but have plenty to talk about as the playoffs are in full swing. We go series by series, looking at how teams have fared so far and who will come out on top. Thanks for listening! Please rate and review our show on your favorite listening platform. Check out our partner's website at www.insidetherink.com for all your latest hockey news.