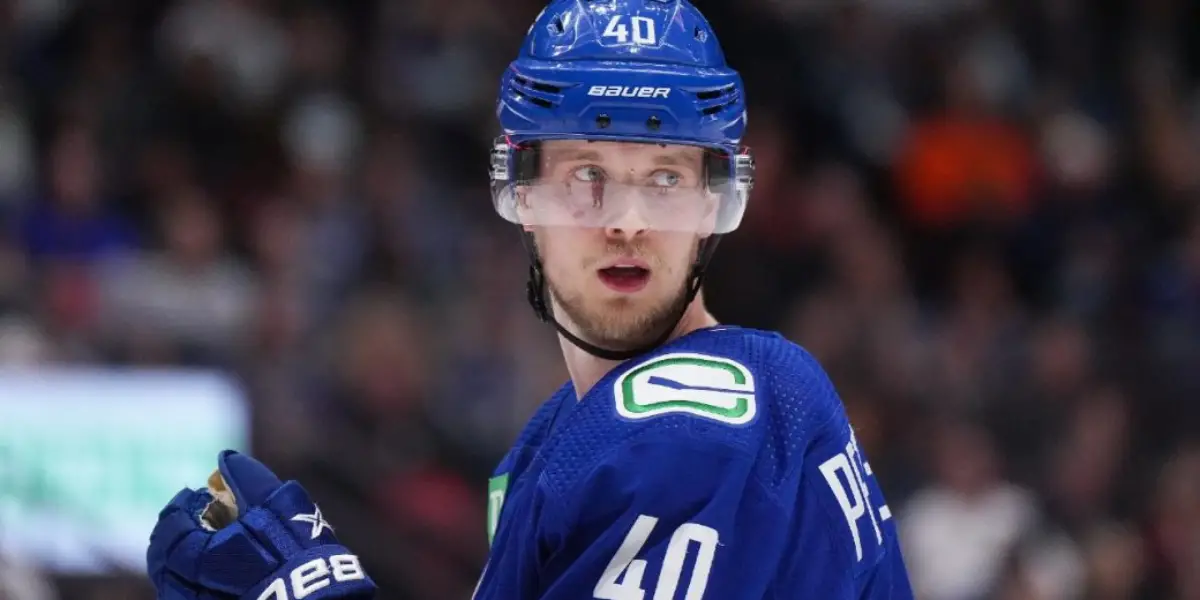 The Canucks have officially been eliminated from playoff contention. While many fans have seen this as inevitable as the team lost 7 to start the season, now management has to take a long hard look in the mirror and figure out what went wrong with a team that needed to make the playoffs. We look at what the Canucks need to look at during another long offseason.
Vancouver Canucks Must Sign Elias Pettersson
Entering his final year of a three year, $22.05 Million contract, this should be the #1 priority as soon as it's allowed. In my and many other fans' eyes, EP40 is the next BIG player and potential captain of the Canucks. With 319 Games played and a 0.99 Points per game average, Elias is the Star of the Canucks core and will be compensated as such. The closest comparable for his next contract would be Mathew Barzal, who signed at age 23 for a three year contract. However, with the importance of Pettersson to this organization and the pay raise for JT Miller, it would be hard to see Elias sign for anything less than 8,250,000, which will run into cap complications, as we will touch on later.
I hope that in the first week of July, we hear of a new contract for the presumptive Captain Elias Pettersson!
Cap Crunch
When Jim Rutherford and Patrik Allvin took over the Canucks they were handed a mess on the cap sheet. They promised to alleviate that with trades and "painful moves." However, in their time in Vancouver, all they have done is add to the mess!
They have added over 23 Million in contracts that will be on the books next year with Filip Hronek, JT Miller's $8,000,000 extension, and signing Ilya Mikheyev last offseason. The mess they inherited was terrible, but they can look to make some great changes to alleviate some of that! The first move that needs to be made is Buying out OEL. While I think it will hurt us long-term, the relief now is worth it. Playing only 54 games and having a -24 OEL's age has caught up to him, and the contract he's on isn't worth anything to most teams. Savings for 2023-24 $8,083,333
The only logical next move is the shipping out of Tyler Myers. Now, this might sound a bit tricky, but there is a bonus owed on July 1, which the Canucks will pay, and then his contract (If retained by the Canucks or a third party team) isn't that hard to swallow and could be a piece for a contender next year looking to shore up their 3rd pair with a guy who still has upside. Savings for 2023-24 $6,000,000
In just two moves, JR and Allvin could have $14,083,333 to play with, and that should be enough to fix these issues with this team.

Long Shot Moves
Now we come to the fun part, where I come up with ideas that might never happen in a million years, but if they do, I look like a genius!

JT Miller to The Penguins
This one is a pipedream but still a possibility if the rumors at the trade deadline were true. Getting off of JT's contract wouldn't just open up cap space but also room to find a True 2C and 3C for the "run" with this core.
Thatcher Demko Trade
These aren't always positive ideas, and there were some rumblings that Demko wanted out of Vancouver. And to be perfectly honest, I can't blame him. Prime years are being played on this team, where it just doesn't matter how good Demko is. He can't drag them to the playoffs. If this was to happen, be prepared for a LONG rebuild, not a re-tool.
What would you like to see the Canucks do in the offseason? Comment below or send your feedback to @HSP_Pod on Twitter!
HSP – Jun 5th 2023 – Arland Bruce III on his career, legacy, and what is next
–
Hughes Sports Podcast- HSP
Jake and Kevin welcome on one of the BEST ever to lace up cleats in the CFL, a Two Time Grey Cup Champ, a 6 Time All-star and all around great guy Arland Bruce III. emory lane, unpacking the highlights of his storied career. From his early days in the Canadian Football League to his notable contributions with the BC Lions and Winnipeg Blue Bombers, we'll discuss how Bruce etched his name in the annals of football history.But we're not just delving into the past. Arland Bruce III has always been one step ahead of the game, and he's no different in retirement. We'll get an exclusive scoop on what he's been up to since hanging up his cleats!Join us as we navigate the gridiron and beyond with Arland Bruce III. Tune in to hear about the triumphs, trials, and what it truly means to leave an enduring mark on the world of sports. This episode is a must-listen for any fan of football, tales of grit and determination, and anyone interested in the journey of exceptional athletes.Plug in those earphones, get comfortable, and enjoy the ride – it's game time on the Hughes Sports Podcast!