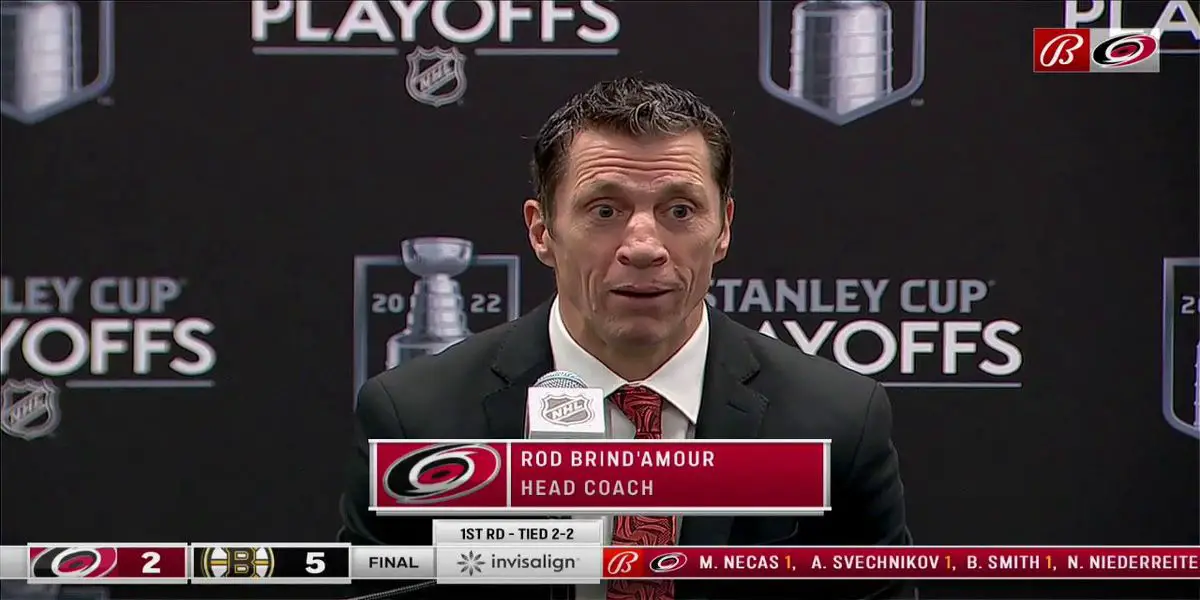 After disappointing back-to-back losses vs. the Boston Bruins, Hurricanes head coach Rod Brind'Amour took the opportunity during his post-game press conference to let everyone know how he felt.
"It's clearly — especially the view that we saw after — [the puck] is in between his pads, loose. And I'm all good with that," Brind'Amour told reporters after the 5-2 loss. "But the guy came from the side, pushes his pads, squirts the puck out, taps it in. It's a little different if the guy had come in from the front and was actually playing the puck. You can't play the puck when it's in between his legs from the side and knock the goalie sideways."
Obviously, Brind'Amour is not pleased with the officiating, and he went on to say, "They're too good a team to just give 'em goals. We have no chance if we're gonna let that happen." We saw this tactic previously from the Hurricanes bench boss throughout the recent playoff history with the Bruins. It will be interesting to see how Game 5 is managed from a refereeing standpoint.
The NHL statement as cited above explains that per rule 69.7, there was no goaltender interference. The rule is as follows "in a rebound situation, or where a goalkeeper and attacking player(s) are simultaneously attempting to play a loose puck, whether inside or outside the crease, incidental contact will be permitted, and any goal that is scored as a result thereof will be allowed."
Now the series is down to a best of three, and the tensions at ratcheting up on both sides of the puck.
The boys are back after a long break but have plenty to talk about as the playoffs are in full swing. We go series by series, looking at how teams have fared so far and who will come out on top. Thanks for listening! Please rate and review our show on your favorite listening platform. Check out our partner's website at www.insidetherink.com for all your latest hockey news.